---
Everything You Need to Do Before Moving Into a New House
Have Too Many Things to Do When Moving? Just Use This Handy Checklist
Moving into a new home is exciting but keeping track of all the things you need to do before getting there is a chore. That's why we've put together a list of moving tips and tricks to help you cross all the essentials off your to-do list before walking out the door for good.
---

Who to Notify When Moving (and When):
The first thing you need to do before moving into a new house is to let people know where you're moving to, and we're not just talking about your neighbors. You'll need to notify entities such as your state's DMV and the banks you use as soon as possible. Others, such as your cable company, can wait until closer to your move-in date.
Who to Notify a Month Before:
The Department of Motor Vehicles
Update Your Mailing Address: This will ensure your registration renewal notice arrives at your new home. Most state departments require a 30-day notice when updating your address online or with a mail-in form. Search your state's DMV website or use DMV.org's office locator to find your local branch.
Your Utility Providers
Switch Gas, Electric & Water: Call your current utility providers to switch your service address to your new place. If you're moving outside of their service area, look up the utility companies in your new neighborhood. Your city's website or realtor should have a list of local providers and their contact information.
Your Bank & Credit Card Company
Update Your Billing Address: Avoid sending your credit card bills and checking account statements to a complete stranger. Log in to your financial accounts or use their customer support line to update your address. And as much as you'd prefer not to, you should also make sure your student loan provider knows you're moving.
Your Gym and Other Membership Organizations
Update Membership Accounts: Updating your mailing address with your gym, local newspaper and any magazines you subscribe to so you can stay fit and informed.
The Post Office
Forward Your Mail & Change Your Address: Even if you go paperless for all your bills, you should still forward your mail to your new address. Use the U.S. Postal Service's Mover's Guide to update your address and enroll in mail forwarding (usually good for six months to a year).
Moving Tips and Tricks: Purge the Perishables
"About 3-4 weeks before your move, stop purchasing perishable foods and start cooking what you have on hand. Cook that frozen pot roast that's been sitting in the freezer or eat that box of Macaroni & Cheese you've been saving for a bad day, now's the time."
Ingrid McLain | Customer Success Lead, uShip
Who to Notify Two Weeks Before:
Your Insurance Companies
Car, Homeowners and Health Insurance: Your insurance companies will use your new address to adjust your rates, which could mean lower premiums (in the case of car and property insurance). If you wait too long to update your address, you may run the risk of losing coverage altogether.
Your Employer
Update Employee Contact Information: This is an important tip to remember when moving to a new house, especially if you receive your paycheck in the mail. Even if your employer uses direct deposit, they'll need your new address to prepare tax forms, send benefit enrollment information and other important documents to you.
Moving Tips and Tricks: How to Load a Moving Truck
"Load the truck starting at the front, beginning with the heaviest items you've got; think refrigerators, armoires and washing machines. Turn large furniture items like sofas and mattresses on their side and place them between other heavy items. Start filling in the truck with large boxes, then place smaller items and boxes in the extra space. Use soft items like bagged pillows or blankets to fill in any holes and avoid movement."
Ingrid McLain | Customer Success Lead, uShip
Who to Notify the Week of Your Move:
Your Family Doctor
Forward Your Medical Records: Call your doctor's office and ask them to forward your medical records to your new doctor. They will most likely ask you to submit a release form authorizing them to send your records, but that should be all you need to do.
Your Cable, Internet and Wireless Provider
Cancel or Transfer Your Service: If your new home is in your current provider's service area, all you have to do is call and transfer your service. If not, call to cancel service and search for providers in your new neighborhood. The National Broadband Map is a quick way to look up which companies service your area, as well as the services and internet speeds they offer.
Moving Tips and Tricks: Get to Know Your New City
"To ease some of your pre-move anxiety, carve out time to familiarize yourself with your new neighborhood. Do some research on the public transportation options in the area, map out your work commute, or Google the nearest post office location, grocery store, park, or restaurant.
It's also a good idea to set up some connections with people living in your area. Start by joining your city's community Facebook page to check out upcoming events or activities, or email acquaintances and friends of friends in the area to tell them when you arrive."
Paige Smith | SpareFoot
Save money with our affordable flat-rate prices.
Rent small and large dumpster sizes for all types of projects.
Need it fast? We offer quick delivery.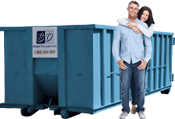 ---

How to Write Off Moving Expenses:
If you're moving for work, there's a chance you qualify for moving tax deductions. Fortunately, you don't have to itemize your deductions in order to claim them, but there are a few criteria you must meet in order to take advantage of them.
How to Qualify for Moving Tax Deductions
Start a New Job: You must be a full-time employee for at least 39 weeks within 12 months of your move. If you start a new job but postpone moving for medical reasons or other special circumstances, you can still deduct your expenses.
Take a Job With a Longer Commute: Your new place of employment must be at least 50 miles further from your old home than your current one. As an example, if your current office is 30 miles away, your new one must be at least 80 miles away from your old home in order to write off your moving expenses.
Moving Expenses You Can Deduct
Packaging, Shipping and Transportation: All of these expenses are deductible, whether you do it yourself or hire a moving company. This also includes any insurance you purchase to cover your personal belongings, as well as items that aren't stored in your old home.
Utility Costs: You can deduct any fees for disconnecting or starting service with your utility provider.
Storage Expenses: You can deduct storage fees for up to 30 days after your move.
Cars and Pets: Separate moving costs for cars and pets are also tax deductible.
Hotel Stays: You can deduct one night's lodging expenses at your old home after your belongings have been moved.
Miscellaneous Travel Costs: If you're driving to your new home, you can deduct fuel, oil, parking fees, tolls and lodging expenses. If you don't wish to itemize, you can deduct up to 18 cents of your expenses per mile instead.
Important Note: Trip Limits

Only one trip for you and each of your family members is deductible. You do not have to be traveling at the same time to claim your moving tax deductions, but you have to be heading in the same direction.
Moving Expenses You Cannot Deduct
Car Repairs: Flats and dents are non-deductible.
Meals: You can deduct the gas from your pit stops, but not the fast food.
Sightseeing: This includes paid tours and admissions to roadside attractions featuring "The World's Biggest [Insert Object]."
Real Estate Transactions: No expenses related to selling or buying your home are eligible for moving tax deductions.
Moving Tips and Tricks: Get as Much Done as You Can in Advance
"Pack up as much as you possibly can so you are left only with the necessities until your moving date. This may make for an unpleasant last few weeks in the property you are about to vacate, however this will prove to be an absolute game changer in the long run.
If you have a spare room or garage you can use for storage then even better. By doing so, when moving day finally arrives it will simply be a case of emptying your newly allocated storage area and last bits and pieces into the vans and sending them on their way to your new home."
Michael Brennan | Bellhops
How to Claim Deductions for Your Moving Expenses
Once tax season rolls around, fill out IRS Form 3903 and prepare the following documents to back up your claims:
Proof of Employment: Pay stubs, forms W-2 and 1099 and other documents from your clients or employers are usually enough to satisfy the employment requirements.
Map Printouts: Use online mapping tools to plot out your new commute to prove it meets the IRS' distance requirements.
Quotes, Invoices and Receipts: Retain copies of all quotes and invoices you receive from your moving company. Additionally, hold on to any receipts of purchases you will deduct.
Travel Log: For minor expenses that you don't have receipts for, such as tolls, the IRS will accept detailed notes instead, including where and when the fees were collected.
Important Note: Employer Reimbursements

If your company reimburses you for deductible moving expenses, and these are not included in your W-2 wages, you cannot deduct them. However, if those reimbursements are included in your taxable income, you can claim those eligible moving deductions. All other reimbursements for non-deductible moving expenses are fully taxable as income.
Moving Tips and Tricks: Estimate Your Stuff – Then Double It
"Think you'll have 20 or so boxes once you've finished packing? Before giving an estimate to the mover, double that number. From your precious books to planters or all those old college t-shirts you don't want to throw away, boxes fill up faster than you think."
Ingrid McLain | Customer Success Lead, uShip
---

How to Declutter Before a Move:
Following these decluttering tips before the big move will help you lighten the load. Start by going through every room in your home and sort everything you don't want into three groups: things to sell, donate and throw out. If you're a little unsure of which items fall into those categories, here's a short list for you to follow:
1. What to Sell
Novelty Appliances: This includes the juicer you never use and the Coca-Cola branded hot dog bun toaster your in-laws gave you.
Collectors' Items: If you have a large collection of vinyl records or other collectables, it might be time to list some of them on eBay. You don't have to get rid of your entire collection but trimming it down to just your favorites will make moving it easier.
Exercise Equipment: From Bowflexs to treadmills, if you have exercise equipment you're not using throw it on Craigslist, priced to sell.
Moving Tips and Tricks: Take Inventory of What You're Keeping
"Once you decide what to pack, make a list of all the items you'll be shipping or sending with your moving company, along with the number of boxes you have. Pack your personal luggage with all the items you'll need immediately upon arrival, plus anything too precious to travel with your moving company. Think: clothes, toiletries, prescription medication, electronic devices, cameras, and jewelry."
Paige Smith | SpareFoot
2. What to Donate
Books: If you have a lot of books on the shelf that you've lost interest in or you know you'll never read, donate them to your local library.
Unused Electronics: Old computers, cellphones and tablets can be useful to nonprofits, either as recyclables or as donations to those in need.
Your Friend's Stuff: Okay, don't actually donate their stuff but do return their clothing, yard equipment and anything else you've borrowed over the years.
3. What to Throw Out
CD & DVD Cases: If you have a lot of empty disc cases lying around, now is the time to purge them.
Gag Gifts: This would include giant stuffed animals and that fanny pack you wore to an 80s-themed Halloween party a few years ago.
Mugs: Unless you have a personal attachment to them, it's best to toss them out rather than wasting the time and bubble wrap.
Toiletries: If you have a large collection of hotel shampoos and bath bombs, now's the time to pitch it.
Old Furniture: Unless it's in good condition, you can probably throw that old couch in a dumpster.
Moving Tips and Tricks: Know Your City's Regulations
"Did you know that in New York City you can receive a $100 fine if you don't seal any mattress in a plastic bag before placing it on the sidewalk? Getting rid of old items often accompanies the moving process, so make sure you're up to speed on all of your city's regulations, or you'll be in for a costly move."
Ingrid McLain | Customer Success Lead, uShip
Save money with our affordable flat-rate prices.
Rent small and large dumpster sizes for all types of projects.
Need it fast? We offer quick delivery.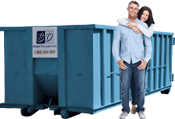 ---

Projects to Do Before Moving In:
Unless your new home is completely perfect, there will always be a few last-minute projects to get done before you move everything in. Here are a few we recommend you finish beforehand:
Repaint Your Rooms

If you want to paint all or just some of the rooms in your new home, get it done before you move all your furniture in. Our Exceedingly Comprehensive Guide to DIY Home Improvement includes a bunch of painting tips to teach you how to paint like a pro.

Change the Locks

This is an important safety tip for moving to a new home. Simply call a locksmith to change the locks on all your exterior doors. A professional locksmith can usually swap one out in 10-15 minutes. You can also try re-keying your locks yourself, but it's almost always faster and safer to let a professional change them instead.
Moving Tips and Tricks: Measure Your New Home Before Moving
"Nothing is worse than moving your beloved sectional across the city just to find that it won't fit in your new space. Make sure you have both the rooms and doorways measured in order to be sure that everything will fit."
Miranda Benson | Dolly.com
Upgrade the Electrical

If your new home's wiring needs some updates, you should put an electrician on the job before moving in so they have easier access to your walls. A few common electrical upgrades include:

Installing New Outlets: Check which rooms may need additional outlets for TVs, computers and lamps.
Adding GFCIs to Kitchens and Baths: These are the outlets with those bright red "Test" buttons. These tend to be missing in older homes.
Installing New Ceiling Fans: Consider adding a ceiling fan to your dining room, a covered patio or stairwell.
Adding Lighting Fixtures: Want to add automatic lighting in your bedroom closets? Putting track lighting in your kitchen and hallways are also a good investment.
Install Closet Storage Systems

If you're thinking of installing a closet organization system, now is the time to do it. These storage systems can be quite complex, requiring room for unpacking and assembling shelving units. These ideas for organizing your closet will help you make room for your clothes and other necessities before they arrive at your new place.
Moving Tips and Tricks: Focus on the End Goal
"Now, this may be much easier said than done, however it is essential. You really must remember that any stress you feel now is just temporary and it will all be worth it very soon. You are doing this for a reason and it won't be long until you are enjoying your brand new house and undertaking the challenge of making it feel like home."
Michael Brennan | Bellhops
Add Garage Storage

Before moving out, make sure your new garage has all the storage spaces you'll need. This includes cabinets, shelving, cubbies, tool holders and places to tuck those odds and ends. Consider a few of these DIY garage storage ideas to ensure everything ends up in its right place.
Once you've taken care of all the things you need to do before moving into your new home, the only thing left to do is, well, move. Don't worry, we have you covered there too. Use these tips to make unpacking after a move as simple as possible. And as soon as you're done, make sure you take a well-earned break with your family. You've earned it.