If you love your single-cup coffee maker, the sound of that foil lid being punctured probably does more to wake you up than your alarm. But the sound of that same plastic cup dropping into the trash can is a different kind of wake-up call.
It's estimated that nearly 9 billion K-Cups — yep, billion — end up in landfills each year. But it doesn't have to be this way. With a dollop of glue here and there, you can reuse K-Cups in all kinds of practical ways.
We've rounded up the seven best ideas below.
---
Wait, Can You Recycle K-Cups?
The answer depends on how much work you're willing to do. While the individual components of a K-Cup are recyclable, the pod as a whole can't be broken down by recycling machinery. In order to recycle a K-Cup, you need to:
Remove the aluminum lid.
Separate the filter from the outer plastic cup. Recycle a Cup is a great tool that makes this step easy.
Place the cup with other plastic recyclables – or into your general bin if you don't have to separate recycling in your area.
Do the same for the aluminum lid.
Compost the filter and coffee grounds.
Keurig plans to have recyclable pods on the market by 2020, but in the meantime breaking them down yourself is the only solution. Of course, taking these steps isn't always practical. Luckily, there are plenty of other ways to keep your K-Cups out of landfills.
---
How to Reuse K-Cups
---
1. Keep Herbs Handy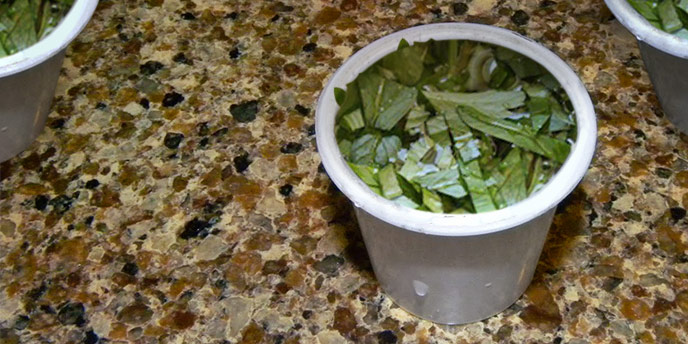 There's nothing like fresh herbs to enhance a meal, but most of us have trouble buying them in the right quantity to use up before they go bad. But a few used K-cups could solve that problem for you. Chop up your leftover herbs, pack them into a K-Cup and freeze. Bam — you've got a stockpile of fresh herby goodness to call upon whenever you're in danger of a bland meal. You can also freeze chopped garlic this way to build yourself a time-saving stash.
---
2. Organize the Little Things
Empty K-Cups can be used to corral small items that are hard to keep organized. Just line them up in your junk drawer, craft supply bin, sewing kit or other messy area to hold anything from safety pins to loose beads. Consider placing the K-Cups inside a shoe box or drawer organizer to keep them lined up neatly. Unlike plastic baggies or lidded cases, their open tops make it more likely that you'll actually continue using them!
---
3. Let Your Kids Get Crafty for Cheap
Whether it's an unexpected snow day or a rainy summer afternoon, a stash of old K-Cups can keep your kids busy without you shelling out for pricey craft supplies. These are just a few ideas for things your kids can do with old K-Cups:
Use them as building blocks.
Turn them into mini bowling pins.
Use them for a coin toss game.
Make hats for their dolls or stuffed animals.
Turn them into wheels for a shoe box car.
Decorate them and string them together as a garland or oversized necklaces.
Fill one cup with rice, dry beans or other small items, then tape a second on top to make an instrument.
---
4. Get the Scoop
If you buy dry goods, coffee or spices in bulk, empty K-Cups make handy scoops for these items. Tape or hot glue over the hole and you're all set. Want a scoop with a handle? Just clamp on a clothes pin and hot glue it in place! Voila – thriftiest pantry hack ever.
---
5. Go Gardening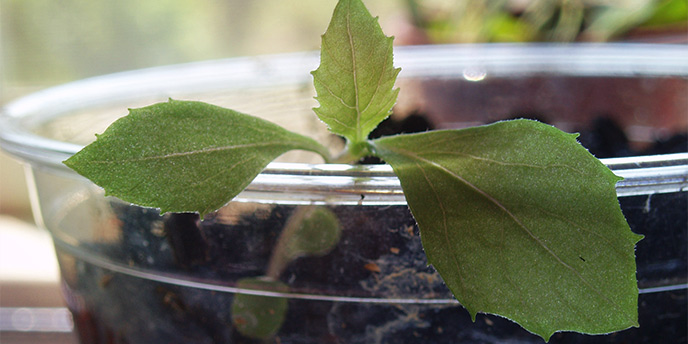 By starting your plants indoors in the early spring, they'll mature quicker once they're in the ground — giving you more time to enjoy them. And your old K-Cups are the perfect size to act as seed starters. Simply fill them up with potting soil, plant your seeds and water regularly until your plants are big enough and the weather is right to transfer them to a pot or garden bed. You can even save some of the coffee grounds to add to the soil for a nutrient boost!
---
6. Light It Up
Used K-Cups are the perfect canvas for creating decorative strings of lights for the holidays, a child's birthday party or just to jazz up an uninspiring room. Wrap each cup in colorful fabric or construction paper — embellished to your heart's content — then slip the cups over the bulbs on a string of lights. LEDs are ideal for this project since they won't heat up. You can even swap in differently decorated cups for different occasions!
---
7. Save Bite-Sized Portions
How many times has your latest culinary spree saddled you with just a few spoonfuls of a sauce or condiment left over? With a bead of glue over the hole and a little foil or cling wrap over the top, K-Cups are perfect for reusing as miniature Tupperware. No more cluttering up your fridge with mostly empty bottles!
They're also handy for packing snack-size portions of hummus, peanut butter and other dips or condiments in your family's lunchboxes.
---
Greener Alternatives
Even with all these uses for empty K-Cups, you might be looking to exchange this habit for something more eco-friendly. Here are just a few options to look into:
Keurig's My K-Cup: This is Keurig's own reusable pod. It comes in a variety of sizes to fit different Keurig models.
Compostable Pods: Companies like Uncommon Coffee Roasters and OneCoffee make single-use coffee pods that are 99 to 100 percent compostable.
EkoBrew: Makes a stainless steel reusable pod that will keep your coffee fresh and tasty even after repeated uses.
See? All it takes is some out-of-the-pod thinking to make your morning caffeine fix a little greener and your home a little more organized. If you're feeling inspired, check out our Reuse & Recycle section for clever ways to upcycle plastic bottles, reuse glass jars and more. Got your own genius ideas for reusing K-Cups? Share them in the comments.