Dumpster Rental Pricing
Search for dumpster rental prices in your area by city/zip code:
How Much Does It Cost to Rent a Roll Off Dumpster?
The cost to rent a roll off dumpster is based on a number of factors, including:
Availability.
Location.
Dumpster size.
Rental period.
Weight of the debris.
Type of debris you're throwing away.
Our dumpster rental prices vary with the capacity of the roll off dumpster. Each of our dumpster sizes can hold a certain capacity (volume) of debris and has a set weight limit.
When choosing your size, you should consider both how much volume you will need for your debris as well as how much your debris may weigh. Check out our dumpster rental services to learn more about what roll off dumpsters and containers we offer. Or, contact us today for affordable dumpster rental options on any budget.
Need a Cheap Dumpster Rental for Your Project?
Budget Dumpster offers the cheapest roll off dumpsters and containers in the waste removal industry. We work to provide the best rental terms at the lowest cost to our customers. Our simple flat-rate pricing includes delivery, pickup and all taxes associated with waste disposal - allowing you to find an affordable dumpster rental quickly.
What's the Difference Between Flat-Rate Dumpster Rental Prices vs. Variable-Rate?
How much does a dumpster really cost? At Budget Dumpster, we simplify the rental process by offering flat-rate dumpster rental prices that leave less room for unexpected fees on your bill. Take a look at this sample invoice:
Our Flat-Rate Dumpster Rental Invoice
Our flat-rate pricing includes all delivery, pickup and taxes associated with the rental. It also allows for additional tonnage incorporated into the cost. This means you can often dispose of a greater weight of debris than you could in a roll off dumpster with a variable rate, without paying extra.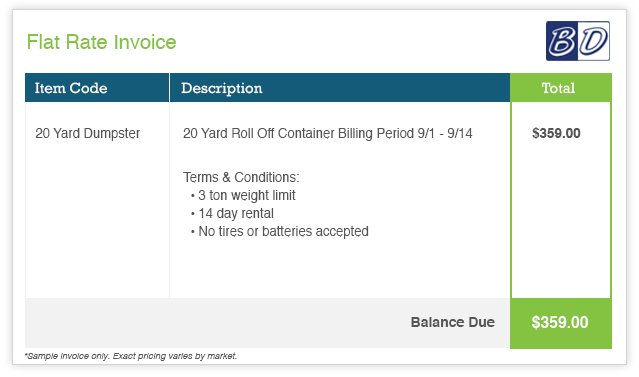 Contrast that with this example of what a typical invoice looks like for a variable-rate dumpster rental:
Variable-Rate Dumpster Rental Invoice
Variable-rate dumpster rental pricing isn't necessarily more expensive, but it can be harder to predict what your final cost will be, which can throw a wrench into planning and budgeting for your project.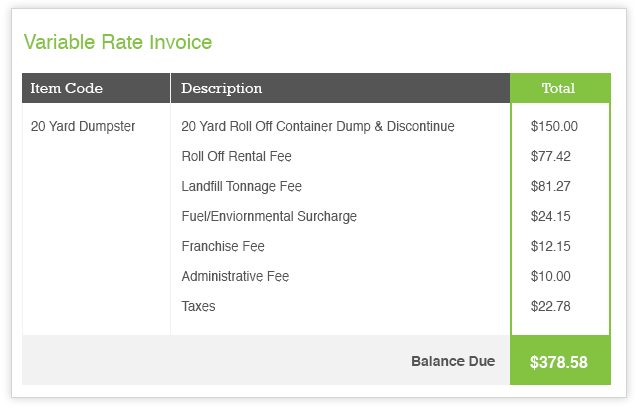 With our flat-rate dumpster rental prices, you'll be able to plan ahead and set the budget for your project. If you want to know the full cost of your dumpster rental up front, give us a call at 1-855-902-7464.
Know Exactly How Much Your Dumpster Rental Will Cost
Heavy debris such as concrete, roofing shingles and dirt may require a dumpster specifically intended for heavy items. For example, roll off dumpsters and containers used for materials like concrete and roofing shingles have weight limit considerations and there are unique guidelines that will keep the dumpster within those weight restrictions.
Contact us today and our customer service team will fully explain the costs and terms for whatever type of dumpster is right for your job.
Also check out our video below to find out everything you need to know about Budget Dumpster prices.