Construction Dumpster Rental Services
Construction Dumpsters and Containers for Every Contractor
We offer low-cost, dependable construction container rental services to help you keep your job sites organized, no matter how many projects you're working on. We operate nationally, making us an ideal partner for any work that stretches across multiple cities and states.
Choose us for your next construction dumpster rental and enjoy affordable flat-rate pricing, extended rental periods and reliable service.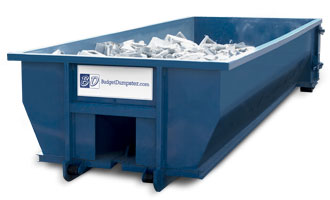 Rent a Dumpster for Fast and Convenient Construction Waste Disposal
The versatility of our construction dumpsters makes them perfect for many common projects, including roofing, landscaping, demolition and heavy debris removal projects. Our quick deliveries and pickups will help you keep your job site clean efficiently, eliminating any delays or slowdowns due to your debris. Whether your team is building up or tearing down, we have a dumpster rental for your construction waste that will help you keep the mess in check.
Search for Dumpster Rental Prices in Your Area
or search your city/zip below
How Our Construction Container Service Can Simplify Your Project
Roofing Jobs
Our construction dumpsters make disposing of shingles and sheathing easy. We accept commonly used roofing materials and related waste. Regardless of the size of the building or the project, we will find the right size dumpster for the unique disposal needs of your job.
Ease of Use: We'll place your roll off container as close to your client's property as possible so your crew can easily toss in debris.
Convenience: Order a construction container Monday through Friday and then call us for a quick pickup as soon as you're done loading up your shingles.
Fast Service: We can deliver your construction dumpster rental as early as the next business day based on availability so there's no delay on your next roofing project.
Concrete & Heavy Debris Removal
Tearing up concrete is hard enough without having to worry about how to get rid of it. That's why we offer construction dumpsters specifically for the disposal of concrete and other heavy materials. Our heavy debris containers can haul away your discarded concrete and dirt waste as long as it is not mixed with any contaminants. Get in touch with our team today to find the right job site dumpster for your concrete cleanup.
Maximum Capacity: Our heavy debris containers can hold up to 10 tons of brick, block or concrete, depending on the size of the bin and your location.
Reliability: Call us for a quick pickup or to swap out your bin as soon as you fill yours up so you never have to move heavy debris more than once.
Personal Support: If you have questions about loading your construction dumpster, you can call to speak directly to a team member who will be happy to answer them.
Yard Waste Removal & Landscaping Projects
Simplify yard waste removal during landscaping projects by ordering a construction dumpster. Our construction containers make it easy to get rid of shrubs, grass clippings, small branches, leaves and other yard debris. Call us before your next landscaping project to learn more about using our dumpster rentals for yard waste.
Variety of Sizes: From small yard cleanups to full landscape redesigns, choose the container that fits your needs and avoid overpaying for waste removal.
Easy Cleanup: Use the dumpster door to walk in large shrubs, stumps and other heavy items to make loading less work.
Simple Scheduling: We'll deliver your container right when you need it so you don't have to delay your yard work.
Demolition Projects
Whether you need to knock down a few walls or all of them, our construction dumpster rentals are ideal for removing any amount of demolition debris. From smashed windows and ripped up floor panels to crumbling retaining walls and busted brick patios, we can cart away a wide variety of materials from just about any de-construction project.
Cost-Efficient: Our flat rates make it affordable to remove several tons of demolition debris at once, with no hidden fees or charges to worry about.
Full Coverage: With our team standing by Monday through Friday ready to schedule additional services, we'll make sure you always have what you need to finish the job.
Extended Rentals: Demolition cleanup taking longer than anticipated? Keep your bin beyond the included rental period for a flat, daily rate.

Tackling some DIY renovations in your own home? We can help.
Before you start swinging the hammer, call us at 866-284-6164 and we'll find the right disposal solution for your demo day debris.
Construction Dumpster Costs
Renting a dumpster for construction debris removal is the best way to save on disposal costs for your project. Our trucks can haul more in one trip than a pickup can in twelve trips, saving you plenty of time and gas money. The average national cost to rent a construction dumpster is $433, with prices ranging from $199 to $761. However, this can vary depending on the size of your container, the type of debris being thrown away and your location.
The table below provides cost averages for our most common construction container sizes. To get a free quote for your project, you can always call 866-284-6164.
| Construction Dumpster Size | Cost to Rent a Construction Dumpster |
| --- | --- |
| 10 Yard Dumpster | $199 – $569, with an average cost of $369. |
| 15 Yard Dumpster | $230 – $623, with an average cost of $392. |
| 20 Yard Dumpster | $262 – $677, with an average cost of $415. |
| 30 Yard Dumpster | $300 – $698, with an average cost of $468. |
| 40 Yard Dumpster | $335 – $761, with an average cost of $521. |
What Construction Debris Can Go Into a Dumpster?
Our construction waste disposal service can handle a variety of debris types from your construction or demolition site. In most areas, we accept all common construction debris for removal including:
Shingles and Underlayment: Including tiles, felt paper, roofing gravel and flashing.
Heavy Debris: Concrete, block, bricks and asphalt accepted.
Landscaping Waste: Including branches, shrubs, grass, stumps and dirt.
Building Materials: Lumber, drywall, siding and flooring accepted.
Have other debris to get rid of? Learn more about what we accept by calling our team of experts.
Hassle-Free Dumpster Rentals for Contractors
Construction waste disposal can seem cumbersome and expensive, especially when dealing with several tons of debris, but we can help you get rid of your debris easily and affordably. Call our team of friendly professionals Monday through Friday to order additional containers, schedule a pickup or request empty-and-return service. For returning customers, the process is even easier; simply text, email or call to schedule future services. Your dedicated representative will complete your request ASAP so your job site has limited downtime. Need to keep your container past your rental period? You can easily extend your rental at a flat, daily rate.
Whether you need a dumpster for a residential job or a new construction project, Budget Dumpster has a wide selection of contractor-specific dumpster rentals to meet the unique disposal demands of your job site. Call us at 866-284-6164 to get started.

Have More Projects to Work On? We Have the Dumpsters You Need
You can find the right dumpster size and services for any project, including:
---
How We Simplify Construction Waste Disposal