What Can You Throw in a Dumpster?
Learn What Can Go in a Dumpster and How to Dispose of the Rest
You can put almost anything in a dumpster, but that doesn't mean you should. There are a few items you can't throw out in a dumpster due to safety hazards and local restrictions. If you're not sure you can put a particular item in a roll off dumpster, check the list below or give us a call at 1-866-284-6164. We're happy to help.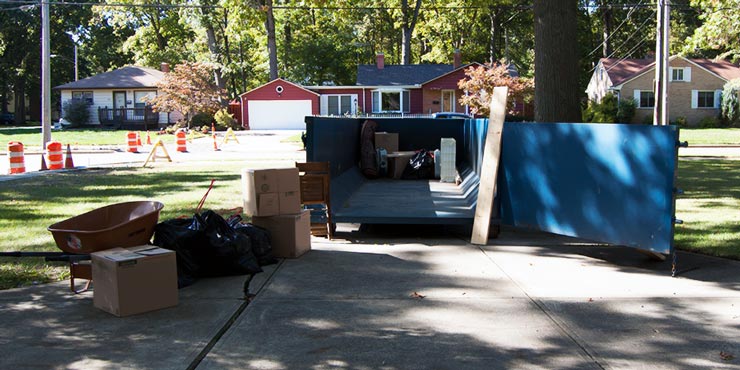 What Can Typically Go in a Dumpster
General household items like housewares, personal items and clothing can all go in a dumpster. Remodeling debris, such as drywall, lumber, flooring, cabinetry and siding, is also accepted. Take a look at the commonly accepted items below.
Please keep in mind that some service areas have local waste ordinances that prevent us from disposing of certain items that we normally accept. Contact Budget Dumpster at 1-866-284-6164 to get the specific disposal guidelines for your area.
Items You Cannot Put in a Dumpster
While the rules may vary on some materials, there are certain items you cannot throw in a dumpster. This is usually because the items in question are potential contaminants, pose a significant safety hazard or could damage the dumpster. Most of the items listed here can be disposed of through your local sanitation department, as well as local recycling services.
Have more questions about what you can throw in a dumpster? Read our tips on how to dispose of bulk waste. You can also call our dumpster rental experts at 1-866-284-6164 to ask about individual items.