Residential Dumpster Rental Services
Home Dumpsters for Any Residential Project
You don't have to be a professional to rent a dumpster for home projects. Take heavy-duty cleanups into your own hands with our simple and convenient residential dumpster services. From home renovations to residential junk removal, we can help you find the right bin for your needs at the right price for your budget.
How Our Residential Dumpster Services Can Help You
With a dumpster in your driveway, any size cleanup takes less time and effort. From household clutter to home remodeling materials, you can quickly and conveniently throw it all away within a timeframe that works for you. Here are a few of the most common projects our dumpster service can help you with at home.
Home & Garage Cleanouts
When cleaning out a house, a dumpster rental in the driveway streamlines the process. We offer residential dumpsters for estate and foreclosure cleanouts, as well as those weekend decluttering and junk removal projects.
Fast Delivery: We'll help you get your cleanout started ASAP with our quick home deliveries.
Extended Rentals: Keep your residential dumpster beyond your rental period for a flat daily rate.
Convenient Placement: We'll help you find the best spot for your bin on or around your property.
Home Improvement Projects
We also provide dumpsters for home improvement projects, including kitchen and bath remodels, roofing projects, yard makeovers and more. Get in touch with our team to find the right residential dumpster rental for your home improvement.
Variety of Accepted Materials: In most areas, we take everything from shingles to grass clippings to drywall.
Expert Advice: Our team is happy to recommend a bin for your materials.
Delivery Support: We'll help you find another location for your dumpster rental if your home's driveway isn't big enough for delivery.
Moving
Thin out your home's inventory and simplify your move with a residential dumpster rental. From broken knickknacks to worn-out wooden furniture, we can help you find the best dumpster for those household items that don't make the cut.
Simple Junk Removal: Walk your items inside the bin or toss them over the side.
Never a Rush: Our lengthy rental periods allow you to take your time sorting through your belongings.
Order With Ease: Just call Monday through Friday to order a home dumpster rental in minutes.
General Construction
Our home dumpster rentals are good for more than just residential junk removal. Whether you're adding a new home office or replacing your asphalt driveway with concrete, we can haul away construction materials such as lumber, brick, concrete and more. Talk to our team to find the right dumpster for your home construction project.
Consolidate Debris: No need to leave debris lying out on your lawn for a pickup.
Large Capacity: Our biggest containers can handle several tons of heavy construction debris.
Long-Term Solutions: We can provide swap-outs and multiple deliveries upon request.
Disaster or Storm Cleanup
When bad weather strikes, cleaning up your home afterward can be stressful and hectic. Our streamlined residential dumpster services make the process simple and easy: we deliver the bin, you fill it and we take it away. Give us a call to learn more about using our dumpsters for storm cleanup at home.
Personal Support: When you call, you'll speak directly to a helpful team member.
Availability: We're available Monday through Friday for support during your residential dumpster rental.
Quick Pickups: Our speedy removals will put the storm's damage behind you sooner.
Thanks to our experienced team and streamlined process, renting a residential dumpster is fast and easy. When you call, we'll provide a simple, upfront quote that bundles your rental period, delivery, pickup and any applicable taxes together. We'll then deliver your dumpster to your home quickly so you can get started without delay. Call with any questions or concerns you run into during your rental, and when you're finished, we'll pick up your debris ASAP.
How Much Does a Residential Dumpster Rental Cost?
The cost of a residential dumpster rental varies based on a number of factors, including location, dumpster size, debris weight and more. Learn more about residential dumpster prices in your area or reach out to our helpful team.
A Simplified and Supportive Home Dumpster Rental Experience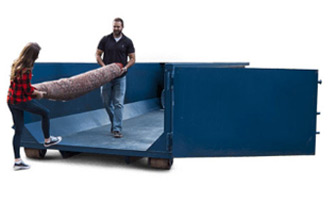 We strive to provide residential dumpster rentals that make any cleanup affordable, simple and convenient. Even if you've never rented a dumpster before, we'll explain the process step by step and provide ongoing support throughout your rental period. For more information on how to rent a dumpster for your home project, get in touch with our team today.
How Our Residential Dumpster Services Work