Home Dumpsters for Any Residential Project
You don't have to be a professional to rent a dumpster for home projects. Whether you're completing a DIY project or hiring a contractor, take heavy-duty cleanups into your own hands with our simple and convenient residential dumpster rental services. From home renovations to residential junk removal, we can help you find the right bin for your needs at the right price for your budget.
How Much Does a Residential Dumpster Rental Cost?
The cost of a residential dumpster rental varies based on a number of factors, including location, dumpster size, debris weight and more. The most common residential dumpster is a 20 cubic yard container which costs an average of $415.
How Our Residential Dumpster Services Can Help You
With a dumpster rental in your driveway, you'll spend less time, effort and money on cleanups. We accept a variety of debris, from household clutter to home remodeling materials, so you can quickly and conveniently clear away the mess from residential junk removal jobs or home renovations. Plus, our flexible rental periods let you keep your home dumpster until you've completed the job.
Use a Home Dumpster Rental for Projects Including:
A Simplified and Supportive Home Dumpster Rental Experience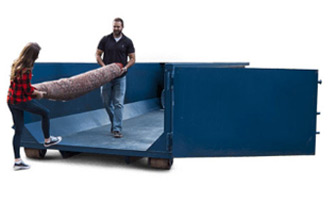 We strive to provide residential dumpster rentals that make any cleanup affordable, simple and convenient. Even if you've never rented a dumpster before, we'll explain the process step by step and provide ongoing support throughout your rental period. For more information on how to rent a dumpster for your home project, get in touch with our team today by calling 1-866-284-6164.