A mudroom is the space near your family's main entryway that stops dirt and junk from making it all the way into your home. It's where shoes, coats, sports equipment and even important papers get dropped the moment you bring them into the house. But when there isn't a designated place for this stuff, it ends up on your kitchen table or living room floor.
Creating a mudroom with the right elements to store everything coming into your home can help you keep your entryway and the rest of your home a little neater. Read along to find out how to build a mudroom that will stay organized.
Hint: The keyword is storage.
Choose a Space for Your Mudroom
Despite the name, you don't actually need a dedicated room to build a mudroom. You can turn any space near your family's most commonly used entrance into one, no matter the size.
Your mudroom could actually be in your garage, or just inside the garage door. If your family always uses the front door, you could turn your front closet into one instead or add some hidden mudroom storage to a corner near the entryway. If your back door gets the most traffic, maybe closer to the kitchen or basement makes sense for you. Even a small hallway can be turned into a functional mudroom with the right accessories. The location is important. If the area is not close enough to your family's main entrance, it will not be used.
Pro tip: Create a dual-purpose space by adding storage and decorative elements to a laundry room, hallway or garage to make it more welcoming and useful.
With the right location and the right amount of storage, you can build a mudroom that will catch all your entryway needs while staying organized.
Decide What Your Mudroom Will Store
Now that you know where your mudroom should be, think about how you will use the room and what it needs to hold. Ask yourself a few questions:
What is currently laying on the floor by your back door?
Do you need space for plenty of coats and accessories?
Do you simply need a place for keys and an umbrella?
Do you need storage for pet accessories?
Is there a lot of sports equipment leaving your home every day?
What items are frequently missing when you need to walk out the door with them?
Each of these questions will help you decide on how much and what kind of mudroom storage you need.
"Mudrooms should be designed around the family that is using it. The first thing to do when you are designing a mudroom is to consider what actions will take place in the space and then make a list of items you will need to store in that area."

Marina Dagenais | Designer Premier
Mudroom Storage Ideas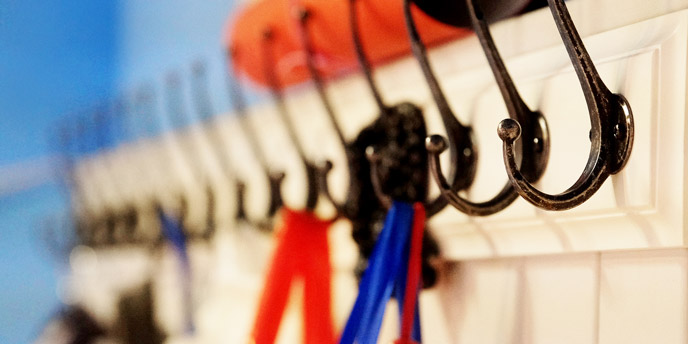 Once you know what type of mess you want your mudroom to contain, start putting together ideas for your mudroom storage needs. Whether your mudroom is actually a small room, a hallway or just a corner by a door, storage is the key to keeping the area organized.
| | |
| --- | --- |
| Common Clutter Items | Mudroom Storage Ideas |
| Shoes | Floor-level storage like cubbies or shoe racks |
| Coats | Hooks, hangers or lockers |
| Pet supplies | Hooks or cabinets |
| Backpacks | Lockers or hooks |
| Mail and important papers | Hanging wall baskets |
| Sports equipment | Lockers or cubbies |
| Outdoor accessories | Shelves with labeled baskets |
| Keys | Hooks or drawers |
Pro tip: Once you choose the correct storage solution for your family, make it easy to use by giving every family member a personal space. Assign a hook, cubby, drawer or shelf to each person by labeling it with their name so everyone knows exactly where their items go and where to find them.
Mudroom Ideas for Small Spaces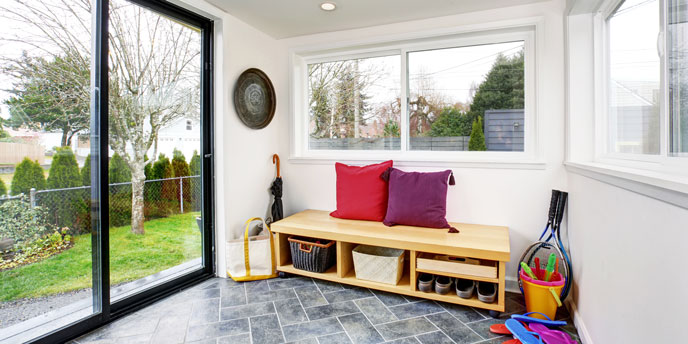 Turning a small space into a mudroom can be a challenge. You have to take advantage of every bit of space to guarantee the area stays tidy even as it becomes the dumping ground for everyone in your home.
Tips for creating storage in small spaces:
Add multiple rows of hooks at both adult and child heights.
Use multi-level shoe racks.
In a corner, use both walls to take advantage of space.
Add high shelves for storing less frequently used items like snow pants or bug spray.
For areas with slightly more space, add custom furniture like:
Mudroom Bench
A mudroom bench is a great addition for any home where shoes are always going missing or dragging mud through the house. A seat by the door can provide a built-in place for shoes to come off and go on.
Building a DIY mudroom bench is an even better choice as it provides a custom storage solution without the expense of buying one or contracting it out. If you're turning a hallway or a corner into a mudroom, tailor the bench to fit the size of your space exactly and choose between open cubbies, labeled baskets or drawers to add more mudroom storage without taking up extra space.
If you don't have a lot of stuff coming in and out of your home, simply add a decorative bench and then use the space underneath it for a mat or tray to keep shoes organized and out of sight.
Mudroom Cabinets
If you are turning the corner of another room into a DIY mudroom, a cabinet is a great discreet solution for coats and backpacks. You can purchase a cabinet, wardrobe or even metal lockers to match the aesthetic of the existing space.
DIY lockers are a great option for a dedicated mudroom, providing personal units for each family member to hold just what they need: coats, shoes, backpacks or sports equipment.
Pro tip: If your cabinets are decorative, they will blend into the room better and you'll be more inclined to keep the area tidy so it remains presentable.
Small Item Storage
If you expect your small mudroom to hold nothing more than keys and mail, opt for decorative key hooks and a small set of drawers. Add a stool or cute folding chair instead of a bench for seating you can easily move if needed.
Place a mail tray on top of the drawers or hang a wall basket to collect papers by the door.
Next Step to Building a Mudroom
You've decided where you need your mudroom and what type of storage will keep your family organized. Now it's time to purchase or build your storage solutions and install them in your new mudroom. Find tips for completing this and other DIY home improvement projects in our home project guides section.
Already made yourself a functional mudroom? Share other tips for building an organized mudroom in the comments.