Looking for a rustic window frame to hang photos on in your living room? Or perhaps some weathered barnwood for a shiplap accent in the kitchen? Knowing where to find reclaimed wood that's affordable and high-quality can be tough.
That's why we've put together a list of places to find, or buy, reclaimed wood for your next DIY project, complete with tips from the reclaimed wood experts at Chagrin Valley Custom Furniture.
What is reclaimed wood?
Reclaimed wood is lumber that has been previously used in the construction of a building or structure. Any wood that is recycled from the demolition or disassembly of a structure is considered reclaimed wood. This is different from salvaged lumber, which is wood that has never been used in any construction but may have been sitting idle in storage for years and years.
"Much of the furniture Chagrin Valley Custom Furniture makes comes from reclaimed wood. Reclaimed wood is great to have in your house because it gives a sense of tranquility, peace and calmness that other woods and materials can't match. If you're looking for peacefulness and serenity, reclaimed wood is where it's at!"

Sheldon Myeroff | Owner, Chief Furniture Maker
Chagrin Valley Custom Furniture
---
Where to Find Reclaimed Wood for Free (or Cheap)
---
One thing to keep in mind when finding reclaimed wood is that it can be expensive for property owners to dismantle and dispose of old building materials. If you offer to disassemble and reuse it yourself, property owners might be keener to allow you to take the wood. With that in mind, here's how to find reclaimed wood for free near you: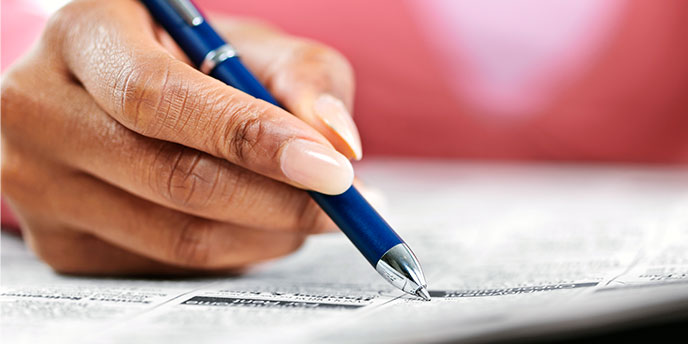 1. The Classifieds
Before you hop in your truck to find reclaimed wood for free around town, check your local classifieds first, either online or in the paper. You may find a few listings for "free reclaimed wood" from contractors or property owners looking to get rid of renovation debris. If you don't spot any right away, be patient. Check back over the next week or two to see if anything pops up, and set up an email alert so you'll get new listing notifications sent straight to your inbox.
If you still have no luck, post a want ad of your own in the free section. For online posts, be specific. Mention the kind of wood you're looking for, how soon you can pick it up and whether you're willing to disassemble an old structure (think sheds or pergolas) in exchange for the materials.
Where to Find Reclaimed Wood Online
Reddit (search locally in your city's subreddit)
Facebook Marketplace
Types of Reclaimed Wood You May Find Here
All types, depending on who you contact.
---
2. Construction Dumpsters
As the saying goes, one man's trash is another man's treasure. If you're looking for free reclaimed wood, talk to the foreman at a local construction site to see if you can take any old lumber off their hands. If you do find reclaimed wood in a dumpster, just be sure to get permission before taking it, as the contractors may actually have plans to recycle the wood themselves. When in doubt, always ask.
Most cities provide lists of ongoing projects in the area, so to find construction sites near you, search for "local city building projects" online.
Types of Reclaimed Wood You May Find Here
Floorboards
Pallets
OSB or plywood boards
Beams and planks
Doors
Window frames
---
"Most of the reclaimed wood out there is barnwood because there is such a huge supply of it, especially in Ohio. There are lots of different species of barnwood. Oak is the most common. Pine and wormy chestnut are also quite common. We prefer oak because of how dramatic the cracks and knots are and because it has been dried over a period 100 to 300 years."

Sheldon Myeroff | Owner, Chief Furniture Maker
Chagrin Valley Custom Furniture
---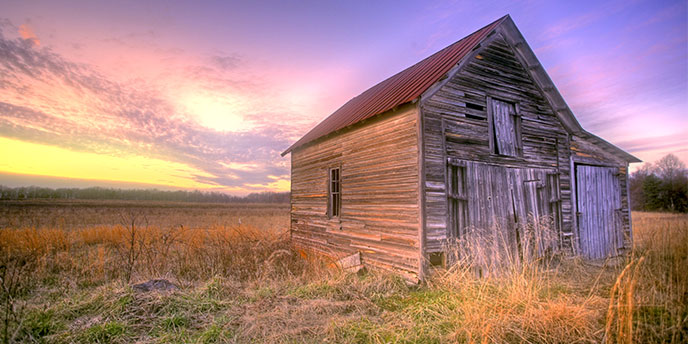 3. Local Farms
Where can you find old barn wood? Ask a farmer. Thanks to newer aluminum siding barn designs, modern farmers have little use for old wooden barns these days, making them a great place for finding reclaimed wood. If you're on the hunt for old barn wood, take a drive out in the country. If you see something that catches your eye, stop and leave a note for the owners explaining what you're looking for.
Always ask permission before entering private property or taking any wood pieces, as the owner may have their own plans for the items.
Types of Reclaimed Wood You May Find Here
Barn doors and window frames
Barnwood shiplap
Floorboards and planks
Ridge beams
Posts or poles
---
Tip for Reclaiming Old Barn Wood:
Unless you have the right crew and equipment, tearing down an entire barn to reclaim its wood is not feasible for the average DIYer. But you could always ask to look around for any stall doors, window frames and other pieces that aren't crucial for the structure's integrity. If you happen to find a barn that's already collapsed, ask to look around the debris for unique pieces.
---
4. Broken Fences
If, on your countryside drive, you see a busted wooden fence, you could ask the owner if they have plans to repair it. If not, offer to cart away what's left of it. Depending on the type and condition of the fence, its gates, posts and slats can offer the weathered reclaimed wood look you want for your DIY project.
Types of Reclaimed Wood You May Find Here
Fence rails
Slats and posts
Vintage gates
---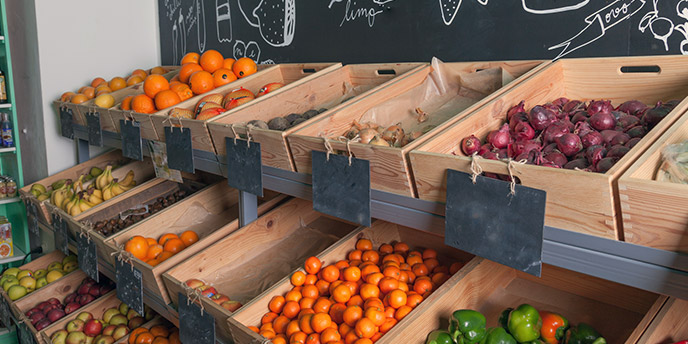 5. Grocery Stores and Other Retailers
If you're dying to get in on the DIY pallet wood trend, your local grocery store might be a great place to find free reclaimed wood. While plastic pallets are growing in popularity, some stores still use wooden pallets and crates to transport large loads of food and other items into their stores. Call ahead and ask if they have any wooden pallets lying around that you can take off their hands.
Types of Reclaimed Wood You May Find Here
Wood pallets
Produce and wine crates
Other Places to Find Free Pallets in Your Community
Pet stores
Wine shops
Distribution centers
---
Tip for Finding Reclaimed Pallet Wood:
Some DIYers suggest checking out your local farmers market in search of pallets, but according to the North Union Farmers Market in Northeast Ohio, that may not be the best place to start. "Our farmers are some of the best recyclers and would themselves utilize reclaimed pallets for their own needs," says Donita Anderson, executive director of the nonprofit. "Your best resource for reclaimed wood pallets would be the very large wholesale distributors and large grocers."
But, while you may not find pallets, you can still swing by your local farmers market to grab a healthy snack for your search and support farmers in your area.
---
6. Your Neighbor's Old Deck or Shed
Tired of looking at your neighbor's leaning wooden deck? Turn it into a reclaimed wood coffee table – with their permission, of course. Left untouched, a worn-out deck or shed is an invitation for mice, snakes and termites, so your neighbors might appreciate the help taking it down.
Types of Reclaimed Wood You May Find Here
Wall and floorboards
Old latch doors
Window frames
Exterior shiplap
---
Where to Buy Reclaimed Wood
---
If you can't find reclaimed wood for free, there are a few places where you can purchase reclaimed wood for your DIY project.
1. Reclaimed Wood Suppliers
There are many professional reclaimed wood suppliers who specialize in sourcing and producing high-quality recycled wood products. They often have teams dedicated to obtaining wood from barns, older homes and other structures in the area. Reclaimed lumber dealers can be pricey, but they are typically the best source for top-notch products.
"If you're buying from home, make sure you have a reliable source to purchase your wood from. You're going to pay more money but you're going to get dry wood so that when you build your project it will stay together and won't warp. Too much water content is hazardous to the longevity of the project."

Sheldon Myeroff | Owner, Chief Furniture Maker
Chagrin Valley Custom Furniture
2. Craigslist
If you can't find it for free, you may be able to buy reclaimed wood in the online classifieds. Because terms like "reclaimed wood" or "barnwood" are often used to sell old wood at a premium, try searching for "lumber" or "salvaged wood" for cheaper options – even though salvaged is not the same as reclaimed wood.
---
How much does reclaimed wood cost?
It depends on what you're buying and what it's for. On average, reclaimed wood can cost anywhere between $5 – $10 per square foot, but can be much more expensive depending on the rarity of the wood.
---
3. Habitat for Humanity ReStores
While most lumber found at Habitat for Humanity ReStores will be salvaged wood, meaning it has never been used before, you may be able to find a few unique reclaimed wood pieces, including old doors, window frames, cabinets and more.
---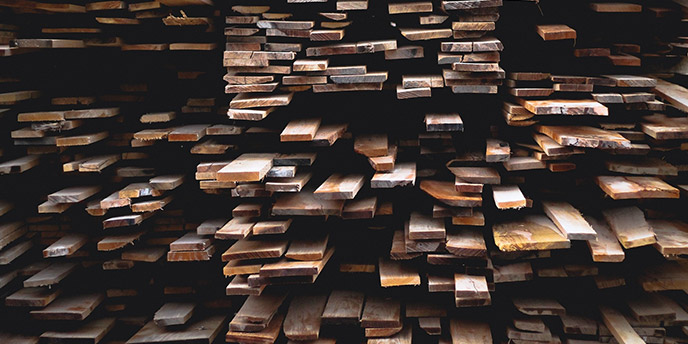 When Looking for Reclaimed Wood, Be Patient
If you're on the hunt for reclaimed wood, remember that persistence and patience pay off. It can take time to find the right reclaimed wood pieces for your project, but don't let it discourage you. Check the online classifieds often. Be prepared to reach out to a lot of different people and places – the worst they can say is no. Above all, be sure to always get permission and maintain good relationships with those that do allow you to reclaim their wood.