Is your garage more storage space than parking space? Are tools, extension cords, holiday decorations and ladders taking over? You need to clean, organize and add plenty of storage to take back your garage.
For inexpensive solutions to your clutter conundrum, use these DIY ideas to create garage organization on a budget. Choose the project that's right for your needs, budget and DIY skills.
5 Garage Storage Ideas on a Budget
1. Build DIY Garage Shelves
Experience Level: Experienced
Cost: $150 to $350, depending on the number of shelves you choose to build
The best way to keep your garage organized is to keep items off the floor whenever possible.
Custom garage built-ins can cost thousands of dollars, but building your own shelving is a quick way to improve garage organization on a budget. Open shelving in the garage allows you to easily see and access your items while keeping them out of the way of people and cars.
These plans from DIY blogger Ana White provide directions for building a 20-foot long garage shelving unit that is just what you need to get all those bins and boxes off your garage floor. The size of the unit can also be adjusted to fit any garage wall.
Before you begin adding storage, take some time to get rid of junk and thoroughly clean out your garage so you can begin organizing on a clean slate.

Pro Tip: "Have a plan for your discards. This is just as important as having trash cans at a party! Rent a dumpster , clear out your car to take donations, find out where to take hazardous household materials, etc."

Nonnahs Driskill | Get Organized Already! Inc.
2. Use DIY Garage Cabinets to Hide Clutter
Experience Level: Advanced
Cost: $100 to $500
If you want to hide your clutter as well as get it off the floor, you can choose garage cabinets instead of shelving.
One potential blueprint you can follow comes from The Family Handyman Magazine, featuring 80 cubic feet of storage and sliding plywood doors. The instructions are easy to follow, and the project itself should only take you a day to finish.
Before you mount your cabinets to the wall, account for where you will park your car. Mounting them on the wall opposite your garage door should give you plenty of wiggle room.
Are cabinets or shelves better for the garage?

"The decision between cabinets or shelving units depends on the homeowner's organization style and how much they want to protect their belongings. Cabinets provide more protection from dirt and dust, but the items are out of sight and can be forgotten. With shelving, everything can be easily seen and accessed, but belongings need to be contained in lidded bins to protect them from dirt, dust and pests."

Nancy Haworth | On Task Organizing

3. Build a Pegboard Wall in Your Garage
Experience Level: Beginner
Cost: Approximately $10 per 2-foot-by-4-foot panel
If you have exposed studs in your garage, a pegboard wall is a simple organization tool that's also super easy to install. Pegboards are perfect for exposed studs because they require a small void behind them to attach hooks and baskets. Don't have exposed studs? No problem. You can simply build a frame onto the back of your pegboard such as the one in this guide by the Sawdust Sisters.
Pegboard is completely customizable and is one of the cheapest garage storage ideas, though you do need to save some of your budget for hooks, baskets and other hardware to hang on the board.
4. Install Overhead DIY Garage Shelving
Experience Level: 1 to 2 Experienced DIYers
Cost: $55 to $75
You probably have more free space in your garage than you realize. You just need to look up, and take advantage of ceiling space to keep your garage organized.
This budget project transforms useless ceiling space into a storage solution. Depending on the height of your garage, you may even be able to install shelving above your garage door, like in this project example by Her Tool Belt.
At a low cost, this is a great project to improve garage organization on a budget.
"Storing items you use only once a year at eye or ground level is a common mistake [in the garage]. Keep holiday decorations up and out of the way."

Nonnahs Driskill | Get Organized Already! Inc.
5. Install a Slatwall
Experience Level: Beginner
Cost: Approximately $50 to $60 per 2-foot-by-4-foot panel
Similar to a pegboard storage system, a slatwall allows you to hang items on the walls with moveable hooks. Slatwalls are sturdier than pegboard and can hold heavier items, making it slightly more expensive.
This storage solution can be installed on drywall or exposed studs. Hooks, baskets, shelves and other accessories can all be added to meet your garage needs. You can even add garage shelving to a slatwall to create more storage options.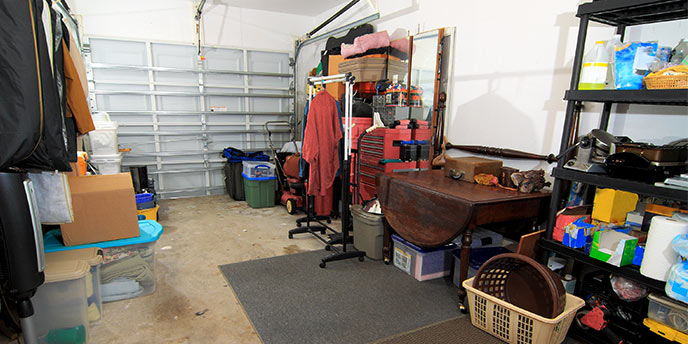 How to Keep Common Garage Items Under Control
DIY garage shelving and cabinets will help you keep clutter off the floor of your garage, but what about the items you use on a daily basis? Create zones by grouping like items together in your garage with these ideas for storing tools, extension cords, bikes and ladders. Never trip over a rouge bike or waste time digging for a wrench again.
"Create a home for everything and organize items by zones, such as all gardening supplies together and all tools and hardware together."

Nancy Haworth | On Task Organizing
How to Store Tools in the Garage
Any DIYer knows keeping your tools organized is an important part of completing projects. If you keep your tools in the garage, keep them organized with these storage solutions:
How to Store Extension Cords
Extension cords are necessary and hard to control. When storing them, you want to ensure your cords remain untangled and readily accessible.
Use these ideas to add extension cord storage to your garage:
How to Store Ladders
Ladders are large and can easily get in the way of your car when left on the garage floor. If you have more than one ladder, a storage solution is absolutely necessary.
Create a ladder zone by:
How to Store Bikes
Is your garage crowded with every size of bike, from tricycles to dirt bikes? Create dedicated storage and stop tripping over bikes by:
---
Once you've selected the storage solution that's right for you, you're only a few days away from an organized, useable garage. With these cheap garage storage ideas, you can guarantee it stays clean longer than just a few minutes.
---
Looking for More Garage Ideas on a Budget?
Check out these projects for other ways to transform your garage the DIY way: