Basements, both finished and unfinished, tend to become the catch-all storage area for everything, including holiday decorations and that old Singer sewing table you inherited from your parents. Keeping a few odds and ends downstairs isn't a problem. But when stacks of boxes start disappearing behind more stacks of boxes, that's when you have a clutter problem.
Fortunately, organizing your basement doesn't have to drag on for weeks on end. We'll show you how to organize both a finished and unfinished basement using storage ideas that will keep your space clean for good.
First, Get Rid of Anything You Never Use
The first step in organizing your basement is removing everything you no longer want or need. For most of us, this includes:
Old clothing
Toys
Furniture
Old electronics
Broken or outdated appliances
Use the three-box method featured in our ridiculously thorough decluttering guide to help you organize the things you want to keep, sell or donate. Another good tip for cleaning and organizing your basement: if you come across something you haven't used in the last six months, it's probably time to pitch it.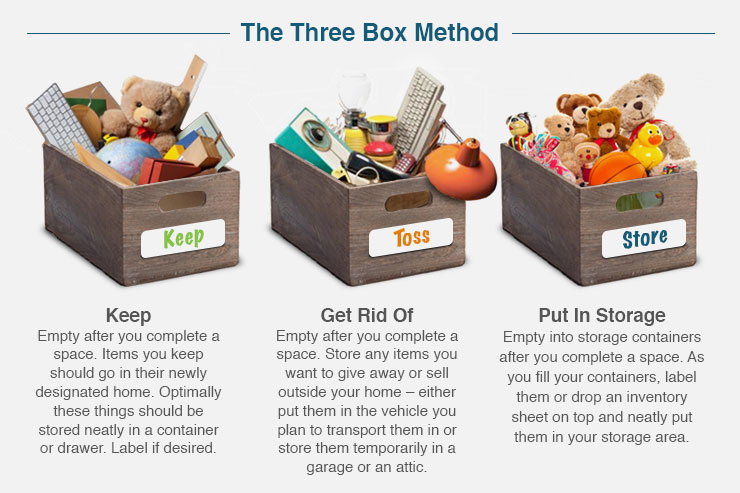 What you should keep are things that your family uses on a regular basis, as well as important documents that you need to hold on to.
"Often what is in our basements we have already started to distance ourselves from. Keep seasonal items that you do rotate in and out. Keep clothes that your children will grow into (not the ones they have already grown out of!) and supplies for activities. This is a good place for documents that you must keep, such as tax records, but that don't need to be in your office filing system."

Nettie Owens | Sappari Solutions
Next, Organize Your Basement Into Zones
Now that you know what you need to store in the basement, it's time to find a home for all of it.
Start by moving anything heavy, such as a foldable table or bins of documents, near the stairs. This will cut your travel time if you ever need to bring any of these things upstairs, sparing your back.
After that, group similar items together to make finding a space for them easier. If you keep spare cans of paint in the basement, put them on a designated shelf along with other household supplies. If you have a workbench in the basement, keep your tools on a pegboard above it and any hardware on a shelf near it.
Rinse and repeat for anything else you're keeping, such as holiday decorations or laundry necessities.
Use a Few Basic Basement Storage Ideas to Find Everything Easily
With unfinished basements, your storage options are wide open. One clever idea is to add wire shelves to your ceiling. Simple staple a few panels of wire shelving to the joists above and you'll have plenty of space for light storage containers, or even a Christmas tree or two.
Shelves are a must for basement storage, both finished and unfinished. Using bins with your shelving will make the entire organizing process easier, and you won't have to spend ten minutes looking for that one thing you'll need again in a few days.
"In an unfinished basement, sturdy shelving and clear bins are the way to go. Bonus points for shelving on casters that lock into place. Double check that the bins you have selected will fit on the shelving…The shelves keep you from stacking bins one on top of another and creating a situation that is hard to maintain."

Nettie Owens | Sappari Solutions
A few other basement storage ideas to consider:
Clear plastic cubbies
Wooden crates
Wire baskets
DIY wooden shelving
Pegboards for tools and supplies
Plastic tubs
Label Everything
No matter what kind of shelving or bins you choose, make sure you label every storage unit. This will help you keep track of where things are and where they should go if family members leave them out. Nettie Owens recommends using adhesive pockets like these so you can easily swap out labels.
If you're using wooden shelves for storage, you can apply chalk board paint to the front and label each section of shelf with chalk.
Enjoy Your Newly Organized Basement
After you've completely decluttered and organized your basement, you'll be able to find everything you need without stumbling around stacks of boxes. Plus, it will make any future basement projects or repairs a lot easier to handle, including these ones below:
Have any other tips for cleaning and organizing a basement? Let us know in the comments.