Traveling to foreign lands, discovering $20 in the couch and finding out your crush is into you. Just a few of life's greatest pleasures. Extend the list another couple thousand items and "removing tile floors" likely still doesn't make the cut. But here you are. Searching how to remove tile floor.
Tools You Will Need

Good news. We've come up with a step-by-step guide on how to remove tile flooring in an easy, efficient and affordable manner. Check out the specifics of each step below, but in short, here's how to remove tile floor:
Prep Your Room.
Create a Starting Point.
Remove All the Tiles.
Inspect the Underlayment.
Dispose of Your Debris.
As an added bonus (and to make each step feel a little more like that crumbled $20 bill), we've added one of life's greatest pleasures: music. Our playlist weaves through the five steps of removing and replacing old tile floors, making it simple to work through this worthwhile home improvement project.
---
5 Steps | How to Remove Tile Floor

Step #1: Prepare the Room
Before you start hammering at a floor coated in tiles, you should take several simple steps to ensure you're set up for success. Other than finding an audio source superior to the speakers on your phone, take the time to complete the following:
Remove fixtures, furniture and all items that are in the way.
Take off baseboard trim and label it to aid in the reinstallation process.
Seal vents with plastic and tape to block off dust particles.
Gather all your gear together, including eyewear and gloves.
Listen to this: "Room For Squares" is a clear reference to the John Mayer's passion for tile removal and replacement projects. The 2001 release is ideal introduction music.
---

Step #2: Create a Starting Point
You have to start somewhere. That spot may be a place where tile is nonexistent like under a vanity or another fixture. If such a spot isn't apparent, create a starting point in a corner of the room. From there, follow these steps:
Use a chisel and hammer to break apart the first few tiles.
Inspect the underlayment of the floor to ensure there's no damage.
If necessary, use a pry bar to lift up tile that otherwise won't move.
Listen to this: "Started From The Bottom" will provide proper motivation for taking on the (tiled) road ahead. Let Aubrey Graham's 2013 smash get you started.
---
Step #3: Continue Removing Old Tile
It's time for the real work to begin. Now that you've created a few feet of space to work with, use the hammer, chisel and pry bar combination to continue to remove tiles. As you continue to remove tiles, make sure you:
Don't use too much force. It may result in damage to the floor or personal injury.
Carefully pick up tiles with a heavy broom and dustpan or a snow shovel.
Have a bucket or another waste disposal option ready to dispose of the tiles.
Consider purchasing or borrowing a pole scraper to reduce bending.
Listen to this: "U Can't Touch This" was released in 1990, but the song and its use of "Hammertime" have yet to fade. Make use of it as you continue to pound away at the remaining tiles.
---

Step #4: Inspect the Underlayment
You've cleared the floor of tile. And while you're approaching mile 24 of the the marathon, it's not time to rejoice quite yet. It's time to fully inspect your work. Do the following when fully scanning the floor:
Check out the underlayment and mark gouges that need to be filled.
Remove or pound in protruding nails and other similar items.
Address all issues before installing the new floor.
Listen to this: "Check Yo Self" reminds you to assess all layers of the floor as you're removing old tile. Listen to Ice Cube. Please don't wreck yourself.
---

Step #5: Dispose of Debris
The finish line is in sight. All you need to do is cleanup. Remaining dust and debris should be taken care of to the best of your ability. To get your room primed for a new floor, complete this list:
Use a shop vacuum to get rid of the remaining dust and small particles.
Clear the buckets of tile and all materials from the room.
Consider renting a roll off dumpster for larger tile removal projects.
Listen to this: "Come Clean" provides the feel good vibes necessary for the end of the project. Clean up and let Hilary remind you that you've successfully removed a tile floor.
---
After You Remove Your Tile Floor
Installing a New Floor
If removing your tile floor has inspired you to continue your DIY momentum, keep it rolling with our guides on How to Install Tile and How to Install Carpet.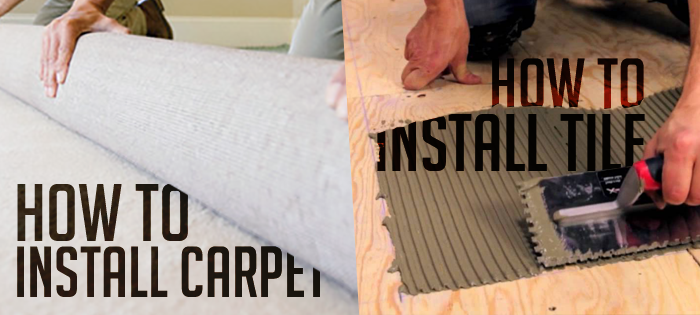 The Fill produces blogs on various home improvement related topics. Whether you want to revamp your kitchen, install a new closet or get your home ready to sell, we're a great source for a long list of projects. Feel free to drop a line in the comments section if you'd like to see other projects covered.