You may have heard the saying that "Perfect is the enemy of good" and it's definitely true for those of us who want to reduce our environmental impact. A true zero-waste lifestyle won't work for everyone but that shouldn't discourage you from going green. That's why we rounded up a list of awesome eco-friendly products you can use in your daily life to improve your environmental footprint in small, practical ways.
---
19 Eco-Friendly Products for Any Home
We broke our list of eco-friendly products into groups, so you can focus on what's most important to you.
What Do You Want to Green?
Morning Routine
Kitchen
Gift-Giving
Chores
---
Green Products for Your Morning Routine
---
You might not think oral hygiene can help the environment but Bogobrush begs to differ with their two innovative toothbrushes. Their recyclable brush is made from recycled #5 plastic and can be dropped right back into your curbside recycling bin when you're done with it. They also offer a biodegradable toothbrush made from bioplastic. Once the brush wears out, simply throw it in the compost pile. Besides cutting plastic pollution, Bogobrush donates a toothbrush to the needy for every one sold, and all their products are made in the U.S., providing jobs in four different cities.
---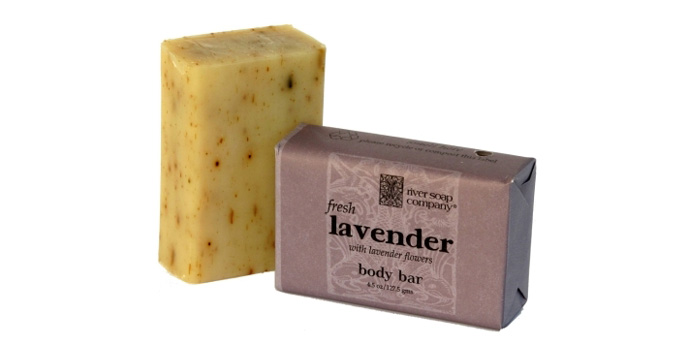 River Soap brings you a greener clean with bar soap that's 100 percent natural, cruelty-free and biodegradable. Each bar starts with a palm and coconut oil base, using essential oils for fragrance, and spices and botanicals for color. Except for their "Milk & Honey" bars, all of their products are suitable for vegans and even their packaging is made from 100 percent recycled cardboard to create a product that's truly green from start to finish.
---
With this simple product, you can enjoy the convenience of single-serve coffee pods without the waste. Uncommon Coffee Roasters created the first 100 percent compostable pod on the market, using plant-based materials that will completely biodegrade within just 90 days in your compost pile. Even their packaging is green — featuring a 100 percent recyclable outer box and a compostable inner sleeve.
Our growing preference for single-serve coffee dumps nearly 9 billion pods into our landfills every year. By switching to compostable pods, you can feed your habit the eco-friendly way.
---
Our daily showers can waste an incredible amount of water, but High Sierra's innovative take on low-flow technology is here to change all that. Their nozzles use 40 percent less water than even other low-flow showerheads, without the clogging problems that often accompany them. And for people with septic systems, High Sierra's technology often gives better water pressure than conventional nozzles. This is another eco-friendly product made here in the U.S., so you can feel good about supporting local jobs while you reduce your water footprint.
---
Shea Moisture's line of hair products keeps our water supply clean with shampoos, conditioners, mousses and dyes that contain none of the petroleum, parabens and other harmful chemical usually found in other products. Instead, they use all natural, organic ingredients that are sustainably produced, fairly traded and never tested on animals. Shea Moisture has been creating healthy, eco-friendly products since 1912, when it began life as a one-woman home-based business in Bonthe, Sierra Leone. Today, the company supports minority women-led businesses through its Community Commerce program.
---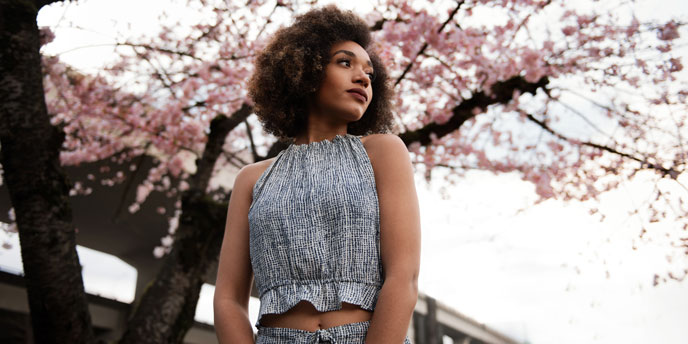 With EcoVibe Apparel, you can dress stylishly without causing ecological harm. From tees to dresses, EcoVibe creates each of their pieces as completely as possible from sustainable fabrics. For example, modal is a material made from beech pulp that can be extracted without cutting down the tree. The resulting fabric is CO2-neutral, stain-resistant, and extremely durable. Other fabrics used in their offerings, such as Tencel, are fully biodegradable.
It might surprise you to learn that the fashion industry is the world's second-largest source of pollution — topped only by oil. By shopping choosing sustainable brands, you'll be doing your part to change our reliance on wasteful "fast fashion."
---
The bathroom is — pun absolutely intended — a pretty wasteful place. But it doesn't have to be. Green Forest Paper's toilet paper and tissues are made entirely from recycled paper —even the cardboard rolls are 100 percent recycled. They don't use toxic bleach for whitening, and since recycled paper has shorter fibers, it breaks down faster in septic systems. Green Forest Paper's environmental cred even extends to the outer packaging of their products, which can be dropped off anywhere you recycle plastic grocery bags.
---
Sustainable Alternatives for Your Kitchen
---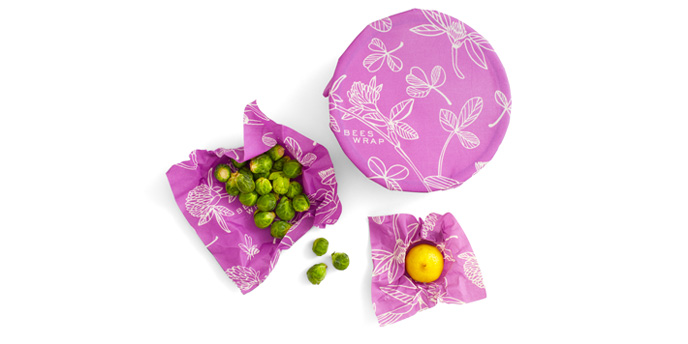 Vermont-based Bee's Wrap is here to greenify your kitchen with reusable wraps made from organic cotton coated with a mixture of beeswax, tree resin and organic jojoba oil. The heat from your hands allows you to mold a wrap to whatever you need to store, from a plate of baked goods to a sandwich for your lunchbox. When you're done with it, a quick rinse in cool water with a little dish soap will have it ready for reuse again and again!
U.S. households discard approximately 380 billion baggies and pieces of plastic wrap each year. Switching to a reusable wrap is an easy way to help lower that statistic.
---
If you've already started composting , the kitchen bins at Full Circle will make collecting your scraps much easier. Each bin is small enough to fit right on your kitchen counter so it's always in reach as you're chopping veggies or cleaning up after a meal. And you won't have to worry about odor — these bins are designed to allow air flow so that scraps begin decomposing without any funk.
The average U.S. family wastes over 1,000 pounds of food each year. Composting is a simple way to change that statistic — and keeping a compost bin in your kitchen ensures you're composting as much as possible.
---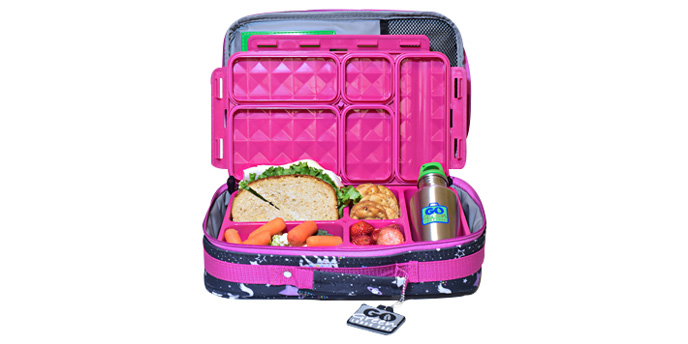 Multiple plastic baggies, juice boxes, snack wrappers—if you're worried by the amount of packaging involved in your kids' lunches, Go Green Lunch Box is an ingeniously green product featuring compartments large enough to hold a variety of lunchtime favorites in place without packaging. A "turn 'n lock" lid keeps everything fresh. You can even buy sets that come with a fun carrying case, ice pack and reusable drink bottle. When you no longer need them, each box can be recycled.
Each student's lunch produces 67 pounds of packaging waste per year — that's nearly 40,000 pounds of trash per school! With a product like Go Green Lunch Box you'll keep your kids full without the massive cost to the environment.
---
Klean Kanteen created the original stainless steel water bottle back in 2004 and today you can turn to them for whatever liquid you need to tote. Whether it's an insulated tumbler to keep your morning coffee hot or a growler for your favorite beer, you'll find sleek containers made from long-lasting, food-safe stainless steel you can reuse for years. Even better, many of their lid types are interchangeable, so you can buy one or two bottles but switch out the lids to use them in different ways.
Americans discard over 50 billion plastic bottles a year. With a reusable bottle you can instantly cut your contribution to that number dramatically.
---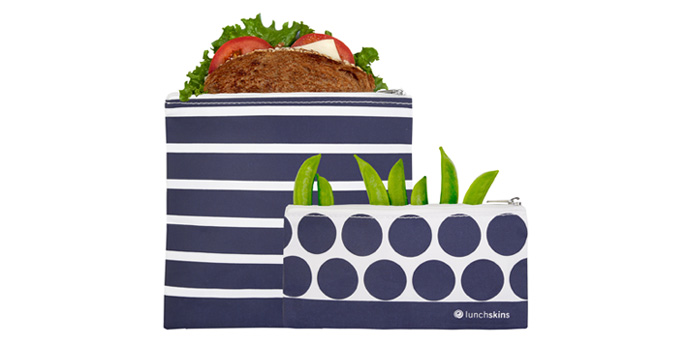 Packing your family's lunches just got way greener with LunchSkins' awesomely practical zipper bags you can reuse over and over for just about any snack imaginable. Their products contain no BPA or phthalates, meet all FDA standards for food safety and — best of all for busy parents — can be tossed in the dishwasher when they're dirty. And since most of us can't totally give up single-use items, LunchSkins even has a line of sealable paper baggies you can recycle or compost after use.
LunchSkins estimates that just one of their reusable bags will keep 500 pieces of plastic out of landfills, all without adding a single step to the chore of packing lunches.
---
Low-Waste Ideas for Special Occasions
---
Thanks to California-based Green Toys, you can give the environment a gift every time you buy one for your kids. From trucks to teething rings to tea sets, Green Toys creates playtime favorites using nothing but recycled milk jugs and earth-friendly dyes. And since they include no mixed materials, you can easily recycle them curbside when your kids outgrow them. As socially responsible as they are sustainable, Green Toys manufactures everything here in the U.S., so they can ensure worker safety and monitor their environmental impact.
---
If presentation is as much a part of your gift-giving as the present itself, Lilwrap is the eco-friendly product you need to create beautifully wrapped packages the green way. Their gift pouches are made of stretchy fabric which can expand to fit nearly any object, all tied up with a classic bow. Available in a huge variety of fun prints, this fabric is durable enough to last through countless gift-giving occasions, and can be quickly hand-washed if it ever gets dirty.
On Christmas alone, we throw out about 4 million tons of wrapping paper. A reusable alternative that will make your gifts look just as special without the usual waste.
---
Eco-Friendly Products for Everyday Chores
---
We all want our clothes to be soft and comfy, but most fabric softeners are a cocktail of chemicals that aren't safe for the environment and may be unhealthy for humans too. That's why Molly Suds created a reusable wool dryer ball to soften clothes naturally. A single three-pack will easily see you through 1000 loads. That's about three years' worth of laundry, so not only will you be reducing your use of harmful chemicals, you'll be saving money while you do it! And when your dryer balls finally do wear out, you can compost them.
Molly Suds was created by a pediatric nurse concerned about mounting research that chemicals in our cleaning products can affect fetal development. Your own family can now enjoy the safer, greener products she created to keep her own family healthy.
---
Caring for your pets can get messy, but with Ecos' line of pet supplies, you'll find everything from stain and odor removers to cage cleaners formulated from sustainably sourced ingredients without any harmful chemicals, synthetics or dyes. Products like their pet wipes are biodegradable, while liquid cleaners are made safe for septic or grey water systems to prevent water pollution. On top of all that, Ecos manufactures their products using 100 percent renewable energy while diverting 95 percent of their waste from landfills.
---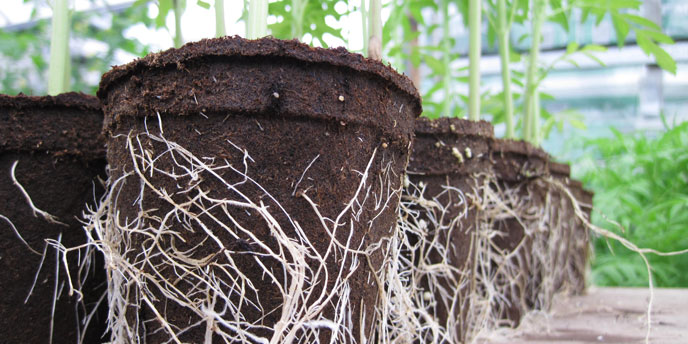 Thanks to CowPots, gardeners' thumbs are about to get a whole lot greener. After extracting methane to create green energy, dairy farmers Matt and Ben Freund turn their cows' manure into planters that are not only 100 percent biodegradable but made almost entirely from a renewable resource. Just start your plants in a CowPot as you normally would, then transfer the entire pot into the ground when the time is right. Within a few weeks, the pot will biodegrade, giving your soil a powerful nutrient boost in the process.
Traditional plastic planters require fossil fuels to produce and are often not recyclable. And while peat planters biodegrade, peat mining disrupts ecosystems. CowPots are a truly green product gardeners can feel good about.
---
With Grab Green's line of eco-friendly laundry products, you can clean your clothes without dirtying our water supply. Their detergent pods and powders contain no dyes, chlorine, phosphates or phthalates — chemicals which can be harmful to the environment and in some cases may be unhealthy for humans too. To greenify the entire laundry process, you can also buy dryer sheets that can be reused for multiple loads, then composted when they wear out. Grab Green also works hard to use minimal, recyclable packaging and to source their materials sustainably.
---
Urban Clothesline makes it easy to air-dry your clothing no matter where you live or how much space you have to work with. From umbrella-style clotheslines you can set up in a big backyard to retractable models perfect for small spaces, Urban Clothesline merges time-honored technology with modern aesthetics to help you save both energy and money. In fact, you won't just save on your electric bill: when they're not being pummeled in a dryer every week, your clothes can go much longer without fading or showing wear.
Every time you use a dryer, you add about 5 pounds of carbon dioxide to the atmosphere. While hanging up your clothes takes a little more time, the savings for both your wallet and the environment are well worth it.
---
Stoked to start working more eco-friendly products into your daily routine? Comment and let us know what you're using! Then check out the Green Living section of our blog to learn how to build your own compost bin, how to conserve water or get plenty more tips for living sustainably.