10 Yard Dumpsters
Dimensions and Capacity of a 10 Yard Dumpster Rental
A 10 yard dumpster is perfect if you do not have a lot of debris or the space to fit a larger dumpster in your driveway. Here are the basics of our smaller 10 yard dumpster rentals:
Dimensions: Exterior dimensions of a 10 yard dumpster typically measure 14 feet long by 7.5 feet wide by 3.5 feet tall.
Capacity: A 10 yard dumpster can hold 10 cubic yards of material, or 3 pickup truck loads.
Weight Limit: 10 yard dumpsters can typically hold 2-3 tons of material, or 4,000-6,000 lbs – please note that weight limits vary by location.
Other Key Features: A 10 yard dumpster is small enough to fit in almost any driveway.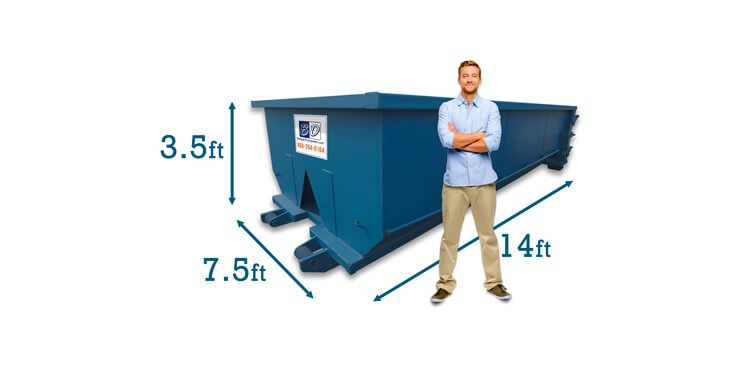 *Exterior dimensions shown. Dimensions may vary but total volume is accurate.
Is a 10 Yard Dumpster the Right Size for Your Project?
A 10 yard dumpster is the smallest – and least expensive – dumpster we offer and is generally used for smaller junk removal and residential projects such as:
Attic, basement and garage cleanouts.
General household cleanouts.
Dirt and concrete removals.
Interior renovations.
10 Yard Dumpster Delivery Guidelines
Follow these general guidelines when you're preparing for a 10 yard dumpster delivery:
Make room: About 60 feet of space (in length) is required in your driveway to drop off a dumpster. Make sure there are no cars or any other obstructions that would prevent the truck from getting access to the driveway.
All clear: The truck will need 23 feet of vertical clearance to raise the dumpster and place it. Make sure the delivery area is free of low-hanging wires or tree branches.
No need to wait: Dumpster deliveries are based on the most fuel-efficient routes, so your dumpster can arrive at any time throughout the day. Don't worry, though, you don't have to be there at the time of delivery.
Don't forget: Once you have your 10 yard roll off, keep in mind of the debris you're throwing in it as well as the weight limit.
Still Wondering if a 10 Yard Dumpster Is Right for You?
We can help. Call 866-284-6164 and a customer service representative will be able to help answer what dimensions you need based on the type and amount of debris you're throwing away.
Watch our video below to learn more about dumpster sizes, dimensions and volume. It'll help you determine whether a 10 yard, 15 yard, 20 yard, 30 yard or 40 yard dumpster is right for you.