15 Yard Dumpster Rental
Dimensions and Other Features of a 15 Yard Dumpster Rental
A 15 yard dumpster is just right for small-scale junk removal or remodeling projects that still leave behind a mess too big to leave at the curb. Check out the numbers below to determine if you should rent a 15 yard dumpster for your next project.
Dimensions: 15 cubic yard dumpsters typically measure 16 feet long by 7.5 feet wide by 4.5 tall.
Capacity: This size holds approximately 4 1/2 pickup truck loads of debris.
Weight Limit: This size typically holds 4,000-6,000 pounds. Please note: weight limits vary by location. Call for the specifics in your area.
Other Key Features: Our dumpsters feature easy-open doors that make for a simple loading process.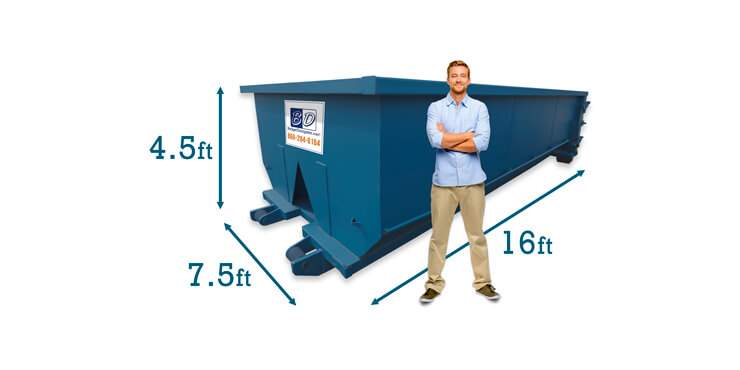 *Exterior dimensions shown. Dimensions may vary but total volume is accurate.
Is a 15 Yard Dumpster the Right Size for Your Project?
Just how big is a 15 yard dumpster? This size is perfect for a person who has a small- to medium-sized project in the works. These projects cover a wide range of junk removal and remodeling jobs, but some of the most common include:
Single-room home renovations.
Garage cleanouts.
Flooring and carpet removal.
Basement cleanups.
General junk removal.
15 yard dumpsters can also be used as a heavy debris option. A limited amount of heavy material, such as concrete or dirt, can be placed in a dumpster rental. This allows for the most efficient and affordable rental possible.
Delivery Guidelines for a 15 Cubic Yard Dumpster
Keep in mind these simple rules when preparing for delivery:
Approximately 60 feet in length is needed to drop off a dumpster. Make sure there aren't any objects blocking the spot you would like the dumpster placed.
The truck carrying your roll off dumpster needs about 23 feet of vertical clearance. Please ensure there are no low-hanging wires or tree branches that could get in the way.
Know the weight limit of your dumpster. It's important to stay within that limit to avoid any overage fees and to ensure that our driver will be able to pick up your dumpster.
Still Wondering if a 15 Yard Dumpster Is Best for Your Project?
We offer a variety of dumpster sizes to accommodate any amount of debris. If a 15 yard dumpster won't cut it, our 10 yard, 20 yard, 30 yard or 40 yard dumpsters will be able to handle your waste disposal needs.
If you need further help determining the best size for your job, give us a call at 1-866-284-6164 and our service team will make sure you get the rental that's right for you. You can also check out our video to learn more about dumpster sizes, dimensions and volume. It'll give you a better idea of what size is right for your project.