40 Yard Dumpsters
Dimensions and Key Features of a 40 Yard Dumpster Rental
How big is a 40 yard dumpster? This expansive size is our largest size available in most areas and will give you the ability to quickly get rid of large amounts of debris. A 40 yard dumpster rental is the ideal choice for homeowners tackling large home renovations, as well as for contractors working on large projects.
Dimensions: A 40 yard dumpster typically measures 22 feet long by 7.5 feet wide by 8 feet tall.
Capacity: A 40 cubic yard dumpster can hold the equivalent of about 12 pickup truck loads.
Weight Limit: 40 yard roll off dumpsters generally have a 12,000-16,000 pound weight limit. Call 1-866-284-6164 to learn the weight limits in your area.
Other Key Features: Many of our 40 yard dumpsters feature a front-loading door, allowing you to walk in heavy items.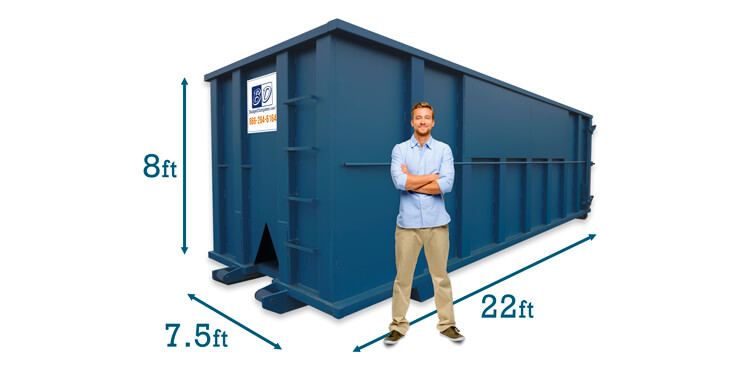 *Exterior dimensions shown. Dimensions may vary but total volume is accurate.
What Projects Can You Accomplish With a 40 Yard Dumpster Rental?
Renting a 40 cubic yard dumpster is the best choice for anyone who needs an efficient way to get rid of large amounts of debris. Our customers who choose this size include:
Construction Contractors: A 40 yard dumpster allows you to quickly dispose of common building materials like wood, metal, drywall, carpeting and tiles.
Roofing Contractors: Our 40 yard dumpsters generally have a weight limit of 6-8 tons, perfect for holding all the shingles, panels, tiles and metals from an average roofing job.
Homeowners: A 40 yard dumpster rental can handle the cleanup from remodeling a room, building an addition or any project that encompasses 2,000 square feet or more.
Whichever category you fall into, we offer low rental prices on dumpsters in all of our service areas, plus easy ordering and prompt delivery. Before settling on this size, keep in mind that heavy materials like concrete, brick, asphalt and dirt are generally not accepted in our largest dumpsters. You also cannot mix construction debris with household debris in this size container— although either can be accepted separately.
Rent a 40 Yard Dumpster With a Quick Call
If you're not sure whether a 40 yard dumpster is right for you, don't worry. Give us a call at 1-866-284-6164 and our team will help you decide what size best suits your project. If you've already determined that this is the size you need, a quick call is all it takes to place an order.
When it comes to dumpster sizes, it's important to understand how we calculate volume. This video will fill you in on how we do so for 10 yard, 15 yard, 20 yard, 30 yard and 40 yard dumpsters and determine which is best for your project.