20 Yard Dumpsters
Dimensions and Other Features of a 20 Yard Dumpster Rental
The 20 yard dumpster's versatility makes it our most commonly-rented dumpster size. A 20 yard dumpster rental is big enough to handle a sizable quantity of debris, yet compact enough to fit on the average driveway. Check out the key points below to learn if this is the right size for you or call us at 1-866-284-6164 to speak to a customer service representative.
Dimensions: 20 cubic yard dumpsters typically measure 22 feet long by 7.5 feet wide by 4.5 feet tall.
Capacity: A 20 yard dumpster can hold the equivalent of about 6 pickup truck loads.
Weight Limit: Varies by location and material. Call 1-866-284-6164 to learn the weight limit for your location.
Other Key Features: Many 20 yard dumpsters feature front-loading doors that enable you to walk in heavy or bulky items.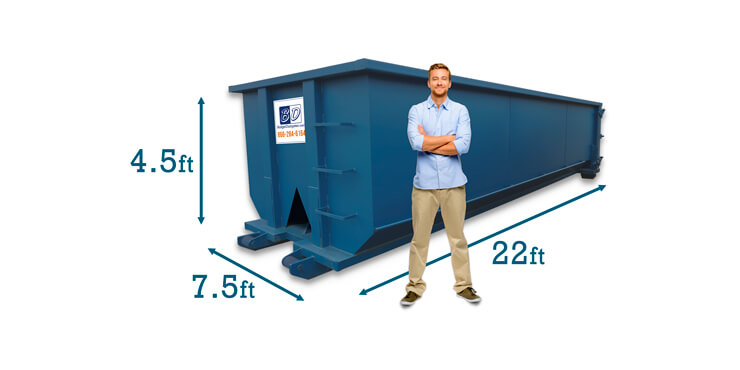 *Exterior dimensions shown. Dimensions may vary but total volume is accurate.
Is a 20 Yard Dumpster the Right Size for Your Project?
The 20 cubic yard dumpster is our most commonly-rented roll off container. Its mid-range size makes it a handy option for a variety of projects, including:
Cleaning out your garage, basement, attic or other cluttered area.
Downsizing before a move or other change to your living situation.
Disposing of debris from remodeling your kitchen, bathroom or other room.
Disposing of construction debris like siding, shingles, lumber or drywall.
Cleaning up tree limbs, shrubs and other yard debris after a landscaping project.
How Does a 20 Cubic Yard Dumpster Stack Up Against Other Sizes?
A 20 yard dumpster rental is just right to handle cleanup for any mid-level project. However, if you're planning a small-scale project, like general decluttering or minor home updates, a 10 or 15 yard dumpster would be your best bet. At the other end of the spectrum, our 30 or 40 yard dumpster would give you the most bang for your buck if you're planning a large-scale job like finishing a basement or building an addition.
20 Yard Dumpsters for Contractors and Construction Projects
With its flexibility, a 20 yard dumpster rental makes for the ideal waste removal option for contractors on a wide variety of job sites, like:
Room remodels.
Roofing jobs.
Construction projects.
Landscaping projects.
And much more!
Disposing of heavy items such as asphalt or concrete? The 20 yard container is often the only option that can haul up to 10 tons of material without becoming overloaded. We can place your container virtually anywhere on your job site that can be accessed by our trucks, and we offer empty-and-return services to maximize your working time. Give us a call at 1-866-284-6164 to learn more or set up a 20 yard dumpster rental for your job site.
Looking for More Information on a 20 Yard Dumpster Rental?
If you're on the fence about whether you should choose a 20 yard dumpster rental, give us a call at 1-866-284-6164. Our customer service team can help you determine the ideal container size for your particular project.
Take a look at our "Understanding Dumpster Sizes, Dimensions and Volume" video to learn more about 10 yard, 15 yard, 20 yard, 30 yard and 40 yard dumpsters.