30 Yard Dumpsters
Dimensions and Other Features of a 30 Yard Dumpster Rental
A 30 yard dumpster is great for larger projects, whether that be at your home or at your job site. Check out the specifications below to determine if you should rent a 30 yard dumpster for your next project:
Dimensions: 30 cubic yard dumpsters typically measure 22 feet long by 7.5 feet wide by 6 feet tall.
Capacity: This size can carry the equivalent of approximately 9 pickup truck loads.
Weight Limit: A 30 yard dumpster can typically hold 7,000-10,000 pounds. Please note: weight limits vary by location. Call us for details.
Other Key Features: The higher walls on a 30 yard dumpster make it a good choice for holding furniture and other bulky items.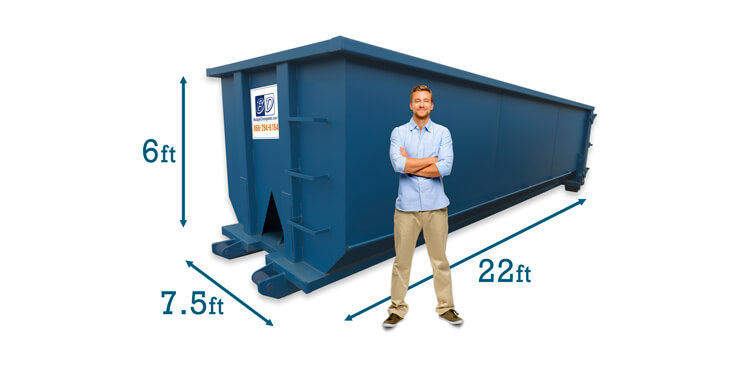 *Exterior dimensions shown. Dimensions may vary but total volume is accurate.
Is a 30 Yard Dumpster the Right Size for Your Project?
If you're cleaning out your garage or basement, planning a remodel or preparing for a move, a 30 yard dumpster rental could be the right fit for you. Common projects for this size include:
Office cleanouts.
Business renovations.
Room additions.
Moving in and out of a home.
Estate cleanouts.
General junk removal.
30 Yard Dumpster Delivery Guidelines
Follow these guidelines when you're preparing for delivery of your 30 yard dumpster rental:
About 60 feet of space (in length) is required to drop off a dumpster. Make sure there aren't any cars or other objects blocking your driveway or lot.
23 feet of vertical space is needed to raise the dumpster off the truck and successfully place it. Make sure there aren't low-hanging wires or tree branches above your drop spot.
We'll do our very best to get your dumpster placed in a preferred area, as long as it can be done safely. Please communicate any complications in advance.
While the dimensions of a 30 yard dumpster are large, it can't hold a limitless amount of debris. Always keep the weight limit in mind as you load your dumpster.
Still Not Sure If You Should Rent a 30 Yard Dumpster?
If a 30 yard roll off dumpster doesn't fit your job, we can still handle waste removal with one of our 10 yard, 15 yard, 20 yard or 40 yard sizes. Call 1-866-284-6164 today to learn more and one of our customer service representatives will help you find the best size for your project.
Want to learn more about dumpster sizes? Check out our video below to get a better understanding of how we calculate volume.