Commercial Dumpster Rental Services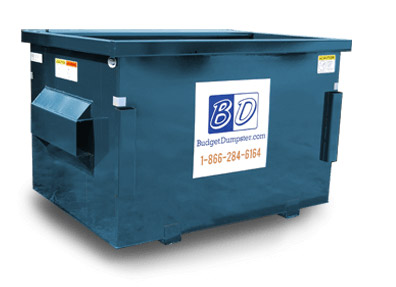 Find the Right Permanent Dumpster for Your Business
Budget Dumpster offers affordable commercial dumpster services tailored to fit any business and any amount of waste. Choose from four permanent dumpster sizes and monthly or weekly pickups to craft the ideal service for your business's needs. Whichever size and pickup frequency you choose, you'll enjoy low, flat rates and simple billing. When you choose us for your commercial dumpster rental, we work hard to keep your business running cleanly and efficiently.
Search for Dumpster Rental Prices in Your Area
or search your city/zip below
Rent a Commercial Dumpster for Your Business
Budget Dumpster offers hassle-free, customizable waste removal services with a range of permanent dumpster sizes to fit your specific needs. We provide commercial dumpster rentals to nearly any type of business, including those listed below.
Regardless of the size of your building or complex, our flexible dumpster services make it easy to keep your property clean and move-in ready without straining your budget.
Customizable Pickups: Choose from a variety of pickup options to suit your property's waste stream.
Responsive Service: Give us a call Monday through Friday and you'll speak to a real person within seconds.
Low Rates: Our affordable, flat-rate pricing makes it simple to budget for waste removal so you can focus on your business.
Learn More
As a business owner, you're responsible for keeping track of countless moving parts. We take waste management off that list with hassle-free trash collection services you can set and forget.
Predictable Payments: With our flat monthly fees, your rates will always stay the same.
Simplified Billing: Receive straightforward invoices with no line-item charges to wade through.
Select Your Contract: We offer one to three-year contracts so you can choose the best option for your business.
Learn More
Keep your auto repair business running smoothly with our reliable permanent dumpster services. We'll make sure your materials are handled responsibly.
Dependable Service: We arrive on time, answer the phone fast and work with you to create the right service for your shop.
Haul It All: Our dumpsters can haul most auto shop debris except for car batteries, tires and any hazardous waste.
Simple Startup: We'll process your order within minutes and have your commercial dumpster delivered fast.
Learn More
When you produce a large volume of waste each week, you need a reliable commercial dumpster service to keep things clean. We have permanent dumpsters to fit the disposal demands of any size restaurant or bar.
Find the Right Size: We offer commercial dumpsters in a range of sizes to suit any restaurant or bar, large or small.
Flexible Pickups: Decide on the pickup frequency—either weekly or monthly—that's right for your business
Budget-Friendly Rates: Protect your bottom line with our low, flat-rate pricing and no-nonsense billing.
Learn More
How We Simplify Commercial Dumpster Rentals