Dumpsters for Renovation Debris Removal

Our Flat-Rate Renovation Dumpster Rentals Save Time and Money
If you've got major remodeling plans on the horizon, we can help you stay on top of the mess for less. With affordable pricing and fast deliveries and pickups, our renovation dumpster rental services will keep your project's timeline and budget on track from start to finish.
Search for Dumpster Rental Prices in Your Area
or search your city/zip below
Simplify Your Cleanup With Our Professional Renovation Waste Removal
When it comes to renovation debris removal, we make it easy to tackle even the largest of projects in a lot of ways:
Flat-Rate Pricing: Allows you to finalize your budget ahead of time, making planning much simpler.
Speedy Services: We'll deliver and pick up your renovation dumpster quickly so you can finish the job sooner.
Personal Support: Have questions during your rental? Our team is available by phone Monday through Friday.
Flexible Rental Periods: Whether you'll be working for one week or several, you can hang onto your bin for as long as you need.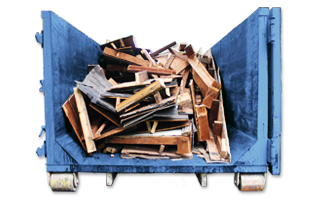 Renovation Dumpster Costs
Renting a dumpster for renovation debris is the easiest, most affordable way to handle any remodeling cleanup. Instead of hauling one pickup truck multiple times, you can simply load all your materials up at the same time for one low rate. The average cost of a renovation dumpster rental is $433, with prices ranging from $199 to $761 depending on the size. While dumpster bags may seem much cheaper upfront – as low as $29.99 for some brands – most dumpster bag services apply an extra fee for the pickup, resulting in an average price of $160 per bag.
It's important to keep in mind that dumpster bags hold much less debris than a renovation dumpster; one 10 cubic yard dumpster can hold four dumpster bags worth of material. Disposing of 10 cubic yards of debris with dumpster bags would cost around $640, making a dumpster rental the most cost-effective option for removing large amounts of renovation debris.
Find the Right Size Dumpster for Your Home Renovation
When it comes to choosing a dumpster size for your renovation debris, it can be tricky to determine which one is the best for your project. Use the table below to help you visualize the right choice for your needs. When in doubt, you can always call our team for help too.
Renovation Dumpster Size
Ideal For:
10 Yard Dumpster

Garage or attic decluttering.
Wall teardowns and light demolition.
Patio or driveway removals.

15 Yard Dumpster

Single-room flooring removals.
Single-room renovations.
Minor junk removal projects.

20 Yard Dumpster

Kitchen and bathroom remodels.
Roofing work.
Community and event cleanups.

30 Yard Dumpster

Major junk removal projects.
Porch and exterior remodels.
In-law suite additions.

40 Yard Dumpster

Entire home cleanouts.
Complete house renovations.
Large-scale demolition projects.
What Renovation Debris Can Go Into a Dumpster?
Our renovation waste removal bins can handle a number of items and debris from your remodeling project. In most areas, we accept common renovation trash for removal, including:
Flooring and Tile: Includes hardwood flooring, tiles and laminate boards.
Structural Debris: Drywall, lumber, plaster, broken windows and doors accepted.
Outdoor Materials: Throw out brick patios, concrete slabs and more with ease.
Fixtures: In many areas, we accept appliances such as stoves, microwaves and more.
To estimate the amount of debris you're throwing out, use our dumpster weight calculator as a reference. Have other materials to get rid of? Learn more about what we accept by calling our team of experts.
Have More Work to Do Around the House? We Have the Dumpsters You Need
Call 866-284-6164 to find the right dumpster size and services for any project, including:
---
How We Simplify Renovation Debris Disposal