Sticking to a budget is always a challenge. Creating a budget for a large project you've never done before is an even bigger challenge. When it comes to home renovation costs, building a feasible budget requires a detailed plan and plenty of research.
Fortunately, we've done most of the leg work for you. Simply follow the steps below to create a remodeling budget that will keep you from overspending on your next renovation.
How Much Does It Cost to Remodel a House?
According to HomeAdvisor, the average cost of renovating a home that is 1,000 square feet is $19,000. For homes in the 3,000 to 4,000 square foot range, the average cost climbs to $87,500. Renovations made to an older home tend to cost more than a newer one, especially if the wiring, plumbing and other features aren't up to code.
Typically, you can expect to spend at least $10 to $60 per square foot on any renovation.
When you're deciding on your home renovation budget, it can be easier, and more affordable, to prioritize projects by room and build a budget around the cost of each individual project.
Average cost to renovate:
| | |
| --- | --- |
| Kitchen | $4,000 – $60,000 |
| Bathroom | $2,500 – $25,000 |
| Basement | $11,000 – $30,000 |
Source: HomeAdvisor – last updated July 2021
How Much Should I Spend on a Home Renovation?
To get an approximate idea of what your remodeling budget should be, consider the value of your home as a whole. You don't want to spend more than 10 to 15 percent of your home's value on a single room. If you spend more, the value of the renovation will not proportionally add to the value of your home.
For example, if your home is worth $100,000, the maximum you should spend on a kitchen or bathroom renovation is $15,000. If your house is worth more, the spend on a renovation could be higher.
"Most of the time, it's really hard for a homeowner to know where to start. I recommend bringing in a design build contractor early on in the process. In their initial consultation they can talk about your needs and priorities and help guide you through a project that is realistic for your budget."

Danny Niemela | ArDan LLC
Determine Financing Before Finalizing Your Budget
Before setting the budget for your home renovation, you need to determine how you are financing it. If you are paying in cash, taking out a loan or applying for credit, the budget of your renovation will need to fit within the limit of your available funds.
Once you know how much you can afford to spend, set aside 10 to 20 percent of your available funds for unexpected expenses. This is important. Something will go wrong or cost more than originally projected. By setting aside a percentage before beginning, you know you will have the funds available to finish your project no matter what happens.
"I recommend setting aside between 10 to 20 percent for a cushion. If you hire the right contractor to do some exploratory demolition or investigative work early on there should be very little unforeseen work that needs to happen. However, in our experience once a project starts many of our clients pull out the 'While you are here, can you also do…' list and if client has the money set aside, we can easily accommodate it in duration of the project."

Danny Niemela | ArDan LLC
Once you've decided how much to spend, use the following steps to create a detailed plan and budget.
Steps for Creating a Detailed Home Renovation Budget
Step 1: Prioritize Remodeling Needs
The easiest way to stay on budget during a renovation is to know exactly what you want. Create a list of everything you would like the project to include and then separate items into wants and needs.
"Think about the proper order to do things in. It makes no sense to get new kitchen counters if you know that later on you'll likely need to upgrade your cabinets or change the floor plan, right? Doing things in the right order saves time and money in the long run."

Christine White | The (mostly) Simple Life
Ask yourself these questions:
What do you want this project to do?
What details are required to make that happen?
What are you willing to compromise on?
What are you willing to splurge on?

Step 2: Create a Detailed Remodeling Plan With Cost Estimates
After setting the goal for your home renovation, create a detailed plan that includes expected costs. This will help you build a remodeling budget and communicate exactly what you want with your contractors.
Build a spreadsheet that includes each portion of the project and the estimated cost for labor and materials. To develop cost estimates:
Use resources like HomeAdvisor to estimate labor costs for engineers, architects, plumbers and handymen. Labor usually accounts for 20 to 35 percent of a project's budget.
Choose fixtures and finishes and calculate what you will spend on them. Include paint, knobs, faucets, tile, flooring and anything else you'll need. Don't forget to include taxes and shipping costs in the estimates for your materials.
Include the appliances you want and what you expect to spend on them. Include costs for installation, delivery and how you plan to dispose of appliances.
Consider what living expenses you will incur during your project. Consider the costs for living without a functioning kitchen, boarding pets or staying outside the home during your project and include these costs in your spreadsheet.
If you can create a plan that is detailed enough and includes your choice of finishes and fixtures, your conversations with contractors can focus purely on labor costs and time estimates.
"Don't forget to budget for small things. You may need paint brushes, tape, sandpaper, drop cloths, hand tools, and other supplies. While none of those costs too much, they can easily add up to $100 or much more when you need a bunch of random little things."

Christine White | The (mostly) Simple Life
Step 3: Request Bids From Multiple Contractors
Now you know what you need, what you want and what you can afford to pay for each item. It's time to find a contractor that can complete your project within your budget.
Find local companies with good reviews and ask them to create a bid for your project. Get bids from at least three companies to accurately compare the costs.
When choosing a contractor:
Complete interviews and check their references.
Be very clear about both your project and your remodeling budget. If your contractor knows you're sticking to a tight budget, they will be more likely to talk through additional expenses, time delays and project changes with you.
Make sure the contractor thoroughly understands your needs and has a clear idea of how you plan to prioritize parts of the project.
Talk through how you will approach any unforeseen issues and how it will affect the budget of the project.
If one contractor's bid is well below the others, toss it out. Cheap labor sounds appealing but opens the door to errors which can cost you more money later. Use competing bids to negotiate with your preferred contractor.
If none of the contractor estimates fit into your remodeling budget, cut down on the project until you're comfortable with the cost. Use your list of wants and needs to eliminate parts of the project you previously deemed less important.
Once you've selected your contractor, ask them to look at your project plan and home renovation budget to see if there are any costs you may have overlooked.
Use the contractor's estimate as well as feedback to make a final update to your project plan before beginning work to make sure the final project stays on budget.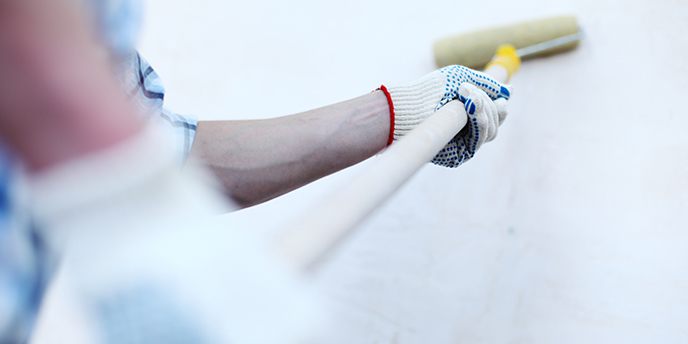 Tips for Saving on Home Renovation Costs
When creating your remodeling budget, use these tips to further reduce your costs:
Complete demolition yourself: If you're removing cabinets or pulling up tile as part of your renovation, consider doing the work yourself. As long as there is no expertise required, this is a good way to reduce labor costs and save a few dollars.
Order fixtures and finishes yourself: Your contractor will probably charge you an hourly fee to do your shopping for you and may even charge a markup. Be clear about your plans so your contractor knows you're taking on that responsibility yourself.
Be your own project manager: If you need to hire additional subcontractors for your project, interview and select them yourself instead of having your general contractor do it.
Do your own painting: Having a room painted by a professional can cost $300 or more. Plan to complete any required painting yourself and you can remove that cost from your remodeling budget.
Shop used: Instead of purchasing everything brand-new, pick up used or refurbished items when possible. This can greatly reduce your spend on appliances and finishes.
Stick to Your Home Renovation Budget With DIY Projects
By taking these careful steps to plan for and reduce the cost of each part of your project, you should be able to complete your project within your remodeling budget.
To save more on labor costs, use these DIY guides to complete projects yourself: