Let's face it – everyone has a junk drawer. It's a place for the little things in life that don't have a home. While there's no shame in having one, there's no reason it has to be an eyesore. Learning how to organize junk drawer items properly is part skill and part art, but our five-step guide will help you make your drawer functional and beautiful in 25 minutes or less.
You Will Need:
A washcloth
Wood cleaner
Drawer liner
Scissors
White paper
Tape
Containers, baskets or premade kitchen junk drawer organizers
How to Organize a Junk Drawer: Minute by Minute
Step 1: Dump Out the Junk
Time: 1 minute
That's right – take your drawer out and dump it all onto the kitchen table. Give yourself a flat surface with plenty of room so that you can make sense of its contents more easily.
Step 2: Wipe Out the Drawer
Time: 1 minute
Give yourself a clean, blank slate. Use a damp cloth with a little wood cleaner to wipe out the dust, pencil shavings and other gunk that's collected in the bottom of the drawer over the years.
Step 3: Sort Through the Junk
Time: 8 minutes
Now back to the junk pile. When deciding how to organize junk drawer items, remember that most people keep just three kinds of things in junk drawers: things that belong, things that don't and trash. The experts at Organize My Drawer say the key to staying on top of junk drawer clutter is to actively decide which of these categories an object fits into before simply throwing it in.
"If you open up just about anyone's junk drawer, it's full of scraps of paper and pens that don't write anymore. Most of it is just trash. Part of the problem is we use drawer space to hide things that we really should just deal with. Once you really give some thought to what you do want in that drawer, you will stop putting things in that drawer that don't belong."

Andrea Qualkinbush | Organize My Drawer

Things That Belong in a Junk Drawer
The key to proper junk drawer organization is to keep only useful items in it. Useful junk drawer items are things that are used on a daily or weekly basis, or could be helpful in a pinch, like during a power outage. These include:
Pens, pencils, erasers
Notepads
Keys
Spare change
Paper clips, staplers and scissors
Screwdriver, screws
Flashlight, batteries
Matchbooks or small lighters
Rubber bands, sewing kit
Breath mints, lip balm
Phone charger, earbuds
Junk drawer organizer (see junk drawer organizer ideas below)
Things That Don't Belong in a Junk Drawer
Unhelpful junk drawer items are things that A) aren't used regularly B) aren't helpful in a pinch or C) could be damaged or cause a mess. Things that don't belong in your junk drawer include:
Bills and important receipts: The junk drawer is a rough place for paper items, especially important ones. Don't let them get crumpled and lost in the fray. Keep these in a sturdy file folder near your computer for easy access.
Gum: While breath mints and Altoids are okay, gum packets are at risk of opening and getting squished on the bottom of your newly cleaned drawer. If gum is an absolute must for your kitchen junk drawer, try chiclet gum in a sealable container to cut down on the potential mess.
Medicine: Prescriptions or over-the-counter medicine can spill or leak all over your drawer and should stay in the medicine cabinet or bathroom closet. This goes for pet medications too.
Crayons and paint: Arts and crafts materials in your junk drawer is a disaster waiting to happen. Shelve these items in the basement or for easier access, a nearby hall closet. Note: super glue can be a helpful junk drawer item, but to prevent a leak from destroying your new drawer, try containing it in a travel toothbrush case.
Condiment packets: Just like crayons and paint, disaster waiting to happen. Collect stray ketchup and mustard packets in a small box in your pantry.
Takeout menus or other flyers: Keep takeout menus, flyers and party invitations on your fridge or in an easily accessible folder by your computer.
Loose dollar bills: Spare change is fine as long as it's well-contained, but bills should stay in your wallet to keep them from getting too beaten up.
Makeup: Lipstick, concealer or any other on-the-go cosmetics should either go into your purse or stay in your makeup bag. Letting them sit in your junk drawer is a good way to ruin your makeup and potentially your entire junk drawer.
Jewelry or sunglasses: Don't let your rings, earrings or shades get scraped up in your junk drawer. Take your jewelry off in your bedroom or bathroom and leave your sunglasses on your nightstand so you can easily grab them in the mornings.
A word of caution: don't just shuffle these items out of the junk drawer and into another clutter catch-all. For tips on preventing junk from overflowing to other parts of your house, check out our post on How to Organize Your Home's Catch-All Areas.
Everything else? Unless you can find another home for it, it's trash. Your junk drawer's space is precious and limited, and there's no room for non-essentials.
Step 4: Give Your Drawer Some Structure
Time: 12 minutes
Once you've purged and sorted your junk drawer items, it's time to give them a home, and a nice one at that. Here are some junk drawer organizer ideas that will give your new drawer a solid organizing foundation.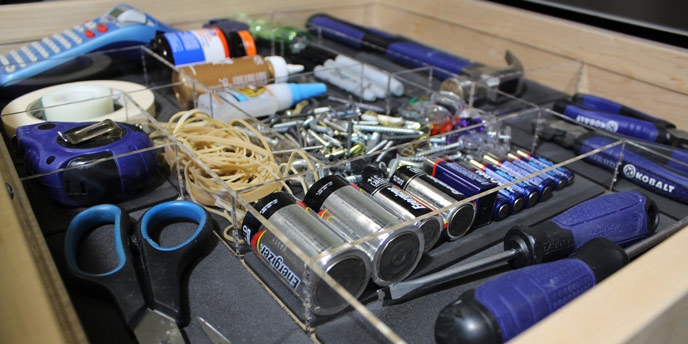 Line the Bottom of the Drawer
Protect the wood of your drawer with a liner. You can choose a stylish patterned drawer liner or even custom cut sheet metal to give it a sleek, reflective look. Just be sure to choose something that can handle the wear and tear of your average junk drawer. Here's how to line a drawer in three steps:
Use Printer Paper to Create a Template: Cover the bottom of your drawer with 8.5 x 11 pieces of printer paper. Tape the papers together to create a drawer-sized stencil for your liner.
Use the Template to Cut Your Liner: Using your stencil as a reference, cut out a section of liner for your drawer.
Lay the Liner in the Drawer: Carefully place the liner in the bottom of your drawer. If you're using an adhesive liner, be sure to thoroughly rub out any air bubbles before moving on to your containers.
Choose Your Containers
When structuring your drawer, it's important to find containers with a snug fit to keep them from sliding around and spilling their contents. Pre-made kitchen junk drawer organizers are an option, but they don't allow you to create your own arrangement the way individual containers or custom-built drawer inserts do.
"Cabinetry is almost all semi-custom these days. Standard drawer sizes are a thing of the past, so off-the-shelf organizers don't fit in most drawers anymore. Customizing your drawer's layout maximizes your drawer's space and allows you to organize your things however you want."

Andrea Qualkinbush | Organize My Drawer
For a ready-to-use custom organizer, Organize My Drawer specializes in made-to-order drawer organizers that take only minutes to build on their online drawer builder. Simply measure the inside of your drawer and design away.
Step 5: Put Your Items Away and Admire Your Work
Time needed: 3 minutes
It's time to put your items into their new and improved home. Your most used items, such as keys, pens and Sticky Notes, should be near the front of the drawer for easy access. Less frequently used items like sewing kits or spare batteries should go near the back.
Once you've found an arrangement that works, sit back and enjoy your work – you've earned it.
Keeping the Clutter Away for Good
Don't let your hard work go to waste – keep the clutter at bay by being proactive. Since paper clutter tends to be the downfall of most kitchen junk drawers, find ways to cut it down. "Use your cell phone camera to take pictures of receipts, fliers or invitations," says Andrea Qualkinbush. "That way you have the information without the clutter that comes with it."
For all other items, make sure to take a moment to actively decide where it belongs before simply stuffing it into your newly organized junk drawer. A little planning goes a long way to keeping your drawer clean and organized.
"Keeping clutter from coming back has to be a very conscious effort. It's when you don't have a plan for where things are going to go that things get messy again. You have to actively look at an item and ask yourself, 'Where does this go? And do I want this?'"

Andrea Qualkinbush | Organize My Drawer
Junk Drawer Before and After:
Before: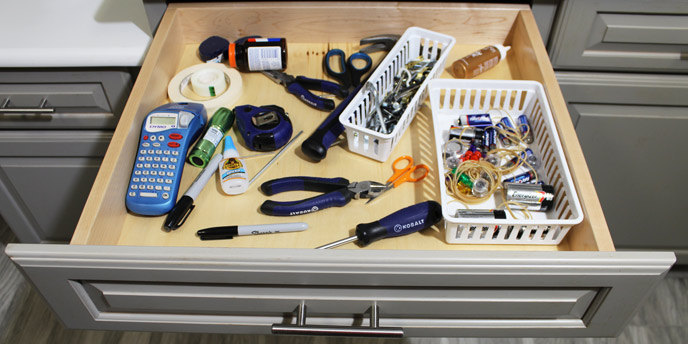 After: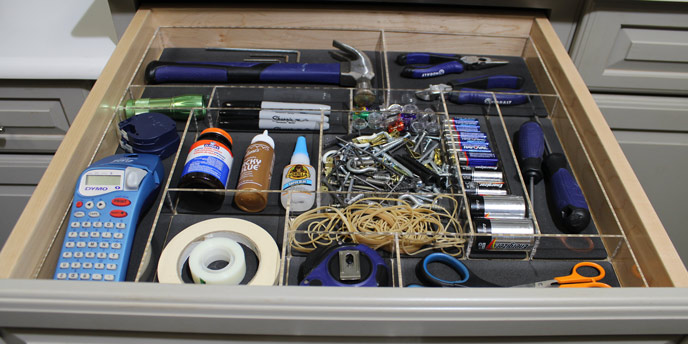 More Junk Drawer Organizer Ideas From Organize My Drawer: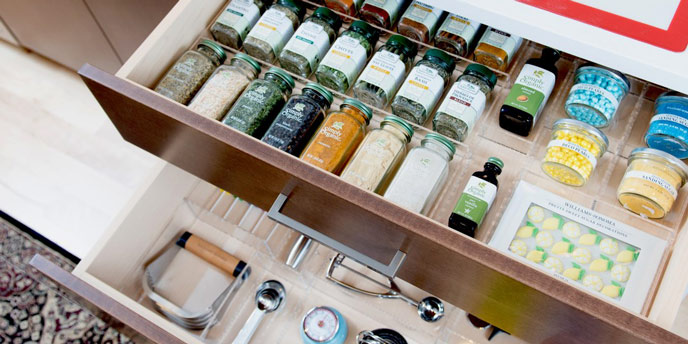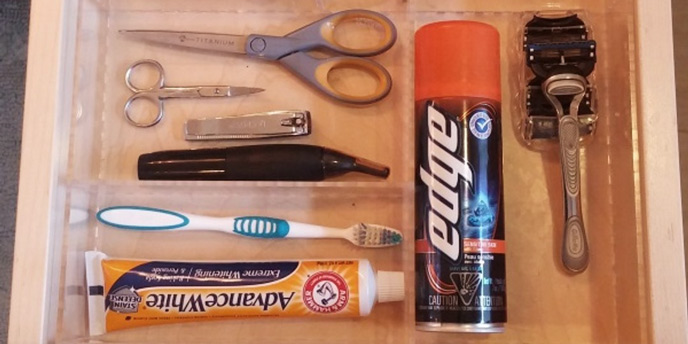 Images used with permission from Organize My Drawer
Why stop at the junk drawer? Check out our Home Organizing category for tips on taking the organization to the rest of the kitchen and beyond. Have a few tips of your own? Share them in the comments below!