Outdoor playtime is an important part of childhood, but these days, it faces stiff competition from video games – unless you have a kid-friendly backyard, that is. With the right setup, your children can have a yard that's not only fun, but also helpful to their growth, according to the experts at Voice of Play:
"Play is an essential tool in a child's development. Research shows that outdoor free play gives kids many valuable benefits, including the development of physical, emotional, social and cognitive skills."

Deanna Tomaselli | Voice of Play
If you're looking for a way to get your kids off the tablet and out in the sun, our list of the top 14 backyard play area ideas will show you how to get your toddlers, pre-teens and everyone in between out the door.
---
Creating a Kid-Friendly Backyard: Ages 0-2

Children under 2 years old are just learning how to interact with the world around them. To keep them entertained outside, create a backyard play area that allows them to experience a variety of sights, sounds and textures as they begin to engage in functional play. Here are a few age-appropriate activities for toddlers in the backyard:
---
1. Sandbox
Children as young as 1 year old can enjoy digging their toes into their own backyard sandboxes. In fact, sand play can actually aid in children's development. By digging, filling, pouring and pushing sand using scoops and buckets, they develop important motor and muscle skills, as well as hand-eye coordination. Sandboxes are available online, but they're also a relatively easy DIY backyard playground idea. And as long as you change your sand out about once every year or two, your kids can continue to enjoy the sandbox well beyond their baby days.
Age Range: 6 months to 5+ years old
---
2. Water Table
Water play is also important for a child's development, making a water table a great addition to any backyard play area. Not only is it a fun way to introduce your child to water, but it also helps teach them to stand up properly by providing an elevated play surface. You can purchase one online or make your own DIY water table using PVC pipes.
Age Range: 1 – 4 years old
---
3. Bucket-Style Baby Swings
Older toddlers especially love repetitive movements such as swinging or sliding, and will love the fun of a bucket-seat baby swing. Be sure to hang the swing from a secure spot. If hanging from a tree or wooden porch, check the strength of the wood prior to setting up the swing.
Age Range: 6 months – 4 years old
---

4. Climbing Tires
Climbing tires are a low-cost DIY backyard playground idea that younger kids can't get enough of. Fun and brightly colored, these tires provide an easy-to-reach feature that will allow your child to pull themselves up as they learn to walk. You can search Craigslist for cheap or free tires in your area or check your local tire shops for affordable used tires.
Age Range: 6 months – 4 years old
---
Creating a Kid-Friendly Backyard: Ages 3-5

Children between 3 and 5 years of age are learning how to construct things, both in the abstract and in reality. This is the age that children begin to play pretend and are able to build structures using blocks and other materials. With that in mind, here are a few age-appropriate backyard play area ideas that will keep your child's budding imagination running wild:
---
5. DIY Playhouse or Fort
Give your imaginative little ones a place to bring their toys to life. If building a full DIY playhouse isn't on your agenda, here are a few creative playhouse alternatives to try in your backyard play area:
Age Range: 3 – 6+ years old
---
6. Outdoor Mud Kitchen
For a naturally fun addition to your kid-friendly backyard, why not put a little dirt in it with a mud kitchen? With an old kitchen sink and a few pallets, you can create a delightfully messy outdoor area that your kids can enjoy all summer long.
Age Range: 3 – 7 years old
---
7. DIY Paver Roadways
If your little one loves toy cars and dump trucks, create an outdoor kids' area with its own backyard interstate. Using inexpensive concrete pavers and a little white paint for the center line, you can create a bustling highway around the perimeter of your child's backyard play area.
Age Range: 3 – 8 years old
---

8. Backyard Campsite
Camping is a childhood staple. But if your little ones aren't old enough for the real deal, a backyard campsite is the perfect way to test the waters. First, find a level, soft spot in the yard for your tent. Then, make sure it's free of roots and rocks and that the soil is well-drained. Finally, set up your tent or, for a more permanent shelter, create your own backyard teepee. And no campsite is complete without a fire – add your own affordable DIY fire pit and picnic table for the perfect marshmallow roasting station.
Age Range: 3 – 10+ years old
---
9. DIY Water Wall
A water wall is a great and affordable DIY backyard play area idea for kids who have outgrown their water table days. You can build your own DIY water wall using a few two-by-fours, some chicken wire and plastic pipes.
Age Range: 3 – 6 years old
---
10. Chalk Wall
With just a few cement backerboards and some chalk paint, you can create a fun spot for your kids to practice their ABC's in the sunshine. Just be sure to purchase outdoor chalk paint that can withstand the elements.
Age Range: 3+ years
---
Tip for Creating a Kid-Friendly Backyard:
Choose Age-Appropriate Play Equipment
"In the United States, over 600 kids a day end up in emergency rooms due to playground injuries and over 70% are related to falls. Younger children under age 6 tend to lack upper body strength. They are more likely to lose their grip on things like climbing walls, ladders and rope climbers. Due to this, it's often recommended to alleviate these risks by not choosing playsets with these elements."

Michael Baldwin | Certified Playground Safety Inspector | U.S. Rubber Mulch
---
Creating a Kid-Friendly Backyard: Ages 6-12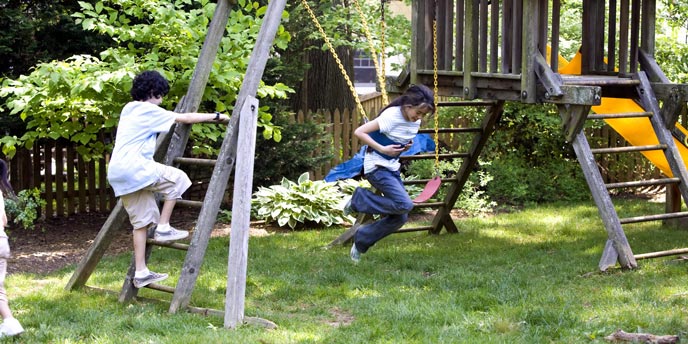 Children ages 6 and up are able to understand and play formal games, and they're much more coordinated, making it easier for them to engage in more physical activities. Here are a few backyard play area ideas to keep your older kids active throughout the year:
---
11. Backyard Playset
After age 6, kids are much better equipped for larger, taller play equipment, making a playset ideal for this age group. You can try your hand at a DIY playset or pick up a swing set kit at your local home improvement store. Just be sure to inspect the playset regularly for snags, rust and other hazards that your children could hurt themselves on.
Age Range: 6 – 13 years old
---
Tip for Creating a Kid-Friendly Backyard:
Monitor and Maintain Playsets Regularly
"Playground equipment and hardware should be well-kept. Rust and other deterioration are signs to reevaluate maintenance procedures. Regular inspection is important to keep the playground in good condition."

Deanna Tomaselli | Voice of Play
---
12. Climbing Wall
Climbing walls are a fun way for older kids to build upper body strength and let off steam. You can purchase a premade rock wall or build your own, but always be sure to provide a safe surface for your kids to fall into. "Surfaces should be smooth and free of all tripping hazards," says Tomaselli. "Ensure the ground is level by checking for tree stumps, roots or rocks."
Rubber mulch is a great option, but the key is to pile it deep enough to absorb the impact.
Age Range: 6 – 13 years old
---
Tip for Creating a Kid-Friendly Backyard:
Make Sure Your Play Area Surfaces Are Safe for Falls
"For children under the age of 6, make sure you use about 4 inches of rubber mulch. Increase it to 6 inches for children older than 6. For high impact areas like around slides, swings or climbing walls, make sure to check the depth of the rubber mulch regularly to ensure it's deep enough to protect your child from injury."

Michael Baldwin | U.S. Rubber Mulch
---

13. Treehouse
If you have a large, sturdy tree in your yard, why not give your kids an incredible place to make memories all summer? A DIY treehouse is a classic, fun way to encourage kids to get out and enjoy nature right in their own backyards.
Age Range: 6 – 13 years old, depending on the size of the treehouse
---
14. DIY Backyard Sports Field
This low-cost DIY backyard play area idea will give your sports-minded kids a fun spot to hone their skills. Use temporary grass chalk paint to create field boundaries and add goal posts at the ends, or use orange cones for an even more affordable backyard field. Add your own sideline seating and stadium lighting to allow them to play long into the night.
Age Range: 6+ years old
---
Remember: Safety Is Key
No matter what backyard play area ideas you have in mind, always make safety a priority. "Having a proper safety area is where most people fail in residential playground areas," says Baldwin. "We've seen an increase in residential playground injuries because people don't invest in the proper safety surfaces."
Check out Voice of Play's tips for playground safety for more information on creating a kid-friendly backyard.
While building a kid-friendly backyard play area takes time, planning and a little elbow grease, the memories your children will build there will make it worthwhile for years to come.
---
Once the dust settles from building your backyard play area, you might need to spruce things up a bit. Check out these posts to add a little beauty to your new kid-friendly yard: