What's the best way to remove carpet? Getting someone else to do it, honestly. But the cost of paying someone to remove your carpet can easily range from $250 to $500, and that's just for your average-sized living room. Some carpet installers will remove your old one for free, but more commonly they will charge you for it on top of the installation.
If you'd like to keep a couple hundred dollars in your pocket, it's worth learning how to remove old carpet yourself. The process is easier than you think, just follow these steps to learn the ropes and rid yourself of that smelly carpet for good.
Step 1: Gather Your Tools and Supplies
Make sure you have everything you need before ripping up your carpet, not to mention the padding and tack strips – unless you plan on installing new carpet. But we'll get to that later.
Everything You Need to Remove Carpet, Padding and Tack Strips:
Duct tape
Gloves
Dust mask
Safety glasses
Knee pads
Locking pliers
Pry bar
Hammer
Utility knife
Ring shank nails
All of these supplies should run you no more than $100, even less if you already have a hammer, pry bar and utility knife.
Step 2: Start at One Corner
Here's where the hard work starts. Pick a corner of your room and start tearing up the carpet, making sure to avoid those prickly tack strips around the edges. If the carpet won't budge with sheer force, cut a small square out of the corner with a utility knife. Then, pull up on the larger section to get things moving.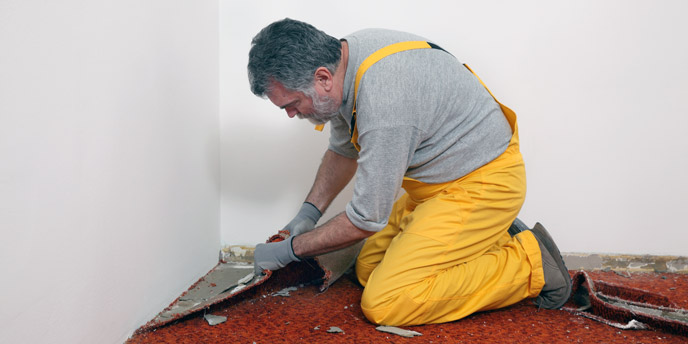 Carpet Removal Tip: Most carpet doesn't run underneath baseboards, but if you're one of the unlucky few with carpet underneath your trim you'll have to remove it first. This guide shows you how to remove baseboards without damaging your walls in the process.
Step 3: Roll Your Carpet Up in Thirds
Roll a third of your carpet back into the center of the room. Use your utility knife to cut along the fold, keeping both hands on the blade. No one wants blood stains on their carpet, even if you're pitching it. Roll up your cut section of carpet and use duct tape to keep it from unrolling. This will make it a whole lot easier to pick up and drop in your dumpster or on the curb.
Continuing rolling and cutting the rest of your carpet, making sure to cut off sections that are in a separate area, such as a closet or entryway. Come back to those after you've gotten the main portion rolled up and duct taped.
Step 4: Find a Corner of Padding and Rip It Up
Unfortunately, carpet removal comes in two parts. The first part is removing the carpet, the second part is removing the padding. Fortunately, most padding is simply stapled to the subfloor in patches, so you should be able to grab a seam and start ripping it up. This is an especially satisfying step if you're removing carpet from hardwood floors. Nothing beats ripping up a dusty old carpet to reveal beautiful woodgrain texture underneath.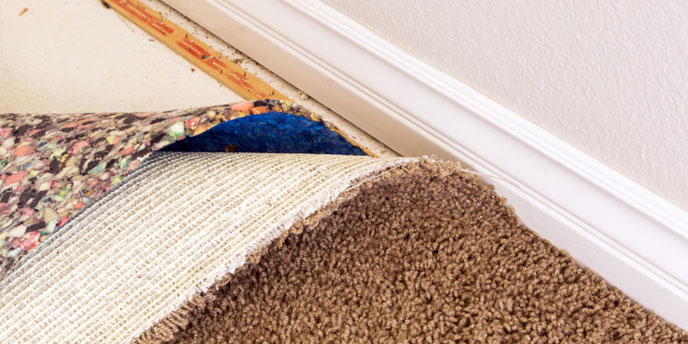 Carpet Removal Tip: If your padding is glued down, you'll need a floor scraper to separate it from the subfloor. You can find these at any home improvement store.
Make sure you wear gloves during this process to avoid pricking a finger or two on the staples. Roll each section of padding up like you did with the carpet, duct taping each roll to keep them from unfolding.
Step 5: Check and Prepare Your Subfloor
With the padding gone, you can inspect your subfloor. This is an important step if you plan on installing hardwood floors or tiling since any problems will be much harder to fix once your new flooring is in. You'll want to look for:
Rusted tack strips: Could simply be a stain from a pet or spilled drink but could also be a sign of a roof leak. If more than one tack strip is rusted, you should get a roof inspection pronto.
Squeaky subfloor panels: Walk and/or jump on each of your subfloor panels. If they squeak, hammer a couple of ring shank nails into the spot where the noise is coming from.
Sinking floors: This could be a sign your foundation is cracking. Have an inspection done before you install any new flooring.
Staples: There will be a bunch of these left behind by the carpet padding. Use a pair of pliers or a pry bar to take them out.
Step 6: Remove Your Tack Strips (Optional)
If you're installing new carpet and your tack strips are in good condition, you can skip this step entirely. If not, you'll need your handy pry bar and hammer.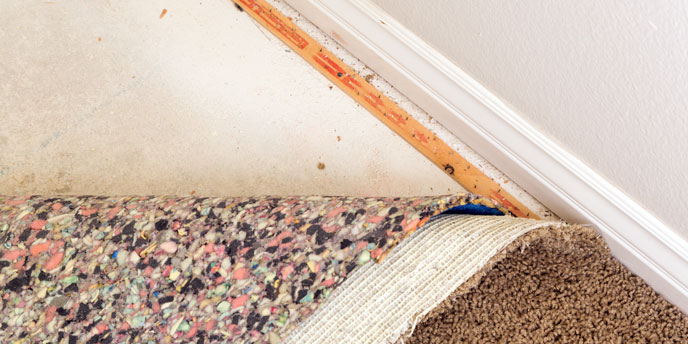 To remove tack strips, find the nails holding them to the floor and slide your pry bar underneath. Use the hammer to force it deeper into the gap and pull up on the pry bar to loosen the strip until free.
Step 7: Take a Long Break
That's it, you're done tearing out your carpet. And now that you know how to remove old carpet, you can save hundreds of dollars every time you remodel or buy a new house. Your next steps can wait a little bit. When you are ready, load your carpet into the dumpster or put it out on the curb. Then, check out a few of these other how-tos to take your carpet-free floor to the next level:
Do you have any other tips for easy carpet removal? Leave us a comment!