Planning a home renovation project?
Plan accordingly.
Depending on the magnitude of the renovation, some room renovations may take weeks or even months to complete – making a mess of your home and peace of mind.
How to gut a room depends on which room you're renovating, but there are some general steps. Just remember, when gutting a room, go with your gut.
Step 1: Have a Game Plan
The first plan of action is to, well, have a plan. After all, it's good to have an understanding of what you're doing.
This consists of sitting down and making a home renovation checklist. You know, a wish list of what you want, determining a budget, and coming up with a timeline. For example, if you're expecting a baby by the end of the summer, don't wait until Labor Day to start renovating. Renovations take time, money, and a lot of work.
Kristen Thomas, principle designer and owner at Studio Thomas just outside of Denver, said having a game plan is first and foremost.
"You need to have an idea of budget and labor costs. I never go forward with a project until we have outlined every detail from the specifications to the costs. When you have a plan, the expectations are already set and the client is happy with the result."

Kristen Thomas I Studio Thomas

According to Skip Wyatt, CEO and owner of Mr. Handyman and HM Remodeling, not having a plan in place is one of the biggest mistakes people make when gutting a room.
"Starting a major project without a design or detailed work plan can be disastrous. Doing so can lead to last minute decisions, change orders and costly delays. (Also), starting the project before all of the materials are either on site or within a few days can result in costly delays."

Skip Wyatt I Mr. Handyman & HM Remodeling
This is why it's important to have a plan, especially when it comes to money. Gutting a room costs enough money as it is. By not having a plan, you could wind up costing yourself more money in the long run.
"From a financial perspective, it is important to plan and manage the project for the short term and long term. A lot of what our home improvement features in HomeZada can help consumers with any project they take on."

John Bodrozic I HomeZada
Examples of how to finance your room renovation include: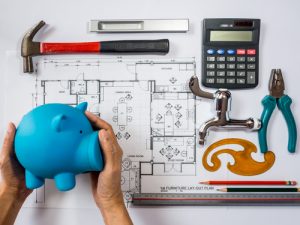 Identify a list of all the materials and items required and give yourself a budget for each.
Shop for different brands and products to evaluate what you like versus what you can afford.
Keep track of your costs with receipts for future tax purposes in knowing your new tax basis in your home.
Keep track of product warranties and owner's manuals in case something doesn't work and you need to call in the warranty.
Keep before-and-after photos and all your project documents so you can use this to market your home in the future if and when you decide to sell it.
Step 2: Prep the Room
Once you have a plan in place for your room renovation, the next thing to do is prep the room and adjacent areas for demo. It's one of the most important steps in assuring your room renovation goes smoothly. Skipping prep work, much like not having a plan, is one of the biggest mistakes you can make in a renovation project. When embarking on a room renovation, take the time to do it right and do it right from the start.
"Fast and cheap don't exist in home renovation projects," Thomas said. "They always take more time and more money than expected. TV shows that show the space can be done in 24 hours with no budget are very unrealistic. There is much time coordinating and making sure that all the details are met. Details and preparation are key to an amazing result."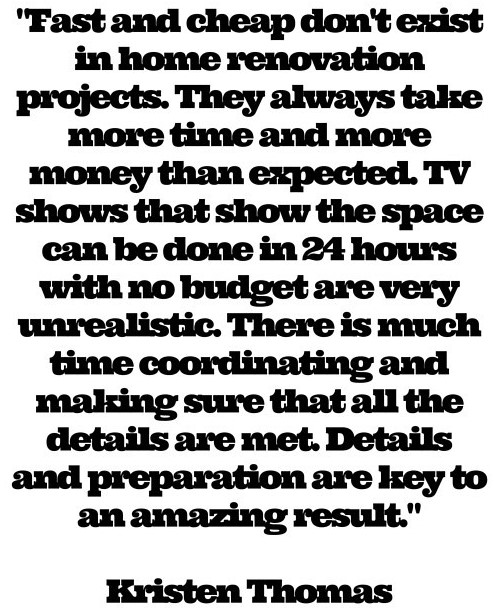 In the event of removing drywall, it is necessary to cover furniture, lamps, and anything else in plastic to minimize dust. Also, removing drywall can cause vibrations, so empty walls and shelves in adjacent rooms to prevent pictures from falling or getting dusty.
And if you're removing drywall, don't forget about the utilities. Be sure to shut off the power, water, gas, and any other utilities to the area of the house you're working on. Shutting off water and electricity at the source is important before you start working on the drywall.
Step 3: Tear Down the Walls
There was a reason for removing and covering up the furniture. Things are going to get messy – and fun – if you like knocking stuff down.
Tearing down walls is the messiest part of gutting a room. the bigger the room, the bigger the wall, and thus bigger the mess.
In most cases, when dealing with a room renovation, drywall is being dealt with. And much like installing drywall, removing it is just as messy and dusty of a job.
"If you're planning to knock out any walls, make sure it's not load bearing first, or you could end up with a lot more than floor planning issues. Oh, and wear protective gear. Renovation projects can get nasty and gnarly, especially in older homes."

Sarah Fogle I The Ugly Duckling House
Drywall that consists of smaller holes or cracks can usually be repaired with little amount of labor involved, but large holes or water damage from flooding or a leaky roof present a different challenge. When removing drywall, it is necessary to:
Turn off power to any outlets or fixtures on the wall at the main breaker panel.
Cover the area under and around the drywall with plastic sheeting or a drop cloth.
Remove any switch plates, trim boards, molding, decoration, or anything else on the drywall.
Locate spot between two studs by tapping gently with a hammer. Use the hammer to make a hole in the hollow portion of the wall between studs.
Using your hands or a pry bar, pull the remaining drywall from the studs.
Remove any nails or screws left in the studs.
Step 4: Apply Finishing Touches

This includes installing any remaining structural components such as insulation, drywall or cabinetry, as well as installing finishing components such as tile, countertops, plumbing and electrical fixtures.
Once you've painted all the affected areas you can put in new flooring.
Step 5: Rent a Dumpster
Room renovations come with a fair share of unwanted debris – drywall, flooring, lighting, ceiling fans, windows, cabinetry and more.
There is no better solution for removing all those items than with a roll off dumpster from Budget Dumpster. We have plenty of dumpster sizes available for junk removal projects big and small. Home renovations are no exception. Give us a call at 1-866-284-6164 and rent an affordable dumpster today. And be sure to check out our "exceedingly comprehensive" home improvement guide for even more DIY remodeling tips.