Thinking about putting a "For Sale" sign on the front lawn this spring? If so, you will want to make a few updates beforehand – such as fixing that wobbly knob on your kitchen cabinet, or repainting that tired beige fridge of yours. Those little bits and pieces of imperfection may not seem like a big deal, but taken altogether they can leave a rather negative impression of your house.
To help avoid that contingency, we've put together a list of tips for sellers to use before their open house – featuring some great advice from the team behind Owners.com.
Tip #1: Fill in the Scratches in Your Hardwood Floor
When updating a house to sell, you should pay particular attention to the state of your floors. Nicks and scrapes in hardwood floors are especially ghastly to look at and should be remedied before any open house is added to the calendar.
How to Fill in Hardwood Floor Scratches
Assess the Severity: Light scratches can be rubbed out with steel wool, deeper ones with lightweight (180 grit) sandpaper.
Apply Mineral Spirits: Rub mineral spirits into the scratch to smooth it over and pick up any remaining dust.
Use Wood Filler: Use a plastic putty knife to fill in the scratch with wood filler that matches the color of your floor.
Sand and Wipe: Go over the scratch with sandpaper once more and wipe up the dust.
Refinish the Board: Use varnish or polyurethane to seal the sanded area with a natural bristle brush.
Tip #2: Give Older Appliances a Quick Face-Lift
If your oven, dishwasher or any other major kitchen appliance looks a little dated, a good tip for sellers to follow before an open house is to give it a quick facelift. That way potential buyers won't be distracted by your less-than-modern appliances. Either one of these products will do the trick:
 Stainless Steel Stick-On Panels: You can use adhesive panels that mimic the look and feel of stainless steel, giving your appliances a modern touch for a fraction of the price.
Appliance Paint: You could also re-color your appliance using paint made specifically for refrigerators and ovens.
Tip #3: Give Your Walls a Fresh Coat of Paint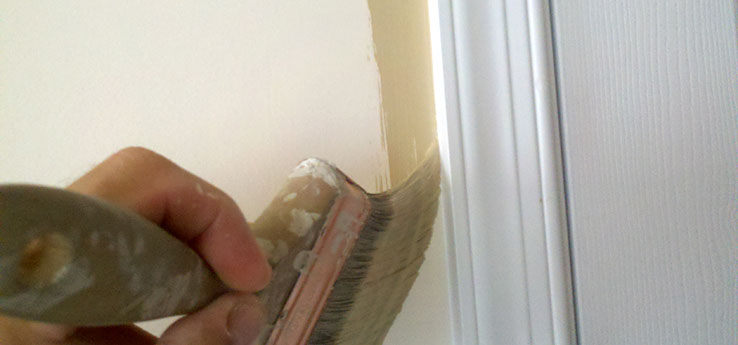 A great way to update your home to sell is to give your walls a fresh coat of paint. If you don't have the time for a whole-home refresh, focus on the living room, kitchen and any other room on the first floor where potential buyers will spend a lot of time. See our DIY home improvement guide for specific painting tips and instructions in case you're a bit rusty.
"Go with a neutral tone in order to appeal to a wide variety of potential homebuyers. For smaller rooms, light hues in tan, pale yellow or cream make the space appear larger. For a cozy appeal in a living room or den, choose a pale shade of gray, blue or green."


Tip #4: Tighten or Replace Cabinet Handles
If your kitchen cabinets or china hutch have a few loose handles, you will absolutely want to heed this home-selling tip. You can secure most handles by using a screwdriver to tighten the screw behind the cabinet face. If your cabinet knob or handle has stripped completely off the screw, you can try this quick remedy:
How to Quickly Repair Cabinet Knobs and Pulls:
Place a small drop of wood glue in the screw hole.
Take a toothpick and break it in half. Insert the two halves inside the hole.
Break the toothpicks again so the ends are flush with the screw hole.
Thread the knob back onto the screw.
"After giving the kitchen and bathroom drawers a thorough scrubbing, refresh them with new hardware. Shiny door knobs and drawer pulls can instantly improve the look of older features in your home. Remember to choose hardware that fits the style of your home."

Tip #5: Repaint and Refinish Your Countertops
Whether you have laminate or granite countertops, several years' worth of use is going to show up on the surface in some form. And those scratches and chips can be quite unsightly, especially to the discerning home buyer. Fortunately, there are several ways to make your countertop like new:
For Laminate:
Use laminate repair paste on scratches and chips, making sure to fill each divot carefully. Once the paste hardens, you can't sand away the excess.
Mix baking soda and water together and apply to any stains on your countertop. Let sit for a few hours before wiping away with a paper towel.
For Granite:
Use an acrylic coating to restore the luster of your granite. Use a lint-free brush to apply the product in two coats, followed by a quick buffing once it is set.
Use color-matching epoxy or resin on scratches or chips in the surface of the granite. Once it has dried, sand and seal the epoxy so it blends in completely.
Bonus Tip:
"Go outside and evaluate the landscaping and curb appeal of your home. Trim overgrown plants, bushes and trees, and remove broken or unused patio furniture and piles of junk. Then consider pressure-washing fences or decks, and applying a stain or sealant to improve the durability and look of your outdoor space."

Following these home-selling tips will ensure that your house is ready for prime time. Know a few more quick ways to update a home? Let us know in the comments.
Want to learn how to do more than a few simple home repairs? Take a look at our Home Project Guides to learn how to budget for a kitchen remodel, efficiently declutter your home or even frame a wall.