Ready to put your home on the market? Whether you're planning to move now or in the coming years, getting your home ready to sell can be intimidating. Some renovations can be helpful while others may actually turn off potential buyers. The goal of your home renovations should be to make it more livable for yourself and look move-in ready to future buyers. Use this list of home updates to help you attract buyers and speed up the sale of your home.
Best Updates to Sell Your Home Quickly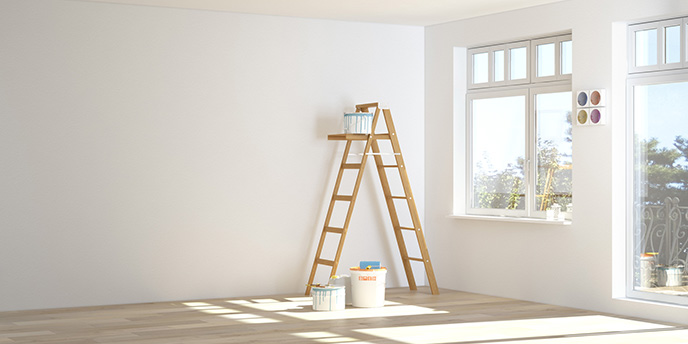 1. Add a Fresh Coat of Paint to Sell Your Home
Not sure what to update to sell your home more easily? A simple coat of paint in a neutral shade is a great place to start. This update can be completed without a huge investment of time or money.
"You never want to do something to your home that is "in" right now because that most likely won't stay "in." A great way to keep things timeless is to stick to plain colors like the color white. Even if the prospective home buyer hates the color white, it is the best color to paint over, so it's really a win-win."

Travis Marshall | Hooked Realty
Spend one weekend removing any bright accent walls or dark colors and buyers will be more interested in your home. Popular color options include:
Grey
White
Beige
Charcoal
Light blue
Be sure the new colors still go well with your home décor to further appeal to prospective buyers.
What not to do: Avoid what is currently trendy, like wallpaper. Trends can quickly go out of style or not appeal to a buyer's taste.

2. Update Your Front Door
The front of your home is the first thing potential buyers see. Improve your first impression by painting your front door or replacing it with a new one. A brightly colored front door will make your home more memorable. If you aren't interested in a colorful front door, you can also replace it with a sturdy new steel door or simply update your old screen door with a glass version for a fresh look.
"Consistently, one of the easiest renovations with the best dollar for dollar return has been a new front door. This is particularly true if your front door lacks appeal or shows deferred maintenance. Sometimes just a fresh coat of paint, perhaps a bright primary color, can be enough to excite potential buyers."

Andrew J. Hurlburt | Bozeman Real Estate Group
What not to do: Don't overspend on a front door that doesn't match the home's exterior.
3. Complete a Bathroom Remodel No Matter How Small
Bathrooms are always high on potential buyers' lists, making an investment here is one of the best options for increased resale value. Before putting your home up for sale, consider making small updates that will excite anyone looking at your house. Some of the best bathroom remodels for resale include small changes likes:
Re-caulking the tub.
Replacing the vanity.
Changing the shower head.
Replacing the faucet.
For a bigger change, purchase a new tub or refinish the existing one and install new floor and wall tiles.
What not to do: Don't create a luxury bathroom. It will not provide the same return on investment as the smaller projects.
4. Declutter Your Home to Attract Buyers
While this update may not directly increase the value of your home, thorough decluttering is the easiest thing to do before putting a house on the market that will help speed up the sale.
Clearing out closets and other storage areas will help your home appear roomier and make it easier for others to picture themselves living in your home.
"Decluttering is both the least expensive and impactful update we can recommend when getting your home ready to sell. Excess belongings make it hard for potential buyers to envision themselves in the space. Stuffed closets downplay what may be ample storage. If you can't part with your things permanently, rent a storage unit so you can pare down for showings."
What not to do: Don't hide unwanted items in the garage. Buyers will see them.

5. Make Your Home More Energy Efficient to Increase Value
One of the best home improvements to make before selling is to improve energy efficiency. This can be done in a number of ways. By adding insulation to your home or replacing old appliances for more efficient ones, you can reduce your own electric bill, increase your tax return and improve your resale value.
"In recent years, the addition of energy efficiency components has started to provide home owners better return on investment. Homes that are 15 years or older may really see the return at sale as they replace failing water heaters with on-demand systems, or simply add some attic insulation to bring the home closer to current energy standards."

Andrew J. Hurlburt | Bozeman Real Estate Group
You can market these updates to potential buyers by providing copies of your utility bills or leaving the Energy Star certifications on your new appliances.
What not to do: Avoid adding solar panels if you are planning to sell your home in the near future. While they add energy efficiency, they require maintenance that will not interest many buyers.
6. Update Flooring Throughout Your Home
Updating your floors is a great way to improve the look and value of your home. While hardwood floors are one of the most expensive options, installing them is one of the best ways to increase your home's value. If your home currently has them, refinishing hardwood floors is also a great way to increase home value and attract buyers.
More affordable options for updating your floors include replacing worn carpeting or installing vinyl floors, either of which may impress potential buyers.
What not to do: Don't select unique patterned tile that may only appeal to you.
Read Next: How to Choose Flooring for Your Home

7. Add Simple Landscaping
The outside of your home will be important for attracting viewers and closing the deal. The best home remodels for resale include adding low maintenance curb appeal with attractive landscaping.
When remodeling for a resale, update your landscaping by:
Removing any high maintenance plants or trees.
Clearing weeds.
Edging your sidewalks and driveway.
Trimming trees and bushes.
Fertilizing your yard.
Consider hiring a landscape designer to add hearty plants that look great and require little attention.
What not to do: Don't add high maintenance assets. Large flower beds and topiaries require work and can turn off potential buyers.
8. Finish the Basement to Add Value
Want to know how to increase home value before selling? For a home renovation that will make a big impact on your sale price, consider finishing your basement. While the cost of a basement remodel may seem high, this investment will return more during a sale than any other update. An external home addition will cost more and add less value to your home than a basement remodel, making it a far more cost-effective way to add space.
What not to do: Don't skip the building permits when finishing your basement. If your basement remodel isn't permitted and inspected correctly, you may not be able to add the value of the renovation to the price of your home.
More Things to Do Before Putting Your House on the Market
Now that you know the best home remodels for resale, learn more about finding a real estate agent, staging your home and moving.
Start with these articles: