Choosing the Right Junk Removal Option
Getting rid of junk may seem like a daunting task. Finding the right option to do so, whether that be a dumpster, a junk removal service or another option may be just as intimidating. So let's clear up how to get rid of junk and what options are available to you.
Compare Dumpster Rentals with Junk Hauling Services
The two most popular junk removal options are roll off dumpsters and junk hauling services. While they're both frequently used to remove household items and assist in general cleanup efforts, they differ in several ways. With each, it's important to consider cost, type of project and the amount of debris you're throwing out.
Junk Removal Comparison Chart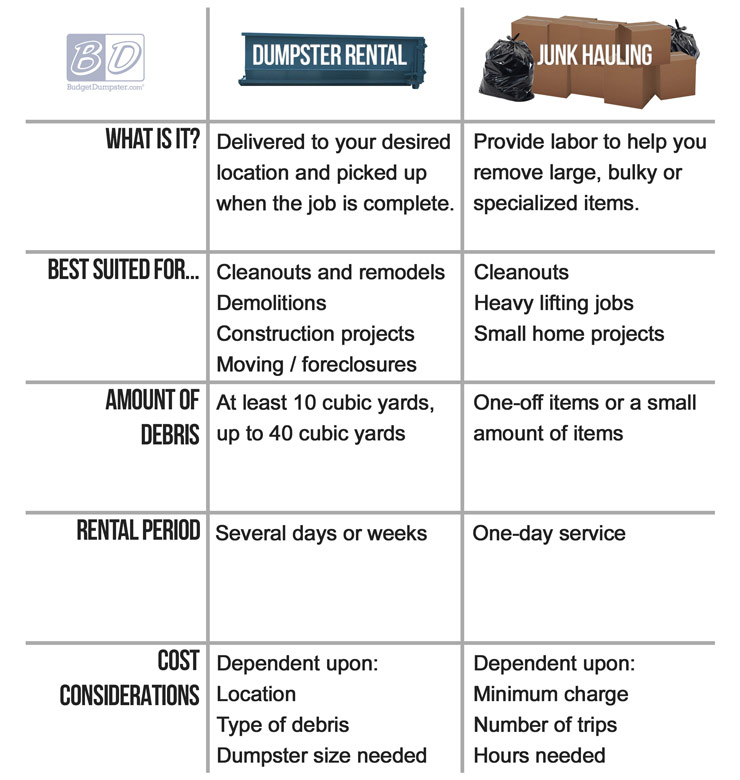 When to Use a Dumpster Rental
Dumpster rentals are a popular and traditional junk disposal method. The flexibility they provide is difficult to match, as dumpsters service household projects of all types and sizes.
Benefits
A variety of dumpster sizes can handle a wide range of debris.
Sizes are matched to your project so you pay for what you need.
Lengthy rental windows allow you to take your time when loading.
Dumpsters can be delivered even if you're not there.
Considerations
You'll have to load the dumpster on your own.
Each container comes with an allotted weight limit – be sure to ask about it before ordering.
Hazardous materials and other prohibited items can't be placed inside a dumpster.
There are several ways to dispose of bulk waste items like electronics and appliances.
Permits may be required for street usage in some areas.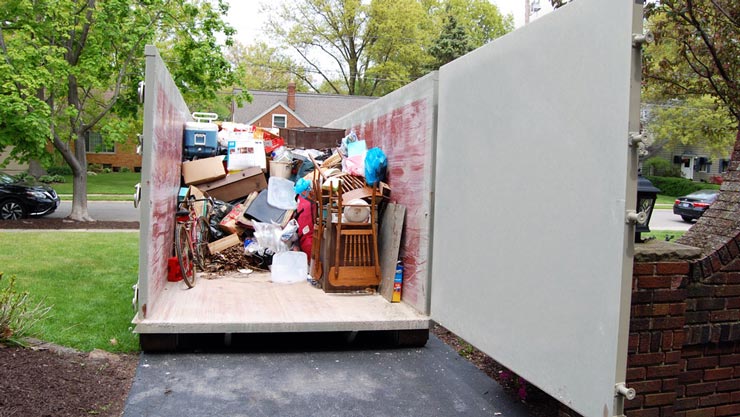 When to Use a Junk Hauling Service
A number of junk hauling services could provide an efficient alternative to renting a dumpster, especially for jobs with a very limited amount of debris. These companies take the work off your hands and provide a high level of convenience.
Benefits
You don't have to load it yourself.
Easily get rid of items that would otherwise be hard to move.
Made for loading single or specialized items.
Capable of handling jobs with less debris quickly.
Considerations
Additional costs for additional labor or trips.
Time restrictions make it hard to get rid of everything.
There are several ways to dispose of bulk waste items.
You have to be there for junk pickup to be completed.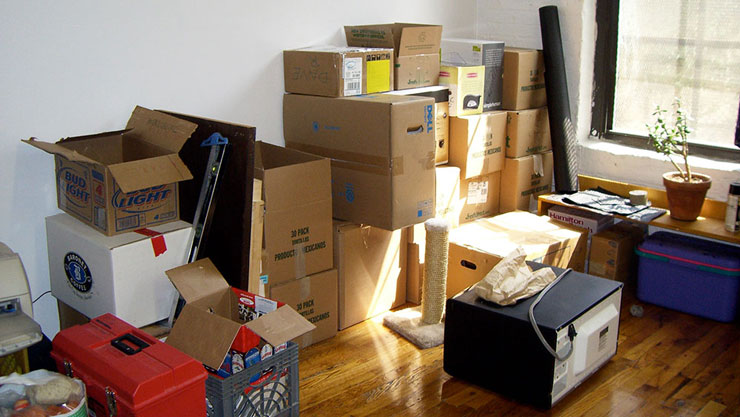 Other Junk Removal Options
Other than renting a dumpster or relying on a junk hauling service, your disposal options are limited but a few do exist. Remember, your decision making should factor in your budget, type and amount of junk and how long you need the service.
Dumpster bags
Meant for small-scale cleanups.
Can hold far less than the smallest size dumpsters.
Affordable if you follow strict guidelines.
Do-it-yourself
Only applies to homeowners with a lot of resources.
Intended for projects that don't have a lot of junk.
Experience required to properly dispose of heavy or large amounts of materials.
Still Have Questions? Call Us
When determining how to get rid of your junk, consider giving Budget Dumpster a call. You can compare our prices and services by getting a free quote today. Our upfront prices on roll off dumpster rentals provide an affordable option for junk removal.