Looking for a way to give back to your community? Organizing a neighborhood cleanup is a great way to do just that while also making your neighborhood a better place to live.
For a community cleanup to be successful, it must be well-planned. From picking the right project to recruiting enough volunteers, putting together an effective event takes effort.
Keep reading for tips you and your organization can use to plan a community cleanup that makes a real impact.
Tips for Planning a Community Cleanup
1. Pick the Right Project for Your Community
Choose the area of focus for your neighborhood cleanup carefully. The right project is one that fixes an existing problem and inspires others to get involved.
Community cleanup projects can come in many forms:
Trash and litter collection
Beautification projects
Flower planting incentives
Beach cleanups
River cleanups
Pick a project that isn't being addressed by other local efforts. Is your beach dirty? Is garbage in the river endangering local animals? Is your block looking rough? Is your local park in need of new plants and a fresh coat of paint on playground equipment?
When choosing your community cleanup project, keep in mind certain efforts, like painting playground equipment in a city park, may require permission or permitting from the city. Include this in your project timeline.
2. Make a Detailed Event Plan
Once you've chosen the right way to clean up your community, it's important to make a specific plan for the event.
Your plan should include:
Date and possible rain date.
Meeting location with access to restrooms for volunteers.
Number of volunteers needed and initiatives to recruit them.
Outline of all the work to be completed before the event and the day of.
List of supplies you will need for your specific project.
List of required permits or licenses needed.
Schedule of events for the day of your community cleanup.
Post-event steps.
This detailed plan will help you organize a neighborhood cleanup that is efficient and fun.
3. Choose an Enthusiastic Leader
Your neighborhood cleanup needs a project coordinator to be the go-to-person for all planning needs (maybe that's you!). The leader should have some event planning experience and be involved from the beginning.
The leader of the event should also have a team or committee of people they can delegate parts of the plan to.
4. Recruit Volunteers Early
Cleaning up a community is reliant on volunteers. Begin recruiting efforts a month or more before the event to make sure you have enough support.
Use different methods to reach a wide audience:
Tell neighbors, friends, community members, local businesses, churches and other organizations about your event.
Create a flyer highlighting the details of the cleanup and distribute it.
Promote the event on social media.
Ask neighborhood organizations to promote the event in newsletters.
Add the event to online community event calendars.
When recruiting, ask volunteers to sign up so you know who is coming and how much more recruiting you need to do. Keep in mind that volunteers may sign up but not show up on the day of the event, so recruit more volunteers than you need.
Send a reminder to those who have signed up a few days before the event, says Kate White, director of marketing at SignUpGenius.
"Make sure to include any relevant information about parking, volunteer check-in and policies/waivers. Also, make sure to thank them ahead of time and let them know how they fit into the bigger picture of your organization. Using an online sign up service that sends automatic reminders can also help boost volunteer turnout for your clean up!"

Kate White | Director of Marketing, SignUpGenius
5. Get Supplies Donated
Unless you have a budget for your event, the most economical approach is to request supply donations for your neighborhood cleanup. Make a list of your needs as well as the estimated costs and ask local businesses to donate the funds or the items themselves. Hardware stores are a good place to start.
You may be able to request supplies from the city government. Reach out early to find out if they have any programs your event qualifies for or if they can connect you to any other organizations.
Depending on the size and type of your neighborhood cleanup, another option is to ask your volunteers to bring the items from home.
"When Bridging The Gap organizes volunteers for a litter clean-up, we provide litter grabbers, fabric and vinyl gloves, and trash bags. Our Tool Lending Shed provides trash bags and gloves and loans out litter grabbers, rakes, shovels, spades, loppers and other yard tools at no cost."

John Fish | Bridging the Gap
Supplies for community cleanup:
Trash bags
Shovels
Rakes
Gloves
Paint and paintbrushes
Wheelbarrows
Gardening materials, like plants and mulch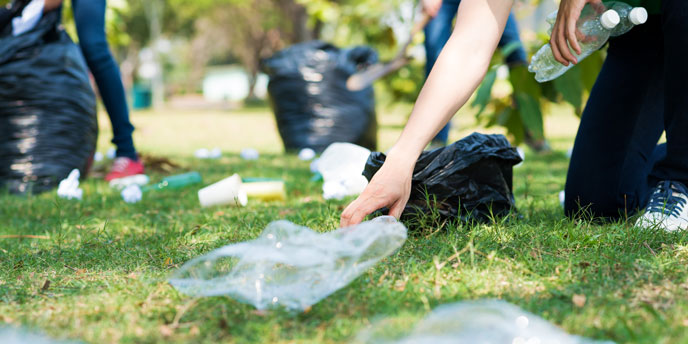 6. Assign Specific Tasks During the Cleanup
Having a lot of volunteers is great, but they will lose their enthusiasm if they don't know what to do. This is where your detailed plan will come in handy.
During your community cleanup, divide your volunteers into groups. Assign each group a specific project. Provide them with a written outline of their task, the required supplies and a map of the locations to work at (if applicable), along with the locations of bathrooms, refreshments and other necessities.
Group tasks can include:
Cleaning a specific street or block.
Delivering water and snacks to other volunteers.
Assisting with volunteer check-in.
Taking pictures of the event.
Separating garbage from recyclables during litter collection.
Painting playground equipment.
Planting or mulching an area.
When providing group instructions, remember to give instructions for cleaning up after the project is complete. Instruct volunteers to wash paint brushes if their job is painting or to sweep the sidewalk if their job is weeding or cutting grass.
Also include contact information for the cleanup leaders in case the volunteer groups have any issues.
7. Make a Plan for Debris Removal
You will need to have a way to get rid of debris at your community cleanup. Whether your volunteers are picking up debris or planting flowers, there will be garbage to get rid of. Call your city government and ask about options for scheduling a pickup for trash and recycling. If you expect to collect or create a lot waste, considering renting a dumpster.
Budget Dumpster offers donations to qualifying events around the country. If you would like your community cleanup to be considered for a dumpster donation, fill out our request form.
Other disposal options include assigning volunteers to drive debris to the local landfill or working with a local business to leave the waste in their dumpster.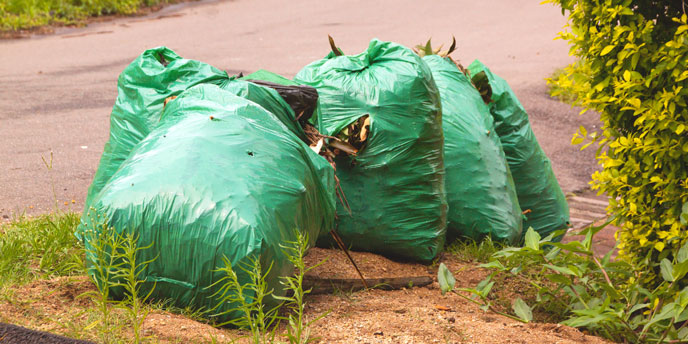 8. Reward Your Volunteers
After your neighborhood cleanup is complete, reward your volunteers. A post-cleanup party would be ideal, but other ways to thank your volunteers include providing snacks, a t-shirt or simply sending handwritten thank-you notes.
Showing your volunteers how important they are will encourage them to attend your next event.
"Share appreciation for the gift of [the volunteers'] time…Send a thank you email after the event and include a 'save the date' for your next service opportunity. Post photos on social media — such as before and after shots showing how volunteers transformed the community space."

Kate White | Director of Marketing, SignUpGenius
Ready to Plan a Community Cleanup?
Now that you know how to plan a community cleanup, use these tips to pull together an event that will have a positive impact on your hometown. Be sure to share the lessons you learn in the comments below.