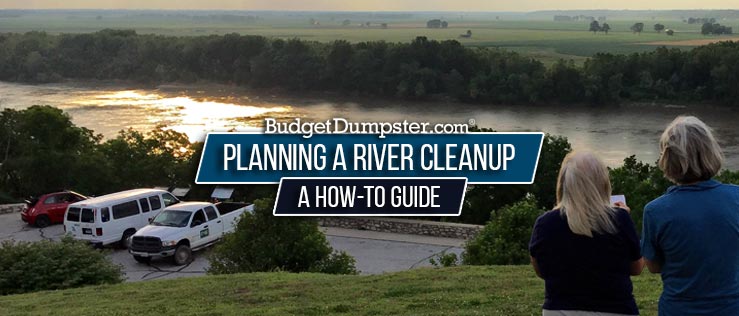 Planning a River Cleanup: A Start-to-Finish Guide to Cleaning Up Your Local Waterway
Individual people are responsible for creating the trash that clogs our waterways, and it's often up to individual people to clean that trash up. Hosting a river cleanup project in your area is a great way to not only improve the health of your local waterway, but to form new friendships with like-minded people.
Choose a topic below to get expert advice from seasoned river cleanup organizations on hosting the most effective project possible.
Selecting Location and Timing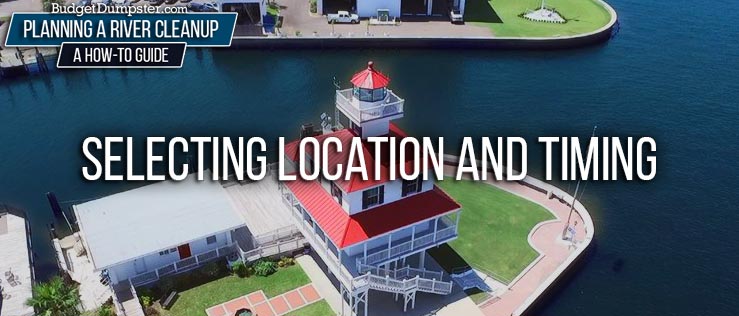 The first step in planning a river cleanup project is choosing a location. While this may seem straightforward, there are many factors to evaluate before making a final call.
What the Experts Say:

Know the state of your stream:
How much trash is there? Scout a few streams before deciding on a location to ensure you have trash for your volunteers to pick up.
Contact a local watershed association, stream watch group, or other local environmental group. They may be able to tell you where to find streams in need of a cleanup.
Know the accessibility:
How deep is the stream?
How thick is the vegetation along the banks?
How many access points are there?
How far away will volunteers be from the trash collection area? Consider that volunteers will have to carry bags of trash back to this point, and waterlogged trash can be heavy.
Pick a good season:
Late spring is good: as water levels begin to drop, trash is often left above the water level.
Fall/early winter is good: good weather, low water levels.
Depending on your location, summer is usually bad: hot and muggy (and buggy), trash hidden by overgrowth and poison ivy can be a concern.


Putting It All Together:
Choose a cleanup location with the following characteristics:
A sizable amount of trash within reach of volunteers walking along the bank.
Within reasonable walking distance of somewhere volunteers can park.
Within reasonable walking distance of the pre-and post-cleanup meeting spot.
Has low, non-poisonous vegetation that won't conceal trash.
Accessible at multiple points so that all volunteers can participate.
Is not near deep water or dangerous rapids.
If your cleanup location doesn't have nearby parking, ask a local business or place of worship if volunteers can park in their lots during the cleanup. Tell volunteers to meet at the parking area to carpool to the cleanup site.
Image Source: Lake Pontchartrain Basin Foundation
Choose Another Topic
Finding Volunteers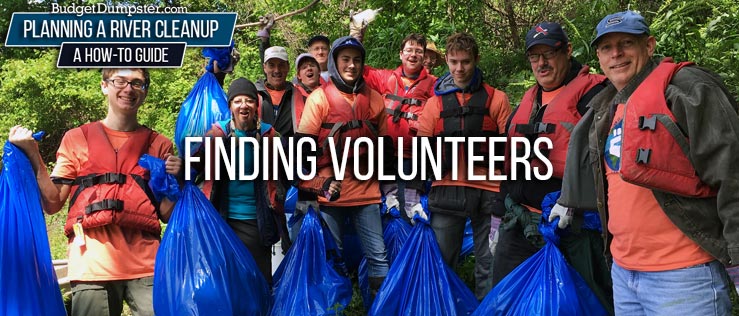 Your proposed river cleanup won't get far without a group of dedicated volunteers to lend a hand. While there are likely many people in your community who would be happy to contribute to a local river cleanup, the trick is figuring out how to get the word out to those people.
What the Experts Say:

There are several good ways to find volunteers:
Collaborate with other community organizations. This can increase your visibility without having to put in a lot of time or money for advertising.
Utilize local media whenever possible. Getting an event announcement in a local paper can do wonders for exposure and garnering local interest.
Find volunteer focused websites.
Use Facebook advertisements. These are not very expensive and can target individuals based on predispositions to certain causes (like the environment, conservation and green activities) as well as by location.


Putting It All Together:
Use the following methods to attract volunteers to your waterway cleanup:
Inform:
Local community groups, such as scout troops, neighborhood associations, youth groups etc. who may wish to get involved.
Local environmental groups who may wish to get involved.
Ask:
Local outdoor sports clubs or outfitters to distribute flyers about the cleanup.
Local news outlets to report on the event.
Local VIPs, such as the mayor/city council, local business leaders, etc. to participate in the cleanup and encourage others to do the same.
Create:
Listings for your cleanup on volunteer meet-up sites, such as Idealist, Create the Good and Just Serve.
A Facebook event for your cleanup and share it with your friends and family, as well as local groups and organizations that might be interested.
Facebook ads for your cleanup targeted to your area and people interested in environmental causes.
Image Source: Missouri River Relief
Choose Another Topic
Making Your Volunteer Cleanup Accessible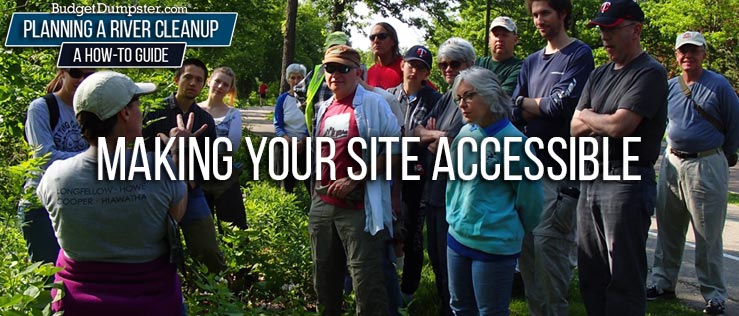 Once you've found the right avenues to get the word out to volunteers, it's important to make sure that the community cleanup project you've planned is one that will be appealing—and accessible—to as many community members as possible.
What the Experts Say:

Get organized, published and ready for answering questions from prospective volunteers EARLY! 1-2 months of outreach time is crucial for building support. Last-minute events are incredibly difficult to fill.


Two hours is typically a good length for a cleanup – most volunteers will tire around this point. If you're working with kids, on hot days, etc. you might want to cut it to 90 minutes.


It's always helpful to have some hand sanitizer and/or baby wipes on site if there isn't a hand washing station/bathroom available. We also try to bring granola bars or bananas as snacks if there isn't other food provided. Finally, having a bucket or two on hand is great for sharp items.


It's helpful to have different people with autonomy over different aspects of the event. For example, for our cleanups we ask one person to be the Cleanup Boss, another to be the Publicity Boss etc. As long as everyone communicates with each other, it takes the pressure off of one individual to cover all the details. Some people prefer "Hero" or "Guru" to "Boss" to discourage people from being bossy!


Putting It All Together:
Use the following methods to make your cleanup appealing to potential volunteers:
Choose a weekend for your cleanup, so that many people will be off work.
Keep your cleanup length to about two hours, which is manageable for most people.
Offer to provide materials for those who can't bring their own.
Provide water (preferably in reusable bottles) and snacks for volunteers.
Provide buckets or other containers for sharp items so volunteers aren't at risk of cuts.
Make the cleanup open to children, so interested parents can easily participate.
Finalize the details and be ready to answer questions before seeking out volunteers.
Make different people responsible for different aspects of the cleanup.
Image Source: Friends of the Mississippi River
Choose Another Topic
Estimating Materials for Your Cleanup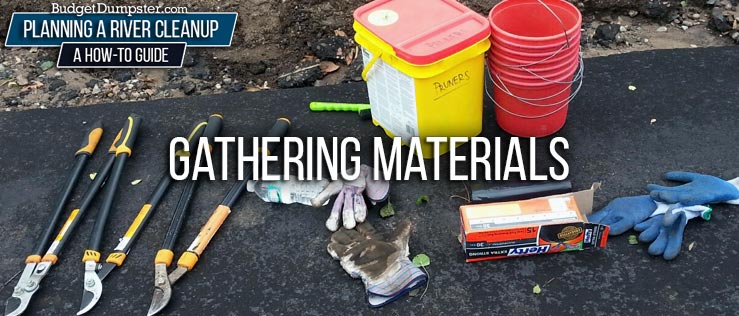 Eager volunteers are the most important element of a successful waterway cleanup, but they're not the only piece of the puzzle. You'll need to make sure those volunteers are armed with the right quantities of the right materials to get the job done efficiently and, most importantly, safely.
What the Experts Say:

Make sure to have the following items on hand for your river cleanup:
Equipment:
High quality (thick or reinforced) trash bags
Trash pickers/grabbers: 1 per volunteer.
Gloves: several sets for volunteers who forget to bring their own.
Other Items:
Bug spray and sunscreen: enough for all volunteers to use if needed.
Water: consider bringing dispensers for volunteers to fill reusable bottles.
Snacks (if you're planning a longer cleanup or one that takes place over lunch time)
First aid kits.


From our data, the average number of volunteers per site is 27. I'd recommend at least two or three bags per person; so anywhere between 50 and 80 bags per cleanup. If it's a very dirty site or a lot of volunteers are expected, up those numbers to 200-300.
American Rivers' National River Cleanup program provides trash bags to cleanups of all sizes for free. All organizers need to do is register with National River Cleanup (which should take under five minutes)!

As for gloves, bringing 50 pairs for a regular cleanup should be fine. Alternatively, just have volunteers wear medical or latex gloves – they are cheaper and usually sturdy enough for common trash.


My advice is to reach out to organizations that can provide supplies and haul away all the debris the day of the cleanup. Otherwise, things can become cumbersome.


Putting It All Together:
Use the following methods to acquire materials:
Stock at least 2-3 trash bags per volunteer.
Instead of work gloves, stock medical gloves, planning to have about 20 more pairs on hand than volunteers in case of tears etc.
Ask local grocery stores and other retailers for donations of trash bags, gloves, trash pickers and first aid kits.
Keep in mind that long grill tongs can be used instead of trash pickers if needed.
Ask local grocery stores or other food vendors to donate water and snacks for the cleanup.
Contact local businesses, places of worship, community groups etc. asking for financial donations to cover costs for anything you aren't able to get via in-kind donations.
Once any donations have come in, you can ask volunteers for help in acquiring any supplies that are still needed. However, you should make it clear that no one is obligated to provide supplies and no one will be turned away for being unable to contribute.
Image Source: Friends of the Mississippi River
Choose Another Topic
Getting Permission for Your River Cleanup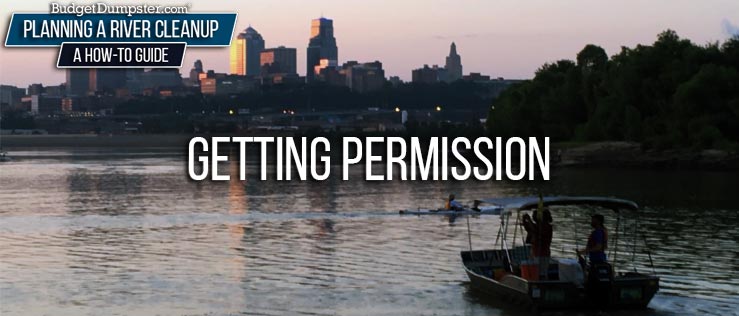 It's important that you have any necessary permission in writing before cleanup day or you could find your project stalled before it even starts. It may be possible to plan your waterway cleanup to take place only on public land, such as within a local park. However, if the trashiest areas of your local river are found on land owned by the city or by private citizens, you'll need permission to clean there.
What the Experts Say:

Based on the specifics of your cleanup, obtaining permission can take different forms. Here are a few thoughts:
Cleaning Up By Boat:
Chances are this comes from a local sheriff's department, which operate at the county level in most states.
Permission could also come from the local city or township, or even a state natural resource department or federal agency.
You may need to ask around to figure out the correct governing body to ask, but they will likely grant permission with little to no concern.
Cleaning Up on Land:
It can be tricky figuring out the owners of private land, finding them and asking for permission. Even more difficult is gaining permission if you're working with many private individual landowners across property lines.
If it's a land holding by a large company, they also can be difficult to gain access from, due largely to liability issues. Government-owned properties tend to be easier, but figuring out the property owner can take some work.


Putting It All Together:
Use the following methods to get permission for your cleanup:
Contact your local sheriff's department for permits for cleanups taking place by boat.
Contact your city or township's permitting department if the sheriff's department isn't the appropriate contact.
For cleanups on land, use your county plat map and/or records of deeds to find the owners of all properties you wish to clean up.
Contact your city or township's permitting department for any government-owned property you wish to clean up.
Contact the owner of any private property with your plans for the cleanup. Make sure to get their permission in writing.
Contact the owners of any business's property you wish to cleanup. Be prepared for them to decline permission due to liability issues.
Ensure that all volunteers know of any areas that are off-limits due to declined permission.
Even if your cleanup is taking place entirely on public property, it's a good idea to ask the city for a letter of support. This will legitimize your cleanup for anyone who may question what you're doing.
Image Source: Missouri River Relief
Choose Another Topic
Separating Recyclables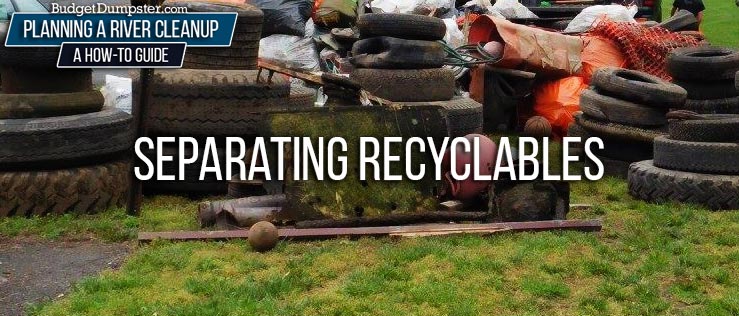 Once your river cleanup is complete, you'll have played a major role in improving your community's environmental health. But why not go one step farther? You can make an even bigger impact by separating the recyclables from the rest of the litter you collected to ensure they don't end up in a landfill.
What the Experts Say:

The number one thing about recycling is to check with your local recycling center before the cleanup because not all take the same materials. For instance, many will not take glass.
Also ask them about other specifics such as what plastic numbers they take or if lids are acceptable. Also be sure to ask if the recyclables need to be separated or can be co-mingled.
If groups choose to recycle as they pick up, we suggest giving volunteers two bags OR buddying up and each taking a bag—a clear one for recycling, and a black (or other color) one for all other garbage.

If you decide to separate recyclables post-cleanup, I'd suggest getting a sample to show volunteers what materials are accepted, and the acceptable dirt and/or liquid level, etc.
Be sure volunteers do NOT open any containers with liquids in them to dump out. Just because it's a Mountain Dew bottle and it looks like Mountain Dew, doesn't mean it is Mountain Dew. Also, many toxic chemicals are clear and do not have an odor. They may be mistaken for water.


Tires are one of the most recyclable large objects commonly found in streams, so consider recycling tires through Bridgestone's "Tires 4Ward" program.


Putting It All Together:
Choose to separate recycling as you work if any of the following circumstances apply:
You don't have time and/or a suitable location to separate recycling afterwards.
Your area does not have particularly strict recycling guidelines, making a rough sort acceptable.
Your area's recycling guidelines are simple enough for volunteers to remember off-hand while they work.
Choose to separate recycling post-cleanup if any of the following circumstances apply:
Your area has strict recycling guidelines that would make sorting as you work difficult.
Your area's recycling guidelines aren't simple enough for volunteers to remember while they work.
You want to keep detailed records of the amount you're recycling of various items.
Image Source: NY/NJ Baykeeper
Choose Another Topic
Planning the Post-Cleanup…Cleanup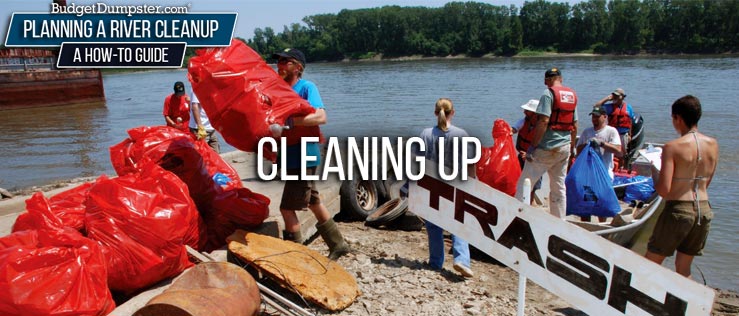 The biggest mistake you can make when planning a river cleanup project is forgetting to have a plan in place for getting rid of all the trash you remove from your waterway. This step is particularly important because you don't want to neutralize all the environmental good you did by failing to ensure that the trash is properly handled.
What the Experts Say:

Organize trash pickup beforehand – some cities may work with you to come collect the trash directly, or you may want to rent a dumpster.
Make a note of large, difficult to move items (appliances, car parts, etc.) and let local watershed groups know in case they're able to arrange future removal.


A tip I would offer is to be sure to contact your town's department of public works to schedule trash pickup prior to the cleanup.


If you want to record how much was cleaned up, we usually estimate 15 pounds per bag for the trash we pick up.


It's also fun to keep a tab of the strangest items found at a cleanup to share with the community.


Putting It All Together:
Use the following methods to get rid of trash post-cleanup:
Contact your city's department of public works, public services department, department of solid waste or waste collection department to request free trash removal for your cleanup.
If the city cannot provide trash pickup, contact a dumpster rental company. Inquire about any potential discounts for volunteer events.
If volunteers find items too large to move, contact a local environmental group who may be able to handle them.
Make sure volunteers know not to handle hazardous materials such as syringes or other medical waste. Instead, contact the city's household hazardous waste department to arrange safe disposal.
Image Source: Missouri River Relief
Choose Another Topic
Are You River Cleanup-Ready?
With these tips, you should be well on your way to planning a river cleanup that will not only leave your community with a healthier waterway but will hopefully inspire continuing cleanup efforts.
If you're looking for additional resources or more ways to get involved with river protection, please visit the wonderful organizations that helped to make this guide possible:
American Rivers
Living Lands & Waters
NY/NJ Baykeeper
Lake Pontchartrain Basin Foundation
Friends of the Mississippi River
Missouri River Relief
Cumberland River Compact