There's only one thing that beats a lazy day lounging in your own backyard paradise: a lazy summer day lounging in your own private backyard paradise.
If your yard is a little too open to prying eyes, ditch expensive fences in favor of one of these out-of-the-box backyard privacy ideas. You can tackle these budget-friendly projects in a single weekend, putting just a few days between you and your newly secluded backyard.
---
Cheap Backyard Privacy Fence Ideas
---
1. Use Super-Sized Planters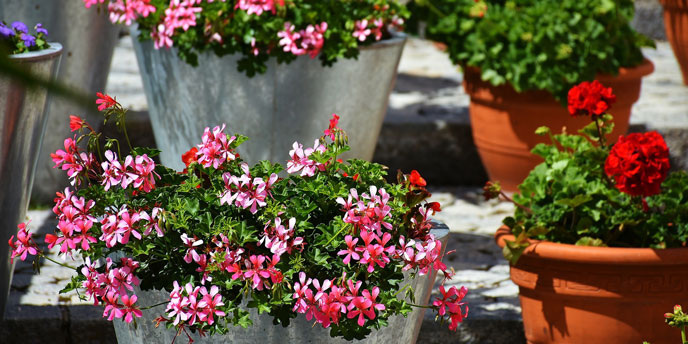 Buy several large planters and fill them with tall, decorative grasses or flowers. Arrange the planters in a row along a section of your porch or other area where you need a little screening. This is essentially a cheap version of the classic (but pricey) use of shrubs to form a privacy fence.
Average Costs:
$15-$20 per planter.
$4-$15 per bag of potting soil.
Don't forget to factor in the cost of your desired plants!
---
2. Plant Trees Along Your Property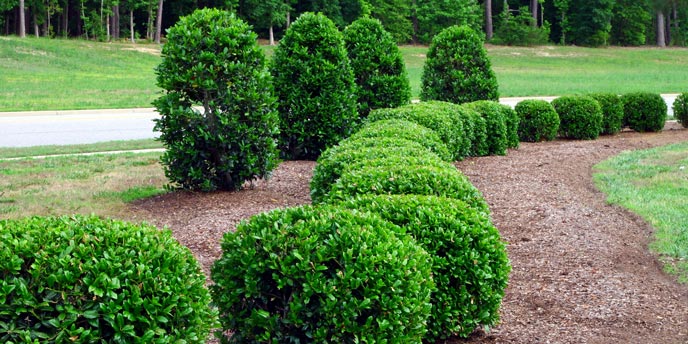 If you have a bigger yard (and budget), consider this evergreen privacy fence idea. Trees and bushes make great fences, so long as you're a little patient. Fast-growing trees, such as arborvitaes, can reach any desired height within a few years, leaving you with a natural barrier between your backyard and your neighbor's. Plus, all you need to plant a tree is a few shovels, some dirt, and the tree itself, making this an easy and inexpensive privacy option.
Average Costs of a Few Common Privacy Trees:
Thuja "Green Giant" Arborvitae: $17 to $40 per tree for 4.5 quarts to 3-gallon container sizes.
Leyland Cypress: $20 to $35 per tree for 2 to 3-gallon container sizes.
Holly: $20 to $45 per tree for 2 to 5.5-gallon container sizes.
---
3. Build a Living Wall
You can make a simple living wall by hanging several flower boxes from a lattice screen or other frame. Fill the boxes with soil and the greenery of your choice. For the most coverage, choose larger, bushy plants as the main occupants of your boxes. Consider including trailing plants as well, to provide cover between boxes. For the green thumbs among us, this backyard privacy idea comes with the bonus of increasing your gardening space.
Average Costs:
$11-$20 per flower box.
$8-$10 per flower box holder.
$4-$15 per bag of potting soil.
$14-$20 per lattice panel.
Don't forget to factor in the cost of your desired plants!
---
4. Hang Outdoor Curtains Around Your Patio
Simply hang the outdoor curtains of your choice from a rope, wire or rods around your porch, patio or other seating area. You can use trees, porch railings and any other sturdy fixtures in your yard to hang your curtains. Simple wooden posts can be driven into the ground wherever extra support is needed. For extra support, drive wooden posts into the ground and fasten the rod or wire to it. Backyard privacy curtains are easy to DIY and provide a unique look for your yard.
Average Costs:
$20-$50 per set of curtains.
$11-$25 per post (if needed).
Don't forget to factor in the cost of whatever option you choose for suspending your curtains.
---
5. Buy a Retractable Backyard Screen
It may not be a DIY backyard privacy solution, but it is a relatively quick and cheap way to put a wall between you and any prying eyes. You can find backyard dividers and screens for sale in practically any home improvement store, both in real life and online. These can be anchored to wood subfloors, such as a backyard deck or patio, or even concrete using concrete fasteners.
Average Costs:
$100-300 depending on size and configuration.
---
6. Build a Privacy Screen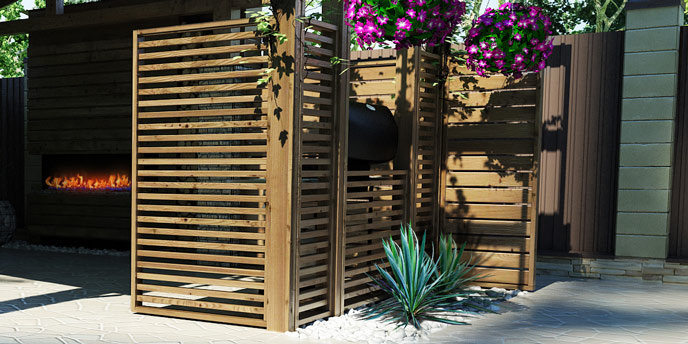 You can make a quirky, yet functional, privacy screen out of a few old doors, either painted to match or left in their original color. Simply attach each one together using hinges to form a folding screen. Ditto for old shutters or, appropriately enough, old screens. With a little creativity, the possibilities are endless.
You can also purchase pre-built screens made from wicker or wood, depending on your personal preference.
Average Costs:
Upcycled Privacy Screen: Whatever material you decide to upcycle can likely be found for free around your house or for a small fee at yard sales, flea markets or thrift stores.
Pre-Built Privacy Screens: $50 to $300 depending on material and length.
---
7. Put Up a Simple Lattice Fence
All this project takes are a few wooden posts or boards, depending on how sturdy you want your fence to be, and enough lattice to cover them. Before putting the fence together, you can also easily paint or stain the lattice to complement the color of your house or yard furnishings. If your style leans more toward a traditional privacy fence, this DIY idea is about as simple—and inexpensive—as it gets.
Average Costs:
$14-$20 per lattice panel.
$11-$25 per post.
---
Does your backyard need a little TLC? Check out our DIY landscaping how-tos to get the lushest lawn in the neighborhood. Got your own ideas for creating backyard privacy? Share them in the comments!
*All average costs are rough estimates. Exact totals will vary based on the specific materials you use and where you purchase them.