Imagine spending your summer evenings sitting on new patio furniture, under twinkling lights, surrounded by beautifully potted plants or a thriving vegetable patch. You can make that a reality this summer after completing just a few easy garden projects that won't break the bank.
By creating a beautiful, useful backyard garden, you gain extra space to share with family and friends. Spend a little time (and a little money) getting your hands dirty with one or more of these DIY garden projects, and you can spend the rest of your summer relaxing in a beautiful backyard.
---
5 DIY Garden Ideas on a Budget
---
1. Garden Walkway
Walkways and paths are almost always featured in large and elaborate gardens. Add one using stone, gravel or brick to lead people from your backdoor to your garden or patio. This project will add an elegant look to your backyard and encourage you to step outside more often.
Building a path requires your choice of stones, weed blocker, sand, a shovel and a lot of elbow grease. You can also add a paver patio with similar steps. This backyard idea can be completed in a short time on just about any budget and adds a beautiful, useful detail to your garden.
2. DIY Garden Furniture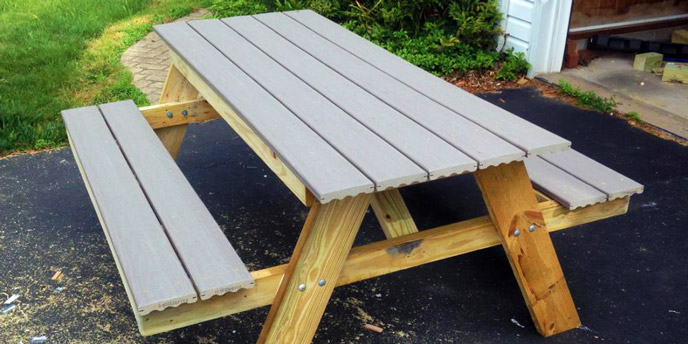 The simplest way to increase the amount of time you spend in your yard is to add seating. We know patio furniture can be expensive and doesn't always hold up to the weather but building the right DIY garden furniture can add to your backyard without breaking your budget.
There are many different DIY garden furniture plans, allowing you to choose the perfect one that meets your backyard needs and budget. You can make a bench made from wooden planks and cinder blocks, build a DIY picnic table or craft a porch swing.
Eileen and Ash from Just Measuring Up built their own picnic table for a fraction of the price of a store-bought one so they could spend more time outside during meals and while working on projects.
"If you are thinking about buying a new picnic table for your yard, instead learn how to build a picnic table. We are absolutely loving the DIY picnic table, especially the composite tabletop. Our DIY picnic table is already getting a lot of use and is sure to be a hit at our next BBQ."

Eileen and Ash | Just Measuring Up
If you're looking for functional backyard ideas on a budget, creating your own seating is definitely an option to consider.
3. Decorate With Unusual Garden Planters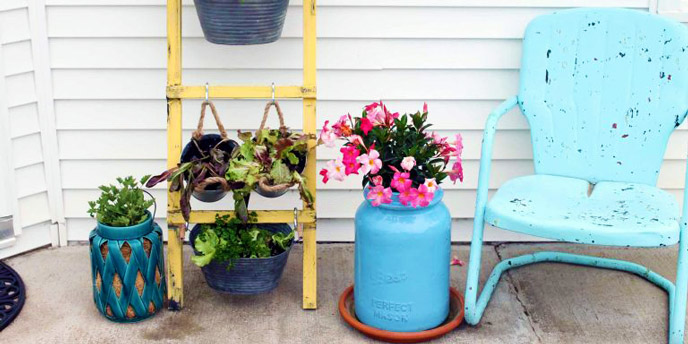 Another easy garden project is adding decorative planters throughout your yard. This DIY garden project is a great choice no matter the size of your outdoor space. If you're decorating a small backyard patio or a porch, transform unique objects into planters to fit where you need them. If you're trying to improve your backyard privacy in a large yard, use wooden pallets as standing planters that double as a screen.
To get started, scour your garage and check out local yard sales for items that you can turn into garden decorations. Use perennials to reduce your work next year and get the most out of your money.
DIY garden planters can be made from anything, including:
Old wooden crates
A pair of boots
Old drawers
Simply add dirt, plants of your choice and you have new yard décor.
To save space, create a vertical planter, using a bookcase or ladder to add height and interest to your arrangement of plants, like Angie at The County Chic Cottage.
"Going vertical with your garden is easy with this project, and it is perfect for small spaces. In a super small footprint, you can grow your veggies and herbs all summer long."

Angie Holden | The County Chic Cottage
4. Raised Garden Bed
Add functionality to your backyard by building a raised garden bed. A raised bed in your backyard will provide a simple way for you to grow your own veggies and encourage you to spend time outside tending your plants. Raised garden beds are great because they help reduce weeds, prevent soil compaction, provide good drainage and serve as a barrier to pesky insects.
You can build this easy garden project to fit any yard or budget. And while you could purchase a premade garden bed, you'll save more by building one yourself.
You can use:
An old window or door frame
Recycled drawers
Concrete blocks
A wooden pallet
Two-by-fours
Once you've built your raised garden bed, add rocks for drainage as well as top soil and your favorite herbs or veggies and enjoy them all summer long with minimal weeding.
5. Garden Lighting
Simple garden lighting will add a friendly glow to your backyard and is a must-have for summer evening parties. This easy DIY garden project works great with any of the ideas above. Improve your new stone walkway or DIY garden furniture by accenting it with patio lights.
There are many options for garden lighting, including:
Installing solar-powered path lights.
Hanging string lights around a patio.
Filling glass globes with battery powered lights.
Creating DIY candle holders to spread throughout your backyard.
This is one super easy backyard idea that fits any budget.
---
Send Us Your Easy Garden Projects
Have you tried out a few of these ideas in your yard? Let us know in the comments below. We'd love to hear about the DIY garden projects that improved your space.