How to Dispose of Dirt

Whether you're breaking ground on new construction or just removing dirt from your yard, you may be wondering how to get rid of all that dirt in an efficient, cost-effective way. We've broken down a few common dirt disposal options to help you find the best way to dispose of dirt for your project.

Dirt Disposal Options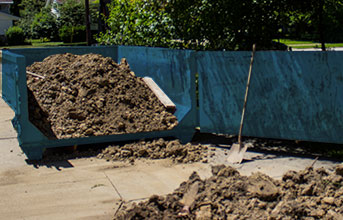 1. Rent a Roll Off Dumpster
This is a simple way to dispose of dirt from any landscaping or construction project. To rent a dumpster, simply call and schedule a delivery time that's convenient for you. Once it arrives, load up the leftover dirt at your own pace, and call back as soon as you're finished to have it taken away. This option is ideal if you don't want the dirt sitting on top of your grass or concrete driveway for a while.
Benefits
Things to Consider

No need to be home for pickup.
An all-inclusive, affordable rate is provided before your rental even arrives.
Offers a guaranteed, scheduled disposal of your dirt.

Best for large amounts of dirt.
You load the dirt yourself.
Dumpster sizes and weight limits can vary depending on your location.
Search for Dumpster Rental Prices in Your Area
or search your city/zip below
---
2. Make a Listing in the Online Classifieds
Listing your unwanted soil online is a good way to get rid of dirt for free. Many contractors and DIYers browse sites like Craigslist and Freecycle for dirt and soil to use in their projects. You could list your soil as available for free pickup or offer to deliver the soil yourself, if you really need to get it off your hands.
You can also browse dirt-specific classified sites, including FreeDirt.com, Clean-Fill-Wanted.com and DirtFill.com. These sites will match you with local wanted ads for soil and fill dirt, usually for a fee.
Benefits
Things to Consider

Free or low-cost dirt disposal option.
Allows dirt to be recycled.

Removal time depends on the buyers.
Dirt sits out in the open indefinitely.
Not ideal for large amounts of dirt.
---
Important:
Before selling or getting rid of dirt online, check local laws on mining permits
Some states do not allow you to sell or give away dirt for use on another property unless you have obtained a mining permit. Mining permits can cost between $200 - $300, but this can vary depending on your area. Check with your local government to ensure that you're complying with city regulations.
---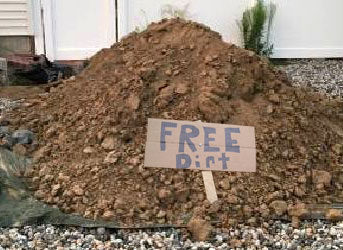 3. Leave a 'Free' Sign Out
If you're looking for a free dirt disposal option, you can always leave out a 'Free Dirt' sign to attract potential takers. Make sure the dirt is easily accessible in case an interested passerby wants to haul it away when you're not home. If it isn't, write a contact number on the bottom of the sign so they can get in touch with you. Also, if you're a part of a homeowners association, check to see if you're allowed to leave your materials sitting out in the open before doing so.
Benefits
Things to Consider

Free dirt disposal option.
Allows the dirt to be recycled.
Very little extra work involved.

Not a guaranteed removal option.
Dirt sits out in the open indefinitely.
Not ideal for disposing of dirt on job sites or public property.
---
4. Hire a Junk Removal Company
Some junk removal companies can provide dirt disposal services. The company will schedule a delivery window and send out two professionals who will determine the hauling price upon arrival. Then, they will load up your dirt and haul it away for you. Typically, junk removal services use trucks with 2-ton weight limits, meaning they can carry up to 4,000 pounds. Because of this, this option is usually better for smaller amounts of dirt. Do a little research on whether junk removal is right for your project.
Benefits
Things to Consider

Heavy lifting is done for you.
Offers a scheduled disposal of your dirt.

Price is subject to increase upon arrival.
Must be present for dirt pickup.
Not ideal for large amounts of dirt.
---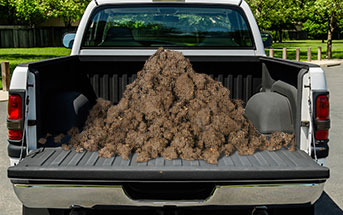 5. Dump It Yourself
Finally, you can always throw away dirt at the landfill yourself. Most landfills will accept inert waste like soil for a set cost per ton. Search online to find a local landfill or transfer station that accepts dirt and is open to the public. Dumping debris on your own works for some projects, but larger amounts of dirt may call for a bigger disposal solution.
Benefits
Things to Consider

Guaranteed disposal option.
Allows you to work at your own pace.

Requires access to a pickup truck.
May require multiple trips.
Nearest dumping site may be far away.

How Much Does Dirt Disposal Cost?
The cost to dispose of dirt is based on a few factors, including the weight of the soil. Unlike concrete and asphalt, the weight of dirt can vary greatly based on its moisture content. For instance, 2 cubic yards of dry soil weighs almost 2 tons. But if wet, the same amount of soil can weigh around 3 tons. This variability can drastically impact the cost of dirt disposal, so keep that in mind when choosing the right disposal solution for your project.
Costs of Various Dirt Disposal Options
| | |
| --- | --- |
| Cost to Rent a 10 Yard Dumpster | $369 on average, with prices ranging from $199 to $761. |
| Cost of a Junk Removal Service | Around $235 for a quarter bedload to $550 for a full bedload. |
| Cost to Dump Dirt Yourself | Dirt disposal costs between $32 - $40 per ton at most landfills. This does not include the cost of a truck rental, gas and time spent hauling the materials. |
Because the weight of soil can vary so greatly, this can make budget planning tricky, especially when using a smaller dirt disposal option such as a junk removal service. Junk removal trucks are typically limited to a 2-ton load, which costs around $550. If your materials end up weighing more than this, they'll have to schedule a second pickup, which can end up doubling your costs to $1100.
In contrast, the average cost of a 10 yard roll off dumpster is $369, which can include up to a 10 ton weight limit depending on where you live. Because it can be hard to estimate the weight of dirt on large projects, it's typically more cost-efficient to rent a dumpster or haul the materials yourself.

Dirt Recycling Options
If you want to try to recycle some or all of your leftover dirt, here are a few ways to put soil to good use.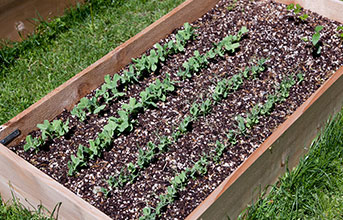 1. Store It for Reuse
You can keep leftover soil for use around the yard in future backyard projects with a few sturdy soil storage bins. Be sure to use waterproof bins and keep them out of the elements and direct sunlight. Some backyard projects you can reuse soil in include:
2. Take It to a Landscape Supplier
If you have a truck and some time on your hands, you can dispose of soil by taking it to a landscape supplier. Some local home and garden centers can accept dirt and soil for a small fee. From there, they can mix the dirt into compost to bed their own plants or, if the soil is high-quality, sell it on their own shelves.
3. Find a C&D Recycler
Some recycling companies can accept dirt as construction and demolition, or C&D, waste. To find a C&D recycler near you, check out the Construction & Demolition Recycling Association's facility locator.

Frequently Asked Questions About Dirt Disposal

Have Something Else to Throw Out? Find the Right Guide Below: