Getting rid of tires can be a challenge since most waste haulers won't accept them in their dumpsters or curbside trash pickup. "Most states eliminate tires from landfills because their shape. They hold a lot of air and it causes them to migrate to the surface. They also have value as a recycled item," said Diane Bickett, executive director at Cuyahoga County Solid Waste District in Ohio.
This is why it is important to make a plan of how to either reuse or recycle tires before purchasing new ones. So, what can you do with old tires? We've rounded up a few ways you can safely and legally get rid of them.
Research Where You Can Recycle Tires Near You
Specialized recycling organizations around the country take and recycle used tires; some will even come and pick them up for you. There is usually a fee associated with recycling tires, whether you drop them off or someone picks them up for you.
If the fee concerns you, remember there are almost no free ways to get rid of tires, outside of turning your tires into a DIY project. Old tires can be turned into fuel, paving material, mulch and more at tire recycling centers. If you have a stash of tires you need to get rid of, these facilities are a good option for you. However, in some states you must be licensed to haul a large number of tires at one time and that number can vary depending on the state.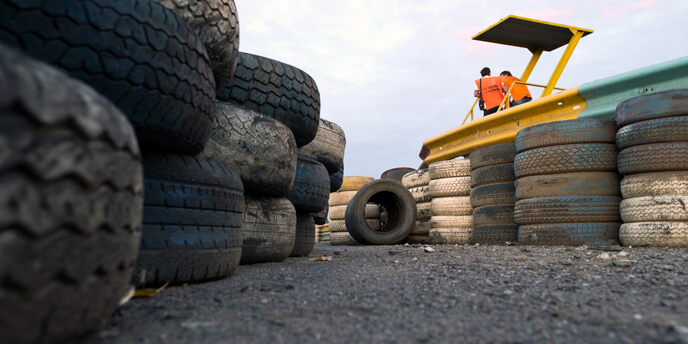 To Find a Tire Recycling Facility Near You:
Find a tire recycling center near you.
Call your local recycling center and ask what items they accept and if tires are included.
Check with your regional EPA office for information on tire recycling regulations and facilities.
Call your city services department or your county's solid waste district for resources.
Search for a community-hosted tire collection program. Communities around the nation occasionally host events to collect tires for free or at a reduced cost with the goal of reducing illegal tire dumping.
Check If Your Local Auto Shop Recycles Used Tires
When you buy new tires, most auto shops will recycle your old tires for a fee by handing them off to an EPA-certified recycler. This is the easiest way to ensure your old tires are put to good use since you won't have to worry about dropping them off at a recycler yourself or coordinate a pickup.
The Experts Say:

When you buy new tires, don't bring your old tires home. There is a cost to the public to manage improperly recycled tires. Pay the tire fee to dispose of it properly at the point of purchase.

Diane Bickett | Executive Director, Cuyahoga County Solid Waste District
Find a Creative Use for Old Tires
If you already have an old tire at home and are a looking for a unique way to turn it into a DIY project, here are a few of our favorites: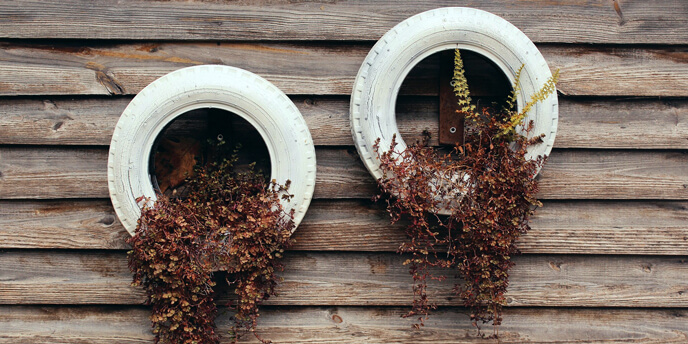 Tires are a challenge to get rid of but they aren't the only item that requires special attention during disposal. If you are throwing away other items, like a mattress or furniture, check out our bulk waste resource for additional tips.