Summer may be over, but that doesn't mean you're done caring for your lawn. In fact, if you put in the time to care for and clean your yard this fall, you'll guarantee yourself a lush and green lawn by the following spring.
What sort of TLC does your yard need now to look its best next year? Follow our fall yard cleanup and maintenance checklist to learn everything you need to know:
1. Don't Stop Mowing Just Yet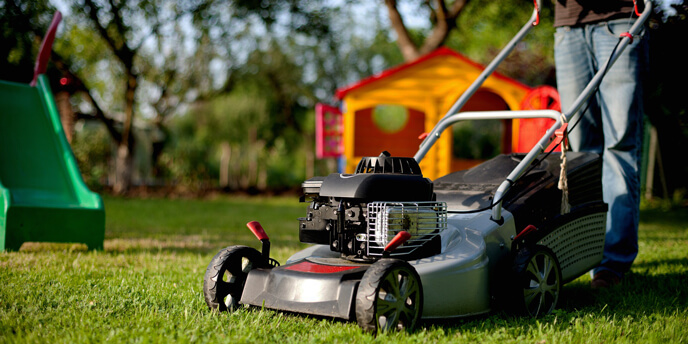 Fall yard maintenance is all about maintaining your regular maintenance schedule. Keep mowing your lawn at your usual cadence until the temperature starts to drop. At which point, you should drop your mower's blades to their lowest setting and give your yard two more cuts. This will allow the soil to dry out faster in the spring.
Pro Yard Care Tip: Only remove the top one-third of your grass blades during any mowing session. Cutting any more off can stress your grass, resulting in a dry and desperate lawn.
2. Fertilize Your Lawn
Most assume that the best time to fertilize your lawn is in the spring or summer, but if you're only going to do it once a year then you should wait until fall. When it gets cold out, your grass blades will grow slower but their roots will continue to grow quickly. Giving your lawn some extra food now will ensure the roots grow deep and leave plenty of nutrients in the soil for the springtime growth spurt.
3. Clean Up Yard Debris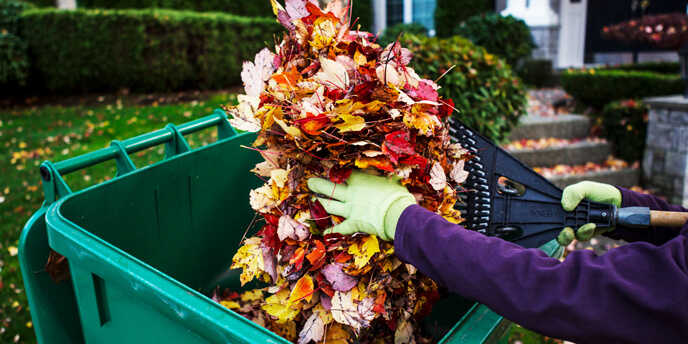 If you have any debris on your lawn you should clean it up before winter. Leaves, weeds, piles of branches and other organic waste can provide a haven for pests like mice and groundhogs (no matter how accurate their forecasting may be, groundhogs are still rodents). Here a few fall yard cleanup tips to help you get your lawn in order.
Use a Tarp: Rake all your leaves onto a tarp for easier hauling to the curb or compost pile.
Sweep Out Your Garden Bed: In addition to cleaning up the lawn, make sure you clean out your garden and flower beds so the soil around it can easily soak up water and air.
Don't Do It All in One Day: There's no need to rush your fall yard cleanup. Just as seasons change slowly, you should also take it slow and avoid trying to clean everything up in one day.
Rent a Dumpster: Using a roll off dumpster to dispose of large branches, stumps, bushes and other bulky yard debris is a lot easier than hauling them to the dump yourself.
Have some home maintenance projects on your to-do list too?
Make sure you cross off these 7 fall home maintenance projects
4. Aerate Your Lawn
Aerating is one of those yard maintenance tips that few pay heed to until they've actually seen how beneficial it is for their yard. Pulling up those plugs of dirt makes it a lot easier for your grass's roots to draw in oxygen, fertilizer and water over the cold winter months, leaving you with a lawn that's ready to go come spring.
If your yard is less than three acres, the easiest way to aerate your lawn is to rent a gas-powered lawn aerator from your local hardware store. It will automatically make the holes as you walk behind it, leaving you with nothing to do but enjoy the scenery and dodge the occasional squirrel.
Pro Yard Care Tip: Overseed and overwater your lawn to maximize the aeration process, giving your new grass a quick kickstart.
If you have a larger yard, we highly recommend hiring a landscaper instead of spending an entire afternoon digging holes yourself. But if you have some podcasts or audiobooks you've been meaning to catch up on, go for it.
5. Apply Mulch to Plants, Shrubs and Trees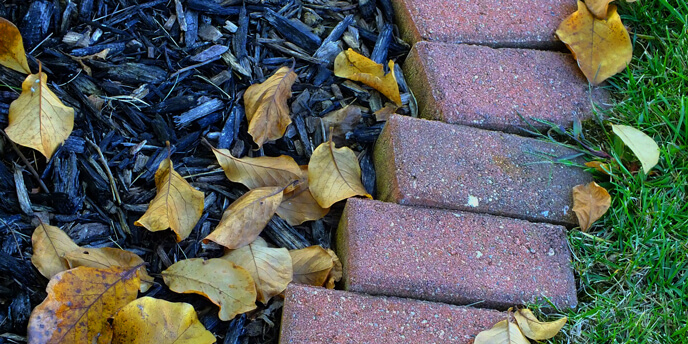 Mulch acts as a warm, insulating blanket for your plants' roots during the winter, in addition to preventing soil erosion during those winter thaws. Head to your local garden supply store and pick up a bag of mulch. Spread it around your flowerbeds, shrubs and any ornamental trees in your yard. If you only mulch once a year, a 2-3-inch-thick layer should be enough.
6. Rake Over Those Bald Spots
Is your lawn looking a little patchy? A great fall yard care project is to fix up any bald spots that have popped up over the past year. Head to your nearest home improvement or lawn care store and pick up a bag of lawn repair mix. This mixture contains fertilizer, mulch and seeds to quickly grow new grass.
To fill in your bald spots, rake up the soil to loosen it and then spread a thick layer of the mixture over the spot. Gently compact the layer and water every other day for two weeks until the grass starts to fill in. Repeat as necessary until your yard looks fuller and thicker.
Fall yard care may seem like a lot of work for nothing, but laying the groundwork now will create a beautiful yard for you and your family to enjoy next year. And with our yard cleanup checklist, you'll ensure your lawn will be lush and green by the time the snow melts.
Thinking about tackling some more projects around the home? Check out our project guides to learn how to tackle some of the biggest (and smallest) home improvement projects.