How to Dispose of Yard Waste

Landscaping projects might add to your curb appeal, but they can leave you with piles of leaves, branches and weeds that need to be disposed of. From burning to recycling to choosing the right yard waste removal service, there are many ways to get rid of yard debris.
To simplify your project, find a disposal solution that gets your debris out of your way quickly, while also giving you plenty of time to round up your branches and leaves.
What Is Yard Waste?
Yard waste is organic debris created by landscaping, gardening, lawn care and other outdoor projects. Yard waste includes grass clippings, weeds, sticks, branches, bushes, plants and leaves.

Yard Waste Disposal Options
Looking for the best way to get rid of your yard waste? You should first calculate the amount of debris you have and establish how much time you have to clean up before choosing one of the yard debris pickup options below.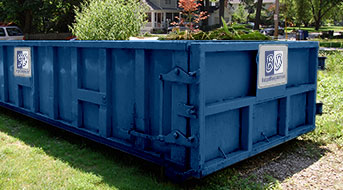 1. Rent a Dumpster
Renting a roll off dumpster is a simple, easy way to dispose of yard waste. You can rent it for the length of your project so you won't have piles of debris stacking up around you. With a dumpster on-site, you can fill the bin as you work and then have the container and all the yard waste removed after the job is done.
Benefits
Things to Consider

Choose a dumpster size that fits your project.
Keep on-site for as long as you need it.
Get yard waste off your lawn quickly.
No need to be on-site for delivery.

In some areas, items such as large stumps are not allowed in a dumpster. Call our team to find out what is accepted in your area.
Search for Dumpster Rental Prices in Your Area
or search your city/zip below
---
2. Check Your Local Trash Collection Service for Yard Debris Pickup
Your weekly municipal trash service may be an option for yard waste disposal. Some cities collect yard waste in small amounts as long as it is at the curb on collection day and is packaged appropriately, most often in yard waste bags. Check with your local services to find out what type of debris is accepted and how it should be handled.
Benefits
Things to Consider

Low-cost disposal option.
Useful for small amounts of yard waste.

Yard waste needs to be packaged appropriately.
Collection may be limited to small amounts.
Not available in all areas.
You're stuck with your waste until your scheduled collection day.
---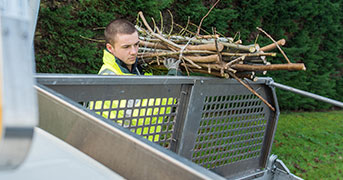 3. Hire a Junk Hauling Service
Junk removal services also accept yard waste, but charge fees based on the amount of space your yard waste takes up in the truck. When you hire a junk removal service for yard waste disposal, you'll need to be prepared to be on-site during the two-hour window they provide and have the debris ready for pickup once they arrive.
Benefits
Things to Consider

Service will load up your debris for you.

Will not provide a cost estimate until they see your debris.
Can only provide a two-hour window for your pickup.
Not economical for large amounts of debris.
---
4. Burn Your Yard Waste
Burning yard debris is a simple way to quickly get rid of your yard waste if it is legal and safe in your area. Only burn your yard waste in a fire pit that is at least 150 feet from any neighbors and 50 feet from your own home. Choose a calm, windless day and have someone on-site with a hose to monitor the fire the entire time.
Benefits
Things to Consider

Low-cost disposal option.
Minimal effort required.

Check local regulations to find out if you can burn yard waste.
Burning yard waste comes with safety and environmental concerns.
Fires can easily get out of hand.

How Much Does Yard Waste Removal Cost?
Yard waste removal costs depend on the amount of debris you have and the type of yard waste removal service you select.
The average cost of yard waste removal by a junk hauling service is $297, assuming you have a maximum of 9 cubic yards' worth of grass clippings, sticks and leaves. However, the average cost of a dumpster rental is $433, which typically covers 20 cubic yards of yard waste, more than twice the amount included with your typical junk removal service.
When you rent a dumpster for yard debris pickup, you can choose a dumpster size that matches the amount of debris you have. And you can keep it on-site until you've cleaned up your yard, making it the more affordable and timely option.

Options for Recycling Your Yard Waste
If you're looking for a green way to get rid of garden waste, there are a few recycling options you can turn to:

1. Rent a Wood Chipper
Rent a chipper and turn your waste into mulch to be used around the yard. Be sure to cut down any large pieces of wood and remove any rocks before you begin chipping.
2. Make a Compost Pile
Depending on the amount of waste you have, composting is a great way to recycle yard debris. To compost yard waste, you just need to fill your composting bin and stir the debris occasionally to help it break down. Once it's ready, use it as a fertilizer in your yard.
If your yard waste includes large amounts of weeds or plants, think twice before mulching or composting it. Plant seeds and diseases can survive the recycling process and continue to grow wherever you place your recycled material.
If you have no need for large amounts of mulch or compost, recycling your yard waste may not be the right choice for you.

Frequently Asked Questions About Yard Waste Disposal
Where can I dump yard waste?

Dumping yard waste is illegal in most areas because it can negatively impact the environment by damaging native plants, lowering soil quality and spreading invasive plant species.

To legally dump your yard waste, you need to:

Haul it to the local landfill.
Deliver it to a composting center.
Drop it at a local yard waste collection site.

Are there any yard work safety tips I should keep in mind?

Landscaping and gardening projects can be dirty, heavy jobs. But you can easily avoid injuries and accidents with these yard work safety tips:

Wear long sleeves, long pants and sturdy shoes when removing yard waste. Use the appropriate tool for the job you're completing.
Wear protective eye wear and hearing protection when using power equipment.
Drink plenty of water during warm weather to avoid overheating and dehydration.
Avoid handling chemicals and fertilizers for long stretches of time.


Can I mix other debris with my yard waste in a roll off dumpster?

Dumpster regulations vary by location. In some areas you can rent a dumpster for both yard waste and household debris, while others have dedicated yard waste dumpsters that only accept organic matter. To learn more about yard waste dumpsters in your area, call our local dumpster rental service.

Have Something Else to Throw Out? Find the Right Guide Below: