Galley kitchens are space-saving and efficient, but they can also feel cramped and cut off from the rest of your home. If your small kitchen is getting you down, a galley kitchen makeover is probably next on your home improvement to-do list.
What Is a Galley Kitchen?
A galley kitchen is a long, narrow kitchen that resembles a hallway lined with cabinets, appliances and workspaces on both sides. The name comes from the fact that galleys on ships and trains traditionally used this layout. Galley kitchens were popular in older American homes because they saved space and increased efficiency by keeping all appliances and worktops close together.
Modern homeowners, however, often want a bigger kitchen or one that feels more integrated with the rest of the home. Luckily, there are many galley kitchen makeover projects that can make even the smallest kitchen feel larger and more open.
5 Galley Kitchen Remodeling Ideas
1. Paint the Walls a Space-Enhancing Shade
A fresh coat of paint is the first remodeling idea you should consider for a galley kitchen. Using a light, neutral color on the walls will instantly make your kitchen feel more spacious. Instead of whites or beiges, consider a light gray for a more modern take.
Painting the ceiling a lighter shade than the walls will also help to make the space feel bigger.
2. Add Windows and Let There Be Light
Depending on the layout of your home, you can create a greater sense of openness even without converting to an open kitchen. One option is to hire a contractor to install windows if your kitchen doesn't already have them. The added depth and additional light will change the entire feel of your kitchen.
Another option is to create a "window" from the kitchen to an adjoining room. Your kitchen will feel more open and you'll feel less isolated while cooking.
"Adding small mirrors to the front or back end of a galley kitchen does a great job of improving light flow and creates a larger sense of space. This is one of the easiest DIY tips for a galley kitchen and can be implemented for only a few dollars."

Sacha Ferrandi | Founder, Source Capital Funding & Texas Hard Money
3. Choose Understated Flooring
In a galley kitchen, avoid patterned floors unless the pattern is very subtle. Patterned tiles will make a small space feel even smaller. Instead, choose light-colored, understated flooring that will draw the eye smoothly, making the room appear larger.
A light hardwood, with the planks installed vertically, is a stunning option for a galley kitchen. Your kitchen's small size makes hardwood more affordable than it would be for a larger kitchen!
4. Install Sleek Cabinetry
Sleekness and a sense of depth are your best friends during a galley kitchen makeover. Choose cabinets with clean lines (no paneled doors, for example) and simple hardware like pull bars. Avoid anything too ornate.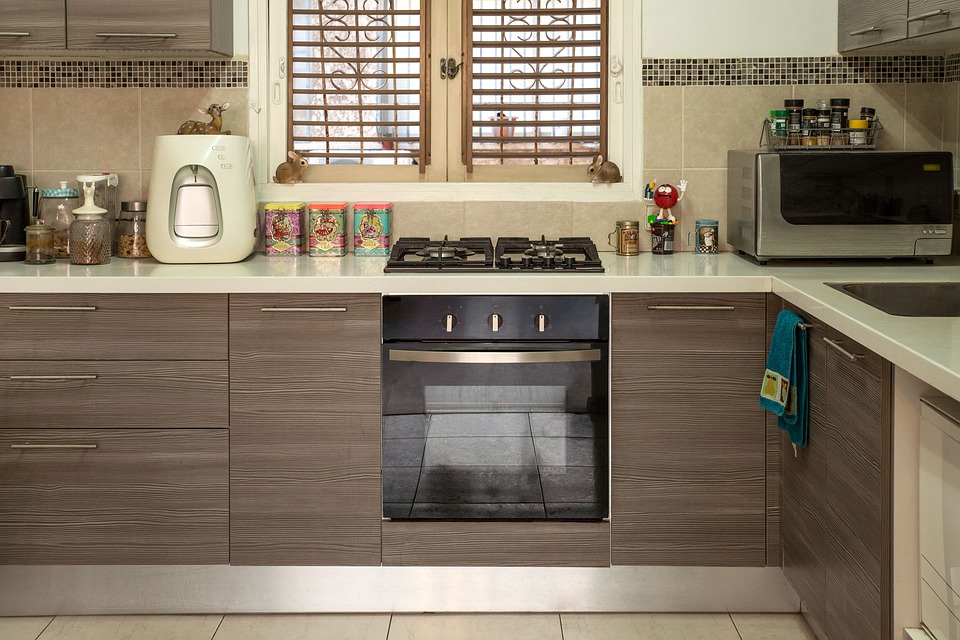 Another option is to install glass-front cabinetry. This will help your kitchen feel larger by adding a greater sense of depth.
"Glass cabinet doors work better than solid ones. Like open shelves, they are trendy and make the kitchen seem more spacious. You can also have fun with them as you indulge your inner artist. Paint the inside of your kitchen cabinets and display your work through the glass front doors."
For something even bolder, opt to convert some of your cabinetry to open shelving. Open shelving will add an enormous sense of space to a small galley kitchen, but choose this option only if you know you can keep those shelves tidy.
"Another great tip for homeowners that are already in the process of remodeling is to forgo countertop space in favor of an appliance or cabinet and add the space back in the form of a tambor table drawer. Essentially, this is a drawer with a countertop inside that increases space when pulled out."

Sacha Ferrandi | Founder, Source Capital Funding & Texas Hard Money
5. Turn Your Galley Kitchen Into an Open Kitchen
If a galley kitchen just isn't for you, it's possible to turn a galley kitchen into an open kitchen. However, before you choose this course of action, you should know:
This project will likely be more expensive than a galley kitchen makeover that preserves the current layout.
This project will involve knocking down walls. You must first determine whether the walls you'd need to remove are load-bearing. If they are, you CANNOT remove them—they provide structural stability for your whole house.
If you're handling the demolition yourself, you'll need to rent a dumpster to get rid of the debris.
Whether you work within the current layout or break out the sledgehammers, a combination of these galley kitchen remodeling ideas will transform your space into one that feels open, airy and pleasant to use.
---
Need a dumpster to deal with your makeover mess? Find one at an affordable price.
Share your own galley kitchen transformations in the comments!
---
Header Image Source: HGTV