If you know someone or have a loved one who suffers from compulsive hoarding, it can be difficult to decide where you should start. It can even be difficult to determine whether a person is a hoarder or just tends to collect and/or have clutter. So if you're looking how to help a hoarder, first understand what it means to be one.
---
How to Help a Hoarder in 3 Steps:
Understand It – Educate yourself on hoarding by using the best resources available to you.
Talk It Out – Start a conversation with the hoarder and let them know why you're concerned.
Help Out – Make subtle, small changes and see how receptive the hoarder is to them.

---
What is Hoarding?
Hoarding isn't a disorganized roommate. It's not that collection of Beanie Babies tucked away in a basement somewhere. Hoarding is a serious condition that can have emotional, social, financial and even physical effects on a person. Listed below are a few qualities that are synonymous with compulsive hoarding:
Avoids throwing away possessions that have no value to them or anyone else.
Experiences mild to severe anxiety about getting rid of anything.
Repeatedly adding to the hoard without recognition that there is a problem.
Rooms in their home can no longer be used for their intended purpose.
Possessions are negatively impacting their safety, health or hygiene.
It's important to understand that hoarding doesn't necessarily mean an accumulation of a lot of stuff. Many people have boxes and loads of items stacked in their basement, garage or attic. If you're looking for assistance on clean up or your house or a relative's, don't hesitate in giving us a call.
Call 866-284-6164 today to start the dumpster rental process.

Budget Dumpster can help clean out your boxes, old furniture, general trash and all unused items.
---
Does someone you know possess hoarding qualities? Check out our three tips and list of resources below to begin the process of helping a hoarder.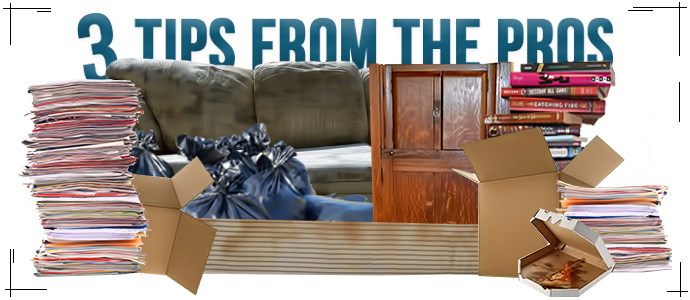 Use the Best Hoarding Resources
How to Help a Hoarder Step #1
While you may not be a hoarder yourself, it's important to educate yourself about how they think and the best ways you can help. There's no quick fix. It's best to read all that you can on the subject before trying to address the problem. Rely on advice from experts that have actual experience in helping hoarders. The books and publications listed below have been put together by psychologists and professional organizers and provide a great introduction into hoarding:
Geralin Thomas is an organizing expert who has been featured on A&E's TV show Hoarders. In this book, Thomas and other related professionals offer a comprehensive guide to understanding hoarding. Its four sections introduce and thoroughly explain the disorder while providing solutions to help in recovery.

From Hoarding to Hope by Geralin Thomas

Talk to the Hoarder
How to Help a Hoarder Step #2
The initial conversation might be hard to get through, but it's important to talk before taking other actions. If you attempt to sneak around and dispose of items behind a hoarder's back, it can ruin any potential of helping solve the problem. Hoarders have a knack for knowing when something is missing, even if it's something they haven't used in years. Sit them down and see their level of openness to accepting help.
It must be noted that a professional organizer should never be used as a substitute for a mental health professional when dealing with a hoarder.
"Talk to the hoarder and see if they are open to talking to a trained professional organizer who is experienced in working with hoarders. The hoarder must give permission and be willing to accept help. You can't force it upon them or you can end up being cut off and making the situation worse."

Kim Diamond | clutterflyinc.com

Rely on Hoarding Professionals
How to Help a Hoarder Step #3
Hoarding situations can vary in severity and help is often reliant on that. Mental health professionals and/or professional organizers may need to be hired to help a hoarder. Beyond what a book or general advice can provide, professionals can apply their experience to your specific situation. Every hoarder is different and the most effective help will come from an individual directly involved.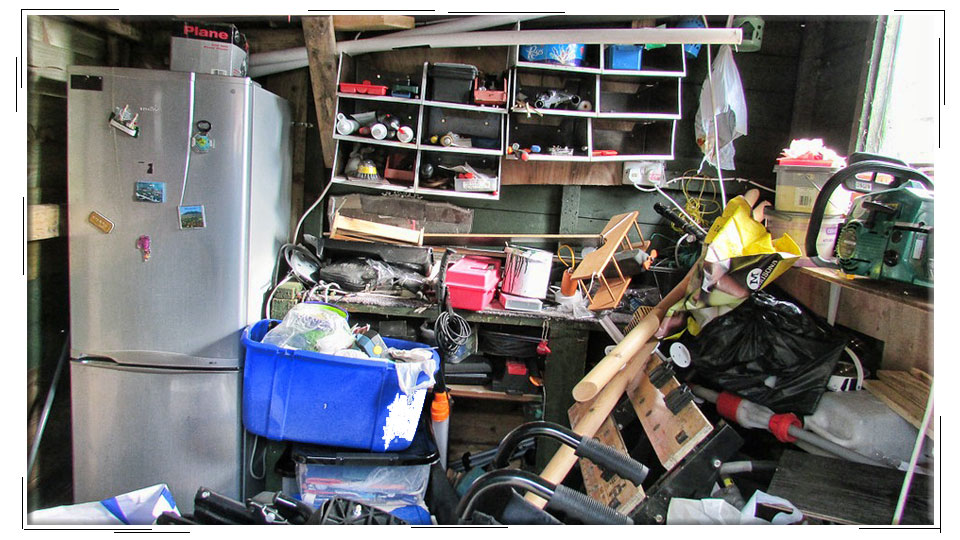 According to The Anxiety and Depression Association of America, many hoarders believe they began to keep unneeded items because they thought they may be valuable in the future. That mentality is not going to change overnight. Patience is critical when helping a hoarder. They may not be immediately receptive to professional help and it will likely take some time to get to that level. Always remain positive and encourage small steps.
The best way you can help a hoarder is simply to be there for them. Remain active in their life and slowly begin to understand the root of the issue.
---
How to Help a Hoarder Recap
Remember the three steps when you're looking to help a hoarder. Here are the three ways on how to help a hoarder:
Use the best hoarding resources available. There are books and free publications available online written by doctors and people with professional experience. Use these resources to educate yourself before you try to talk to a hoarder.
Talk to the hoarder. While it can be a difficult conversation, it's a talk that needs to happen. You need to gauge how open they are to receiving help and dealing with their hoarding issues. Take appropriate and responsible action based on their answers.
Rely on professional hoarding help. Depending on the severity of their hoarding, a professional organizer or a mental health professional may need to step in. These people can provide targeted advice and solutions to help move forward.
Have a hoarding success story? We'd love to hear it in the comment section below.