According to Forbes, roughly 4 million U.S. workers now telecommute, or work from home. And that number climbs every year. If you're one of the latest converts to the commute-free lifestyle, it's time to rethink your home office's design so you can set yourself up for success.
Here are the six best ideas for a home office makeover that will boost your productivity. With these changes, you might just get that corner office you've always wanted (assuming you still want it).
1. Choose a Location That Encourages Focus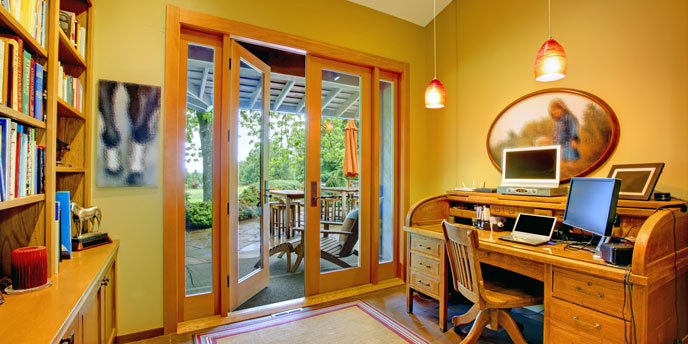 The best design tip for a home office is to carefully choose the part of your home where you set up shop. You'll want to use a room that has enough space, receives plenty of sunlight and is out of the way of high-traffic areas. A few rooms to consider for a potential home office remodel:
A spare bedroom.
A space off of the living room.
A room adjacent to a backyard entrance or patio.
If you concentrate best in a noisy environment, consider a room next to the kitchen instead of the living room. By midafternoon, your home will be buzzing with activity.
Home Office Design Tips:

"The best place for an office is removed from the main action of the home. I usually see them as a separate room near the front door of the home, or as a smaller command center near the back entry of the home. I think it is essential that it has a level a privacy depending on how you plan to use the space. If you're planning on actually working from home, make sure there are doors on the room to better control sound volume."

Brooke Schall | Designer, KSI
2. Install Wall Shelving and Cabinets
One of the most impactful design ideas for a home office is adding storage space for all of your work and supplies. Wall shelving and built-in cabinets are a must-have if you have dozens of binders or volumes you need to keep handy.
Home Office Design Tips:

"Make sure you plan for enough file storage within your cabinetry. Also consider built in organizers for mail, paper, pens, paperclips, etc. If there is enough space, add open book shelves to add decorations."

Brooke Schall | Designer, KSI
A separate bookshelf also makes a great home for books you enjoy reading for inspiration or to brush up on your skill set. Keeping the essentials organized will make it easier to find everything you need during the day, as well as the next time you need to make the drive in to HQ.
3. Use the Right Furniture
When it comes to home office furniture, your desk chair is the most important. There are thousands of chairs out there with dozens of different features, but the most important ones are those that affect comfort. We recommend using a chair with adjustable height and depth, lumbar support, a wide backrest and enough cushioning to keep you from getting sore.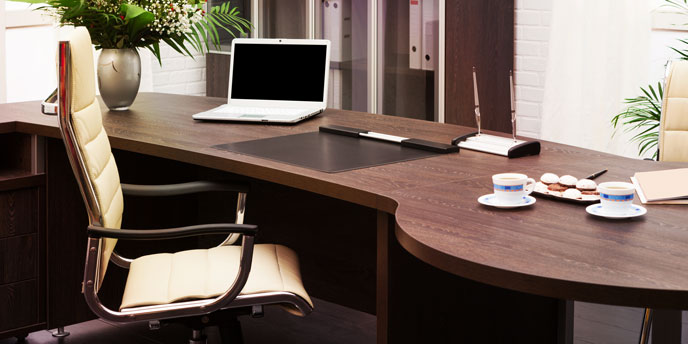 "Consider which electronics will be within the office – some may need specific cabinetry for their function/concealment. Charging stations within cabinetry are becoming very popular."

Brooke Schall | Designer, KSI
As part of a wider home office makeover, consider the kind of desk or table you need to be most productive. Does your work require a headset? A desk with built-in power outlets or charging ports will make it easier to stay wired in. The same goes for your other electronic essentials, such as phones, fax machines, printers or a TV – if you absolutely need one.
4. Accessorize With Plants and Pleasant Portraits
Placing a few small potted plants on your shelves or a small table will add a little brightness to your office. Succulents are a popular, low-maintenance choice, though you can't go wrong with zero-maintenance rubber plants either.
Home Office Design Tips:

"Have a good balance of form and function within an office space. I think we are most productive in a space that is not only organized, but also aesthetically pleasing."

Brooke Schall | Designer, KSI
Besides plants, look for ways to incorporate your own sense of style. Putting a few of your favorite pictures or art pieces on the wall can encourage relaxation, staving off those stressful moments when you're up against a looming deadline.
5. Add Lights for Those Late Nights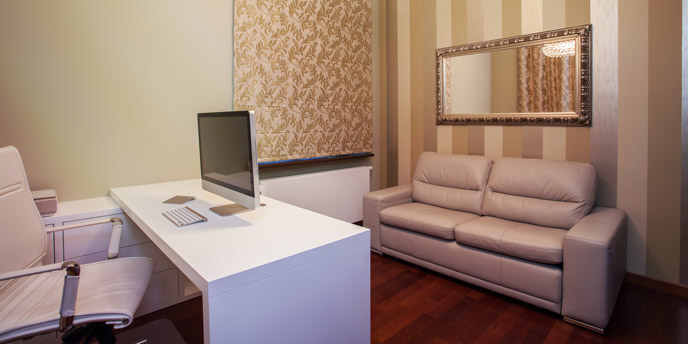 When you're burning the midnight oil, you need plenty of lighting to keep yourself awake and focused. Stand-alone floor and desk lamps make it easier to adjust the amount of light in a specific part of the room. For whole-room illumination, consider installing light fixtures on the ceiling or walls during your home office remodel.
6. Make Sure You Have Room for Visitors
If your profession requires meeting people throughout the day, make sure they have a comfortable place to sit both outside and inside your home office. A long interior hallway is an ideal reception space. As for seating, a few basic cushioned chairs should suffice for a waiting area, while a nice pair of armchairs will go a long way towards keeping your guests comfy during those longer meetings.
Once you've settled into your new workspace, make sure you find time for a few breaks during the day. Your work-life balance is just as important as staying focused while working from home.
Have a few other ideas for a home office you'd like to share? Let us know in the comments.