Looking to add living space to your home without having to expand?
Converting your attic into a room may be the project for you.
Finishing your attic is an easier way to expand your living space without having to worry about the zoning restrictions and high costs that come with home additions. Once the floors, walls and ceiling are finished, your attic can easily become an extra bedroom, office or play room for the kids.
If you want to turn your unfinished attic space into something more useful, consider converting it to a room you can enjoy with these helpful tips on what to do before and during the process.
Be realistic about your skill level when it comes to doing the work yourself. There are some projects you may want to leave to the pros.
What to Consider Before Finishing an Attic
Check Building Codes in Your Area
When converting an attic to a living space, it must meet the same building requirements as the other rooms in your home. Any living space in a home should follow the "rule of sevens," in that it must have at least 7 feet of vertical clearance, be a minimum of 7 feet wide and have at least 70 square feet of space available. Building codes also require finished attics to be accessible by a full-size staircase. Furthermore, for an attic to satisfy fire codes, it must have another exit in case of an emergency, typically an easily accessible window.
Obtain a Building Permit
Whenever you're finishing an attic, you will likely need to obtain the necessary permits from your city or county government. You must complete the appropriate forms and return them to the local body that oversees building permits. How much you'll have to pay for a permit depends on the location of your property and the type of work involved.
Inspect Your Roof
Another factor to consider before converting an attic to a living space is roofing. Check to see if you have rafters or trusses. While trusses provide additional support to your roof's framing, traditional rafters are considered better for an attic conversion due to the open space they create. If you have trusses, it will be difficult to reconfigure them to allow for open space.
How to Finish an Attic
1. Wire for Electricity
Once your attic is brought up to code and you've obtained a permit, hire a licensed electrician to ensure all wiring meets code requirements. By hiring a professional to install electrical wiring across the walls and ceiling, you can avoid many of the common problems DIY homeowners tend to come across. If you do the work yourself, you run the risk of electrical fires to occur. As a rule of thumb, there should be at least one outlet on each wall and at least one outlet every 12 feet.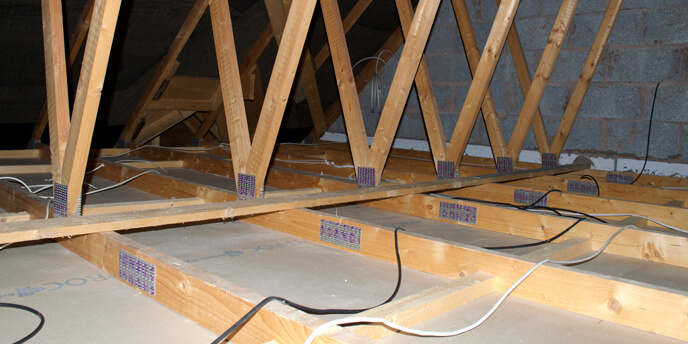 2. Insulate Ceiling and Walls
Proper insulation is key to finishing your attic and increasing your energy savings. A professional insulation installer will be able to help you achieve both. Professional insulation installers know how to assess your home's current insulation and select the right R-value and best type of insulation to use. An experienced insulation installer will be able to properly remove mold, access hard-to-reach spaces, identify rotting structures and more.
"If you live in an area with harsh winters, you really want to make the insulation top quality," said Paige Thulin of 123 Remodeling in Chicago. "Probably the best choice right now is spray foam insulation, since it's versatile and a lot safer than pink fiberglass. If you're looking to do 'green' building, you can also use materials like cotton or cellulose. They don't insulate as well as spray foam, but they're much better for the environment."
3. Hang Drywall Over the Insulation
Hanging drywall is one of the most exciting steps in finishing an attic. This is when your attic really begins to take shape. You can hang drywall sheets vertically or horizontally, but most lean towards hanging drywall horizontally because it reduces seams, hides uneven studs and is easier to finish.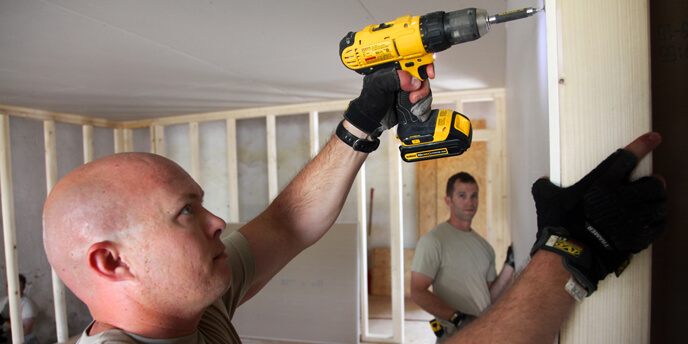 4. Prime and Paint Walls
After your walls are up and all the seams are taped and finished, you can start painting. It typically takes two coats to cover new drywall. Before slapping on paint, however, it's important to seal the drywall with primer in order to get an even finish. Do not paint until the primer is dry. If you find yourself with some leftover paint at the end, don't let it go to waste.
5. Install Flooring
Attic floors are notorious for causing a lot of noise. You may be able to live with the squeakiness if you rarely go up there, but when you're converting an attic to a living space, you will want to cut down on some of the noise. When choosing flooring, opt for carpet as it absorbs sounds. If you're laying hardwood floors, be sure to prep your subfloor.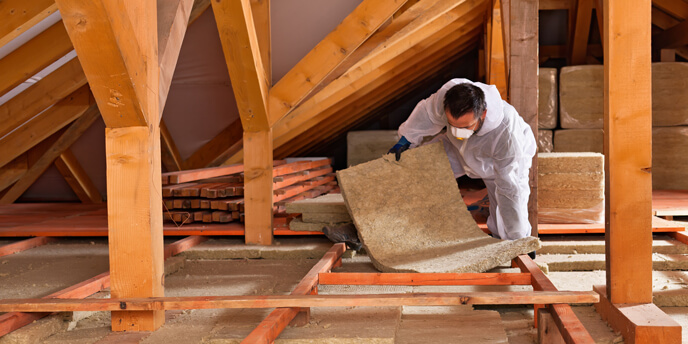 Now that you know how to finish an attic, you can convert it into a room you can use for more than just storing old high school yearbooks and holiday decorations. Have a few more tips on finishing an attic? Let us know in the comments! For more home DIY tips, check out the home improvement section of our blog.