If you use your garage as a workshop, cold weather can keep you from DIYing for months every year. But there are plenty of ways to reclaim your workbench. We're here to help you figure out how to heat your garage so you'll never again have to hang up your tool belt for the winter.
Special thanks to the team at Cadet Heat for sharing their expert tips.
"We hear from people needing to heat their garage for all kinds of reasons. Your garage may be a great place to keep your garden thriving during the winter months. We've also heard from professional woodworkers who use our heaters for drying sealant and other projects that go smoother with a warmer temperature."

Lena Crocker | Cadet Heat
---
The Best Options for Heating a Garage
---
In the tables below, we'll look at the pros and cons of five common garage heating options. We'll also cover whether each option is a good candidate for DIY installation. With that information in hand, you'll be able to decide the smartest way to heat your garage.
1. Install Better Insulation:
The Cheapest Way to Heat Your Garage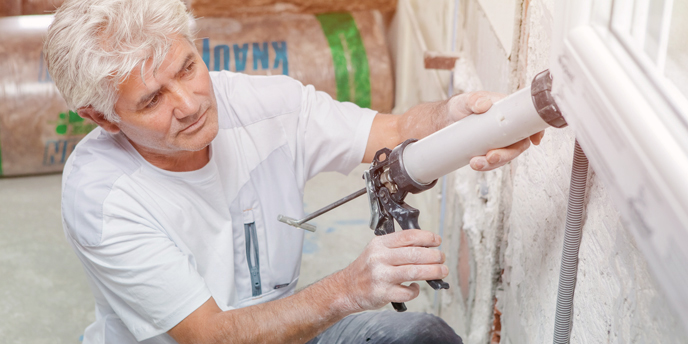 What Is It? If you tend to have mild winters, you can probably keep your garage at a comfortable temperature by simply insulating your garage door and windows, and weather stripping exterior doors. You'll likely still need to wear some layers while you work, but beefed up insulation will keep your garage much warmer than the outside.
Pros
Cons

Insulation and weather stripping are typically very affordable.
No ongoing costs once installed.
Installation is simple and straightforward.

Not a good choice for areas where temperatures regularly dip below freezing.
You won't have control over the exact temperature in your garage.
DIY Friendly? Yes! According to Lena Crocker of Cadet Heat, "Adding insulation is an easy project for most DIYers that with will help limit heat loss and keep your garage warmer." Most homeowners will have no trouble adding insulation to windows and weather stripping to doors. Insulating a garage door is a bit more involved but still very doable for the average DIYer.
---
---
2. Hook Up an Electric Space Heater:
The Simplest Way to Heat a Garage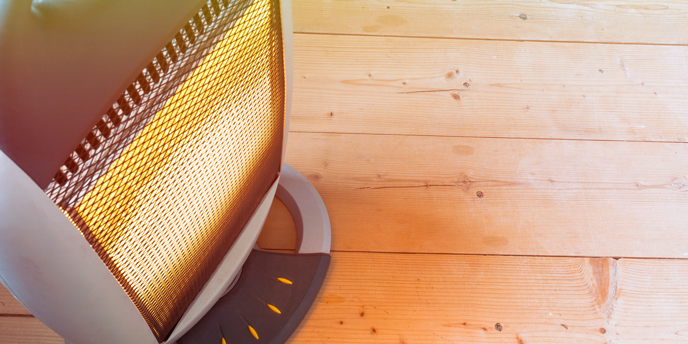 What Is It? Electric space heaters for your garage are really just bigger and more powerful versions of the portable units you might use to warm up your office or bedroom. If floor space in your garage is limited, you can even find electric space heaters that can be mounted on the wall or from the ceiling.
Pros
Cons

Current energy-efficient models typically won't raise your electric bill that much.
Can also be used inside the house if needed.
No ventilation required.

Can take longer to heat up a garage than other options.
Might be difficult to use in garages with few outlets.
Will be less effective in an uninsulated garage.
DIY-Friendly? Very – heating your garage with an electric space heater is as simple as finding a good spot and plugging it in.
Bonus Tip:

"We recommend looking into a heating system that can be controlled by a thermostat. It's easy to forget about a heater out in your garage after turning it on. Using a thermostat is safer and can save you some money on your energy bill because you won't be using more electricity than you need."

Lena Crocker | Cadet Heat
3. Fire Up a Combustion Space Heater:
The Fastest Way to Heat a Garage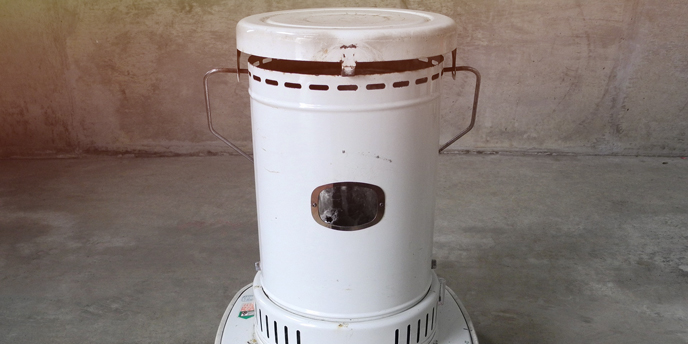 What Is It? Combustion space heaters use a fuel source such as kerosene or propane to create heat. Most need to be run on a specific fuel type. However, there are models that can run on multiple types of fuel, giving you the flexibility to buy whichever is currently cheapest.
Pros
Cons

Most models will heat an average-sized garage fairly quickly.
Can be used even during power outages.
Often cheaper upfront than an electric space heater.

Very noisy. Many people equate it to the sound of a jet engine.
Fuel odor may bother some people.
You'll have ongoing fuel costs.
Combustion introduces moisture into the air, so there's a risk of rusting your tools or vehicles if you frequently use your heater for long periods.
DIY-Friendly? Yep – just like with an electric version, all you need to do is set it in place and fire it up.
Safety Concerns:

Combustion heaters produce carbon monoxide. They should never be used without cracking your garage door several inches and/or opening windows to create ventilation. They should also never be used inside your home. Even in well-ventilated garages, you should consider installing a carbon monoxide detector for added safety.
4. Install a Ductless Mini-Split System:
The Most Comfortable Way to Heat Your Garage
What Is It? A ductless mini-split system is made up of an air-handling unit, which is installed inside a room, and a compressor located outside. These two components are connected by a conduit. The entire system is powered by electricity.
Pros
Cons

Lots of flexibility for placement. Can be installed along the floor, mounted on a wall or suspended from the ceiling.
Many models come with a remote for easy control.
A great choice for heating a garage you want to use as an additional room.
Some units can also provide cooling in hotter months.

Upfront costs are much steeper than for most other garage heating options.
Filter must be cleaned monthly since debris can build up in a ductless system.
Not the best at really cranking up the heat. In very cold climates, you may need supplemental heat.
DIY Friendly? Only if you have advanced DIY and electrical experience. In most cases, an HVAC professional should install your system.
"It is important to hire someone who is familiar with your specific heating system. For example, when working with electric heaters, we recommend using a licensed electrician. That way they are sure to be very familiar with electricity rather than a general contractor."

Lena Crocker | Cadet Heat
---
Is that stack of boxes blocking your heating vent?
Dial 833-499-7507 and we'll find a dumpster size that's big enough for all of your boxes
---
5. Add Radiant Heating:
The Most Efficient Way to Heat a Garage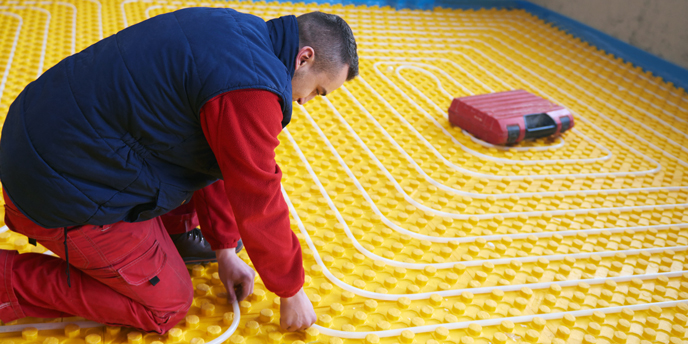 What Is It? Radiant heating systems are installed under a floor or as panels in the walls or ceiling. The system uses infrared radiation to heat a surface itself rather than the air of the room. There are several different types of both floor and wall/ceiling radiant heat systems, so do your research to see which type is best for you.
Pros
Cons

Very low operating costs once installed.
Extremely quiet.
Floor installations heat a space more evenly than other options. This avoids creating spots that are significantly warmer or cooler than the rest of the garage.

Are expensive to install upfront.
Installation is an involved process, especially for floor systems.
Moisture may build up on the surface where the system is installed.
DIY-Friendly? No – this garage heating option should always be installed by a professional who has experience with radiant heating.
A Word of Caution for Woodworkers:

"Two big things come to mind when it comes to garage safety and heaters: sawdust and flammable vapors. Neither one of these mix well with heaters. If you do woodworking, we always recommend checking in with heater manufacturers to see which products can be safely used in your garage."

Lena Crocker | Cadet Heat
Decided how you're going to heat your garage? Check out our Home Project Guides to get some inspiration for the next project you'll tackle in your toasty new digs. Got your own garage heating tips? Comment and share the wealth.