Imagine a world where you could actually park inside your garage. What if we told you that dream could be a reality with just a weekend's worth of work?
We rounded up expert garage cleaning tips and turned them into a five-step plan you can use to get your garage organized quickly and painlessly.
---
A 5-Step Guide to Cleaning Out Your Garage
---
1. Take Everything Out
The first step to decluttering your garage is to find out what's in it. Pick a section of your garage to start with and pull everything out onto the driveway to sort through. Besides making it easier to work, this garage cleaning tip will also allow you to see what space you have to work with and what types of storage might work best when it's time to organize the items you're keeping.
When cleaning out a garage, where should you begin?

"Oftentimes, the garage floor is cluttered, preventing people from parking or even walking around. I typically start cleaning a garage at the outside door, moving inward and concentrating on clearing the floor. We make categories for each piece we find: garbage, donate or keep. All the items are separated in piles outside the garage, so we can easily see what's left inside. We then work on the sides of the garage, using the same categories as we sort."

Beth Levin |Professional Organizer | Closet Queen
---
2. Decide on Your 'Keep' Criteria
Once you've pulled everything out, it's time to set some ground rules for deciding what to keep. This garage cleaning tip will speed up the process by preventing you from agonizing over each individual item. When deciding what to keep and what to throw away, ask yourself: "Is this item in the garage for a reason, or because I didn't know what to do with it?" If it's the latter, either find a use for it or get rid of it.
Things to Keep During a Garage Cleanout
Items you've used more than once in the past year.
Things in working condition. Ditch all those gizmos you've been "meaning to fix."
Tools you can't easily rent or borrow.
"It's important to keep items that the homeowner needs and wants while also zoning the garage. Some people are gardeners and need to have a gardening station with pots, soil, and other paraphernalia. Others are car aficionados, athletes who play lots of sports, handymen who need a station for tools. If, on the other hand, we find four items that all do the same thing, I would encourage the homeowner to donate two or three of them to save space."

Beth Levin |Professional Organizer | Closet Queen
---
3. Decide What to Do With the Garage Clutter
Whatever doesn't make your "keep" list is, by default, clutter. Don't let it hang around your garage any longer.
With your "keep" items set aside, start going through the rest of the stuff you pulled out of the garage. Identify items you'd like to sell or donate first. Have plastic bins, cardboard boxes or bags on hand so that you can pack up donation items as you work and stash them somewhere out of the way.
Bag up or box up junk that doesn't make the "keep," "sell" or "donate" piles. If you've rented a dumpster for your weekend cleanout, toss the garbage bags into the container as you go.
Options for Getting Rid of Garage Clutter:
Donate It
As you're cleaning out your garage, it's a good idea to keep a shortlist of places to take your "donate" pile. Your local Goodwill, Salvation Army or Habitat for Humanity are a good place to start, but always call ahead to make sure they can accept your donated items. If they can't take your things, don't give up; you might be surprised to see what donation opportunities your local community has to offer. For example, Leveling the Playing Field near Washington D.C. accepts sporting goods donations in order to give underprivileged children a chance to participate in athletics:
"The cost of sporting equipment keeps one in four low income families from putting their kids in during and after-school sports activities. By donating, we are able to ensure that students have the ability to participate in youth athletics which we know provide a plethora of physical and mental benefits to a young person. We take literally anything remotely sports related, but we don't take bikes, trophies, uniforms or anything that is too old to be used anymore."

Max Levitt | Founder, CEO | Leveling the Playing Field
Sell It
If you'd like to make a little money off of your garage cleanout, consider hosting a yard sale or selling it online. Craigslist, Freecycle and Facebook Marketplace are all great places to list your items or advertise your yard sale. Do a little research online to help you decide how to price your items.
Pitch It
For the garage clutter that can't be donated or sold, it's time to get rid of it. The best junk removal solution for your project will depend on how much stuff you have, and the items you're throwing away. Your garage cleanout may leave you with a pile of stuff that's too big for the curb—especially if you're getting rid of lots of large items such as old patio furniture or lawn care equipment. If you think you'll end up with more than a couple pickup truck loads, it might be easiest to rent a dumpster, if you haven't already.
What size dumpster do I need for a garage cleanout?
Most garage cleanouts can be completed with a 10 yard dumpster rental, but this can vary depending on how much stuff you're throwing away. To find the right container for your garage cleanup, call 833-499-7507 for a size recommendation from a waste removal expert.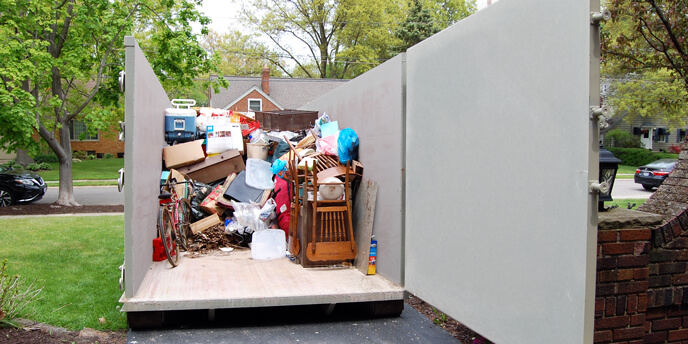 ---
4. Deep Clean the Space
While you've got your garage entirely cleaned out, it might be a good idea to scrub it down before putting things back. In general, the best way to clean up a garage is from top to bottom. Start by dusting off and wiping down the tops of your cabinets, shelves and refrigerator if you have one. Then, wipe down your garage walls and the doors of your fridge and cabinets with a warm, damp cloth and a mild household detergent. Next, sweep the floor to get rid of the dust you've shaken loose. Finish up by mopping and hosing off the floor. Allow the floors two to four hours to dry before putting things away.
Garage Cleaning Tips
Remove motor oil stains using cat litter, dish soap and a wire scrub brush.
Wipe away any mold using either bleach or vinegar diluted with warm water.
Use a sponge mop to clean garage walls from top to bottom.
Once finished, use a flat head mop with a microfiber cloth to dry the wall.
After mopping, use a floor fan to speed up the floor drying process.
---
5. Get Organized
Now that you've whittled your inventory down and finished your garage cleanup, seize the opportunity to keep clutter from building back up. So, what's the best way to organize a garage? It depends on what exactly you need to store.
Best Ways to Organize a Garage
Use shelving units to keep frequently used items within easy each.
Use cabinets or closets for items you use less frequently.
Use a pegboard to organize hand tools such as hammers and hacksaws.
Use wall hooks to hold larger tools such as rakes and shovels, or stand these items up in a large, sturdy bin.
Group items by category so that you always know where to find what you need—and can easily put it back where it belongs when you're done.
What's the best way to keep clutter at bay after a garage cleanout?

"Shelving placed along the garage walls is necessary to store everything. I get rid of cardboard boxes and instead use labeled airtight plastic bins on the shelves. Once the garage is zoned, organized and labeled, it should be easy to put items back where they belong. The clutter creeping back results from someone not taking the extra time to put an item back where it belongs."

Beth Levin |Professional Organizer | Closet Queen
---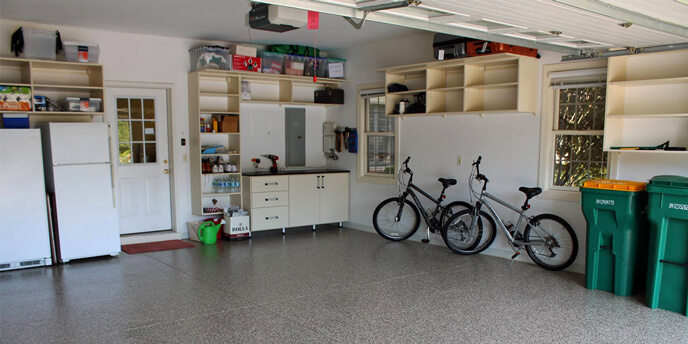 When Cleaning Out Your Garage, Take Your Time
Cleaning out your garage doesn't have to be overwhelming. With these tips, you can tackle it one step at a time and reclaim your parking space within a single weekend. Have your own advice to share? Let us know in the comments! For advice on organizing other rooms, check out our ridiculously thorough Guide to Decluttering Your Home.