To most parents of young children, organizing a playroom might seem pointless. They're just going to mess it up again – why bother? While that may be true, improving your playroom organization can help you streamline cleanup efforts and cut down on your home's overall toy clutter.
When it comes to great playroom organization, the key is to create an open space that encourages kids to clean up on their own. It's part strategy, part creativity and part fun. Here are some of the top 10 toy organizing ideas to keep your child's playroom clutter-free for the long run.
---
10 Ideas for Amazing Playroom Organization
---
Properly organizing toy room clutter requires an accessible, fun organizing system for your children. If you're looking for playroom storage ideas that will make every cleanup time a breeze, here's how to organize a playroom that your kids will actually want to keep clean.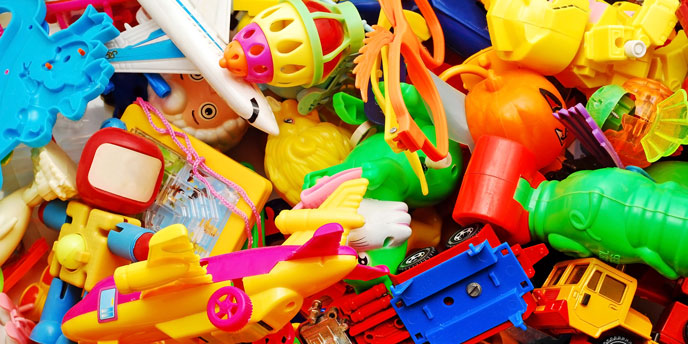 1. Declutter Old, Broken Toys
The first step to organizing a playroom successfully is to thin the toy inventory. First, go through on your own and throw out broken toys or games that are missing pieces. Then, invite your kids to go through and declutter toys that they've outgrown or don't play with anymore. Involve them in the process – ask them if they would like to donate some of their toys for another kid who might need it.
Still have too many toys? Nicole Johnson, Lead Sleep Consultant from The Baby Sleep Site and mother of two, says the key is to put some in storage – for now.
"A good tip is to box about half of the toys. When the toys in the playroom become 'old hat' bring out the box of 'new' toys and box the 'old' ones. This keeps the toys newer and exciting and you can swap them out."

Nicole Johnson | The Baby Sleep Site
---
2.  Choose Clear Bins for Toy Organization
One of the best storage ideas for playrooms is to use see-through containers. When your kids are on the hunt for a specific toy, they can see the contents of the bins without having to dump them all out. Just remember to ditch the lids, as little hands can struggle with them. According to Emily Counts of The Small Stuff Counts, organizing a playroom using open bins or baskets makes it simpler and quicker for kids to clean up at the end of the day:
"My goal is to create storage systems that are easy for everyone to maintain and helps kids see exactly what toys they have to they actually get pulled out and played with. Bins and baskets work great for toy storage."

Emily Counts | The Small Stuff Counts
---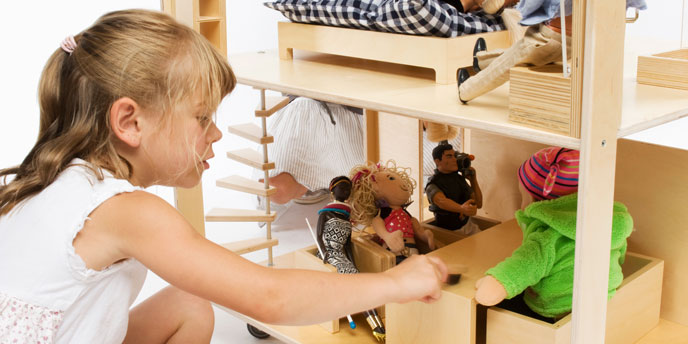 3. Create "Homes" for Their Favorite Toys
Every child has a favorite toy. Why not give it its own little home? Whether it's a garage for their beloved racecars or a bed for their stuffed animals, creating a home for their special toys will make organizing toy room clutter fun for your kids.
---
4. Use Removable Labels
Labels are a great way to incorporate a reading lesson into cleaning time. However, since kids' toy choices often change as they get older, be sure to use labels that can easily be altered or removed so you can reuse your storage containers throughout the years. Additionally, adding images to labels is another great way to keep your playroom cleaner, says Emily Counts. "I like to add labels with pictures so young kids know what toys go in which bins and can help clean up."
---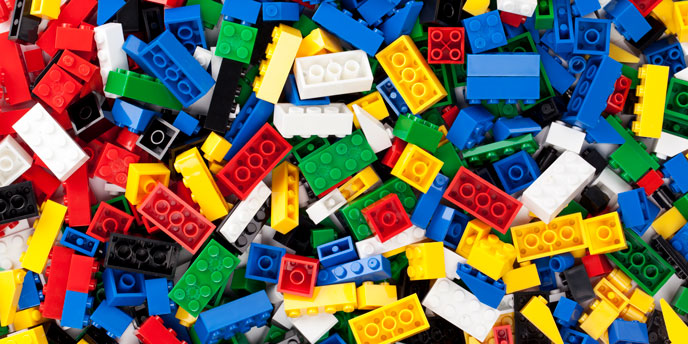 5. Have a Plan for Storing Small Pieces
LEGO and other toys with small parts need their own designated toy organizing systems. For younger children, dedicate one large container to just storing LEGO – that way they can simply scoop and dump the pieces in when they're finished. Older children may want to sort LEGO by color or size, in which case a parts cabinet may be helpful.
---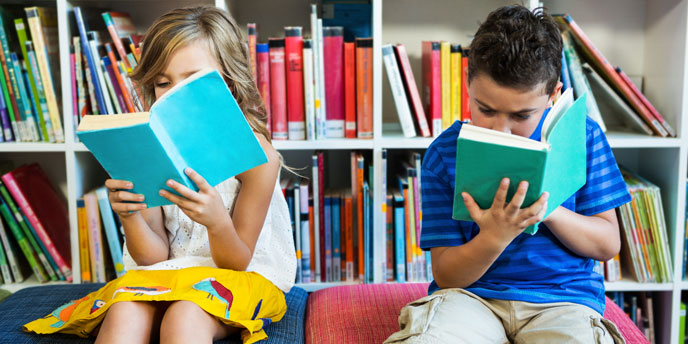 6. Create a Playroom Library
Give your little bookworms an organized place to read with their own at-home children's library. Storing books upright and on eye level shelves keeps them from getting damaged and makes it easy for children to choose their favorite titles. Make library cards for them to check books out with and pick a cool pair of bookends to make putting their books away fun every time.
---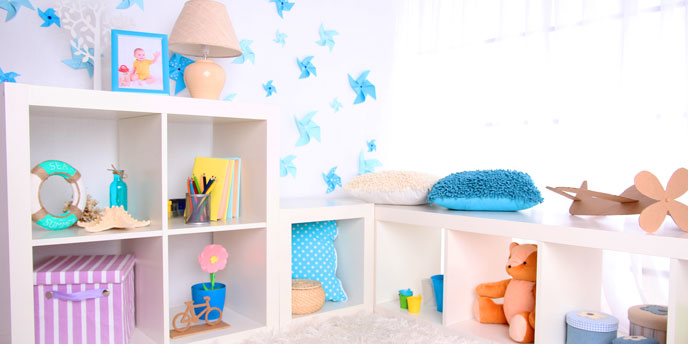 7. Choose Kid-Friendly Playroom Storage
Though tall storage cabinets can save floor space, they also prevent your kids from being able to clean up on their own. Choose playroom storage with short, open shelving that's easy for little ones to reach. Remember to anchor free-standing furniture to the wall for safety.
---
8. Store Messy Things Out of Reach
While accessible playroom storage ideas are important for some toys, other things like paint, glue, glitter and markers should probably stay out of your little one's grasp. To prevent disastrous playroom messes, keep the arts and crafts supplies up where only you can reach.
---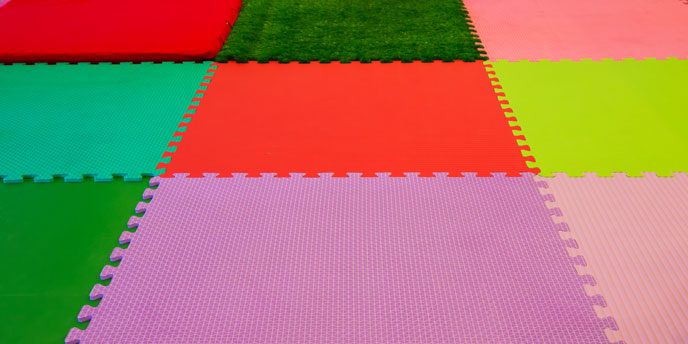 9. Use Playroom Mats
Hot wheels scraping up your hardwood? Barbie heels digging into your carpet? Playroom mats are a great way to protect your flooring from wear and tear during play time. Plus, they can be incorporated into fun playroom organization activities for kids.
---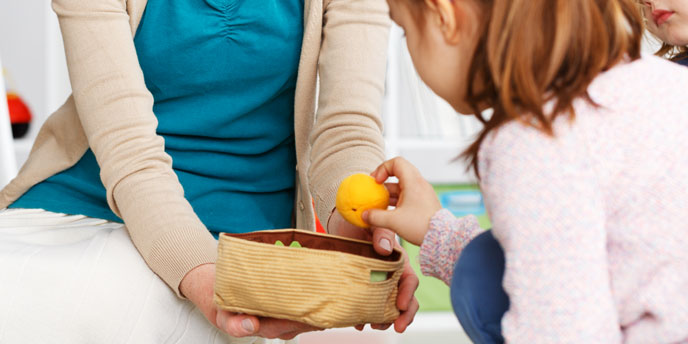 10. Create Cleanup Games for Kids
In the words of Mary Poppins, "In every job that must be done, there is an element of fun." This goes for cleanup time in the playroom too. Once you've got a solid playroom organization system in place, use these five cleanup games to make picking up fun and engaging:
Pick Up by Color: Foam tile mats can do more than just protect carpet. If you have multi-colored foam tiles, call out colors one by one to have kids pick up the toys in each section.
Ready, Set, Clean: Pull out your phone's stopwatch and challenge your kids to see how fast they can clean up. Write their daily times on a whiteboard so they can try to beat it. "For competitive children like my son, a 'race' can be helpful," says Nicole Johnson. "For example, I might say 'I bet I can finish cooking dinner before you can clean up your toys. Ready? 3-2-1 Go!'"
Toy Counter: Tell your children to count aloud the number of toys they put away. You can even use a children's abacus to help them keep count.
Clean Up the Town: If you have a driving fun playroom mat, pretend the toys are "litter" and that it's up to the kids to help keep their beautiful town clean by picking them up.
Bed Time in Toyland: This one is great for children who like playing pretend. At the end of the day, tell them their toys are sleepy and need to go to bed in their "homes." You can even work in a reading lesson by asking them to read their little friends a bedtime story.
---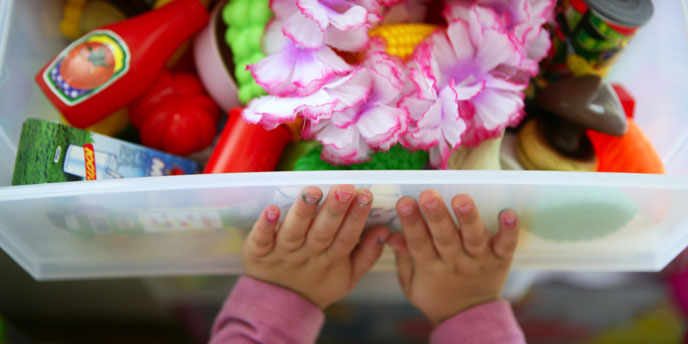 Remember: The 3 Keys to Kid-Friendly Playroom Organization
When it comes to cleanup time, many hands make light work, which means your playroom organization has to make it easy for little hands to pitch in too. Ask yourself if your toy organizing ideas are:
Teachable: Can you explain the playroom organization to your child in simple terms?
Reachable: Can your child reach toy bins without your help?
Repeatable: Is the process easy enough for your child to repeat each day?
If the answer is "Yes," then you're on your way to organizing a playroom that your child can help pick up on their own. Not only will the area be cleaner, but it will also teach your child to be more independent and responsible for their belongings.
Above all, making cleanups a habit for your kids is really the ultimate way to keep their spaces clutter-free for the long run:
"I find the best way to keep the playroom less cluttered is to make it a routine to clean/organize it as part of the evening routine. For example, every day after dinner or 10 minutes before the bedtime routine starts, you might play some music and clean up together. If it becomes routine, it will become second nature to do it before bed every night."

Nicole Johnson | The Baby Sleep Site
Congratulations on your newly organized playroom! Check out these articles for more tips on home organization:
Any kids' organizing tips we missed? Let us know in the comments!