Turning your home into an Airbnb is a great way to make a little extra money while introducing travelers from far and wide to your corner of the world. But it's not as simple as slapping pictures onto a website – it takes planning, research and a little home improvement to make your home a 5-star destination.
If you're wondering how to prepare your house for an Airbnb guest, check out these tips and home improvement projects suggested by our favorite Superhosts and Airbnb experts from around the globe.
---
How to Rent Your Home on Airbnb Like a Superhost
---
Before getting started, make sure that you:
Declutter Your Home: Your new rental space will need to be clean and simple. Clear out your space with a thorough home decluttering.
Remove Old Furniture: Some items – like old mattresses or sunken sofas – may need to be replaced with more guest-worthy items. If they're too worn out to be donated, rent a dumpster for a quick removal.
Talk to Neighbors: Letting them know ahead of time that you plan to turn your home into an Airbnb will help you stay ahead of any confusion or issues down the line.
Have Approval: Be sure your Airbnb complies with local housing laws and your lease agreement, if you have a landlord.
Short-term rental expert Dany Papineau is more than familiar with Airbnb fine print – the city of Montreal once surprised him with a $62,000 tax bill for his home sharing business.
Papineau, now the CEO of Airbnb Secrets and WeChalet, shared with us his tips for navigating landlords and local legislation:
Airbnb Host Tips:
Check Your Lease and City Zoning Laws

"If you're in a rental unit, make sure your apartment allows short-term rentals in the building. Try to make a deal with your landlord – if you offer them a portion of your revenues, they might allow it. Then, check with your city. Cities have zoning laws attached to specific addresses. In Montreal for example, one part of a street could allow short-term rentals and another part of the street could deny it."

Dany Papineau | CEO | Airbnb Secrets & WeChalet
Once you've done your due diligence, you're ready to turn your home into an Airbnb. We'll show you how to prepare your home for Airbnb's three listing types: shared room, private room and entire place.
---
Airbnb Home Preparation: Shared Room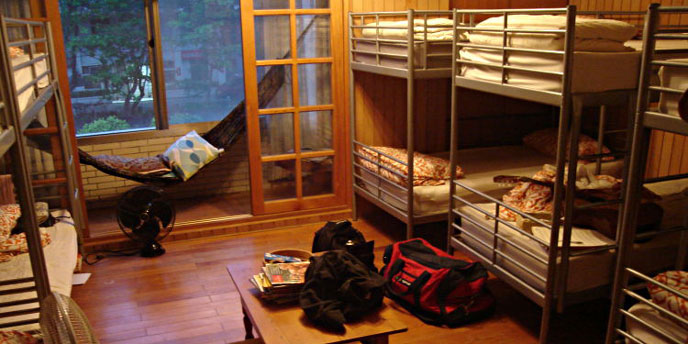 A shared room provides guests with a non-private place to sleep – this means they're sharing the entire space either with the host, other guests or both. Hostels fall into this category, but even providing a guest with your living room pullout couch can be considered a shared room listing.
Preparing Your Home for an Airbnb Shared Room
Buy a Pullout or Bunk Beds: Invest in a good sleeper sofa or bunk beds to sleep multiple guests without taking up much space.
Create Privacy: Panel dividers or hanging curtain partitions near sleeping areas can provide a little extra privacy for shared room guests, and are easy to store or tie up when not in use.
Provide a Guest Station: Install a guest shelf or cube organizer with toiletries, towels, blankets and other essentials to make them simple for guests to find.
Opt for Hidden Storage: Ottomans and coffee tables with built-in storage give your guests a place to keep their belongings out of the way.
Black Out Sleeping Areas: If you're renting out your living room, invest in a few blackout shades to allow your guests privacy and refuge from bright morning light.
According to Papineau, the most important tip for renting a shared room is to be very clear about what you're offering:
Airbnb Host Tips:
Describe the Space Clearly Online

"Guests should understand that they are renting a shared room. You want to create an online listing that accurately represents what you're renting: will they have full access to your kitchen or living room? Are there any parts of the house they won't have access to? The more you explain, the more your guests will understand the expectations, which will help you maintain great reviews."

Dany Papineau | CEO | Airbnb Secrets & WeChalet
---
Airbnb Home Preparation: Private Room
This listing is closest to the bed-and-breakfast model Airbnb was founded on. Private rooms allow your guests their own private sleeping area, with some shared common areas like the bathroom and kitchen.
Superhosts Lisa and Martin of Edinburgh, UK have been renting their spare rooms on Airbnb since purchasing their flat in the heart of Scotland's capital in 2017. Here are a few tips from Lisa on how to prepare your home for a private room listing:
Preparing Your Home for an Airbnb Private Room
Secure Sleeping Areas: Digital locks on bedroom doors, like the ones in Lisa's flat, are a great way to make guests feel safe and secure during their stay.
Optimize Guest Storage: "I try to make the most of the space I have," says Lisa. "I place hooks on the back of doors and have hanging shelf units in the wardrobe from IKEA."
Have Extra Essentials On-Hand: "The biggest challenge is that those who book a private room are typically on a budget and want a lot of benefit for little cost, so they may not have brought some essentials. I provide toiletries, a varied breakfast and I have USB sockets everywhere."
Allow Kitchen Accessibility: According to Lisa, private room guests may want to keep vacation expenses low by cooking at home. Give your guests a space and resources to make a few in-home meals, even if it's just a microwave and electric kettle.
Invest in Guest-Only Resources: If you have kitchen or food items you'd like to keep to yourself, you may have to invest in separate guest appliances. "I had one set of guests who thought it was ok to help themselves to beer in our fridge," says Lisa. "I now have a guest-only fridge!"
Manage Guest Expectations: Like shared rooms, it's important to be upfront when preparing your private room listing online. "List as much as you possibly can and describe what a stay in your home would be like, right down to the noise the birds might make outside your window at 6am," says Lisa. "Don't make your room look bigger or better than it is. Always manage guests' expectations."
Lisa says one of the biggest home improvements was upgrading the technology and furniture for the space, as well as adding security measures for their guests:
Airbnb Host Tips:
Upgrade Your Home's Technology

"As I wanted to make the guest rooms as nice as possible, there was an initial large spend of furnishings and technology. I purchased beds with integrated smart TVs and put digital locks on bedroom doors. The living area needed to be furnished as well."

Lisa McKinney | Airbnb Superhost | Edinburgh, UK
---
Airbnb Home Preparation: Entire Place
This one is self-explanatory: your guests get the run of the place. But how do you rent your entire home on Airbnb when you live there? How do you rent it when you don't?
To tackle this category, we'll break it down into three sections: renting out your primary home, renting out a guest house and renting out a vacation home.
---
Renting Out Your Primary Home on Airbnb
Renting out the home you reside in can present a number of challenges, but Jeremy and Melissa of Colorado Springs came up with a unique solution: an on-site tiny house.
Airbnb Host Tips:
Renting Your Entire Home? Have a Place to Stay

"Our biggest challenge in getting started was trying to figure out how to rent out the whole house, but still have a close enough presence to be able to manage and respond to any issues. Thus, the tiny house idea was born! It took about four weeks to totally prepare the area which included building a retaining wall, having asphalt put down in the space, planting some large trees and seeding the area with wildflowers."

 Jeremy and Melissa | Airbnb Hosts | Colorado Springs, CO
As an added bonus, Jeremy and Melissa are now able to rent both their tiny house and their lodge alternately.
Here are some of Jeremy's top tips for renting out a primary home:
Preparing Your Primary Home for Airbnb
Have an Owner's Closet: Keep your things to yourself with a locked owner's closet.
Decide on Accessible Areas: "We rent out the entire upper floor of the house and keep the basement off-limits as storage for our stuff while we have guests," says Jeremy. "This allowed us to keep most everything in place without having to remove everything."
Lock Special-Use Cabinets: "We put cabinet locks on any cabinets we didn't want guests to have access to (liquor and china) and put away any items we wouldn't want anyone else to normally have access."
Provide a Workstation: Give your business guests a spot to set up their laptop and chargers. A small desk with a lamp, power strip and writing supplies will give your work travelers a place to be productive.
Tie Down Cables: If you'd like to leave out power strips, chargers or HDMI cables but don't want to lose them in the shuffle, use a few screw-down cable mounts to secure them in place.
Have an Airbnb Cleaning Checklist: It's easy to overlook messy spots in your own home. Create a list of must-clean areas so you don't miss a spot.
Allow Time for Cleaning: "Allow a day between turnovers if you're doing the cleaning yourself," Jeremy recommends. "Laundry, mowing the yard, basic cleaning takes a bit of time and some guests like to show up early."
Upgrade Essentials: Upgrade bedroom and kitchen essentials for guests: "We purchased new mattresses, linens, towels, plates and glasses for the house during guest stays," says Jeremy.
Invest in Cleaning Equipment: "One of the most vital tools we invested in was the carpet cleaner," says Jeremy. "It's been a lifesaver for accidents, spills and stains. Having a good machine to clean furniture and carpets has saved us several hundred dollars in cleaning fees."
Introduce Your Animals: Whether you have a small fish tank in the living room or farm animals in the backyard like Jeremy and Melissa, make sure your guests are familiar with any resident critters: "After the main tour, we give guests a tour of the rest of the property to include the animals. We'll give a short safety briefing about not entering the pasture when we aren't around and then walk everyone out to where the animals are kept in the barn. Our guests really love the interaction with the chickens and horses, especially the kids."
Add a Local Touch: Give your guests the local experience they're looking for. "We do small welcome baskets of eggs, local craft brews, maps and brochures of attractions and restaurants in the area to make families feel welcome and see what the area has to offer."
Make Check-Ins and Check-Outs Simple: "An entry lock with a combo on it is extremely helpful if we're not around to let someone in or see someone off after their stay. A code is texted to them and they can come and go as they please."
Airbnb's partnership with RemoteLock makes it easy for hosts to upgrade their space's security and guest accessibility. RemoteLocks are integrated with Airbnb's booking software. This means new, unique codes can be sent directly to guests for each stay, eliminating the potential for lost keys.
"Old locking technology can present risks because keys and codes can be used over and over. RemoteLock locks are different. A reservation is created on Airbnb, and an access code is automatically sent via email to the guest and the lock for the time of stay. Codes expire at the reservation's checkout time, so there is no worry for a previous guest to return and gain access to the property. "

John Cargile | Director of Marketing | RemoteLock
---
Renting Out a Guest House on Airbnb
If you have a guest home or an in-law suite like Superhosts Doug and Rick of Victoria, BC, it's important to create an individual, separate space for guests.
"Guests access our suite via a gate separating the driveway from our garden and front door, with a path leading around to the side of the house and stairs leading down," explains Doug. "We tell guests that everything from the top of the stairs downwards is their private space."
Preparing a Guest Home for Airbnb
Provide a Private Entrance: Make sure your guests can access the space without crossing through yours. Install a solid exterior door with digital locks for their peace of mind.
Create a Lit Walkway: Some weary travelers may arrive late at night. Make sure they can find their way to bed by providing a lit walkway to guide them to your guest house.
Separate the Spaces: If your guest suite is attached to your home, make sure your guests feel secure and independent from your living space. "For security I installed a sliding chain door guard on the inner glass door leading back to the rest of the house and put in privacy blinds on the guest side," says Doug. "I also installed a secure door lock on the inside bedroom door to give guests a little more peace of mind."
Provide Guest Cleaning Supplies: Accidents happen – make sure your guests can clean up after themselves easily. "We have emergency cleaning supplies at the ready if guests need them, including deodorizers, cleaners, and a small portable carpet cleaner (so far we've been lucky!)."
Provide Pet-Friendly Amenities: If your listing is pet-friendly, make your guests' companions feel welcome too. "We always leave dog treats, a toy, and food and water dishes, and let guests know how to clean up after their dogs. The main yard is already fenced off, so we're able to reassure pet owners that their dogs won't escape if they are up in the yard."
Make Adjustments for Your Pets: While you may love your furry friends, your guests might not be used to their quirks; add measures to keep them from being intrusive. "We installed a gate at the top of the stairs leading to the suite's private entrance," says Doug. "This is just to stop our dog from roaming to the patio overlooking the lake and woofing at the insolent fishermen and swimmers that have no business using the public park without his consent."
Keep Outdoor Areas Guest-Ready: "We have a secluded glade with a full BBQ area and seating that we let guests use during their stay," says Doug. "We keep the area clean and tidy. There was no additional work or cost in providing this feature and guests really seem to like it, especially in the hotter days and nights where the glade is always a bit cooler."
The couple currently have plans to upgrade the suite to make it more self-contained and allow longer stays for guests:
Airbnb Host Tips:
For Longer Rentals, Make Kitchen and Laundry Upgrades

"We're in the early design planning stages for upgrading the kitchenette into a more full-featured kitchen. This will likely include installing cupboards and a countertop with a built-in 2-burner induction cooktop and range hood with a combination convection microwave above or below. We'd then install a mid-size fridge, replacing the current bar fridge. Eventually we'd like to use the living room's built-in closet space for a washer/dryer."

Doug and Rick| Airbnb Superhosts| Victoria, BC
---
Renting Out Your Vacation Home on Airbnb
If you're renting out a larger home like Jeremy and Melissa's four-bedroom, 3,500 square foot lodge in Colorado Springs, be prepared to host large groups of ten or more people for each booking.
"The guests in our larger house tend to be families getting together for vacation and reunions," says Jeremy.
You'll likely be able to fetch a higher price due to the space alone. But because of this, your vacation guests will have high standards for the home's amenities. Here are a few Airbnb home preparation tips to help you really "wow" your vacation home guests:
Preparing a Vacation Home for Airbnb
Upgrade Your Refrigerator: Family-sized vacations mean family-sized meals. Give large groups room to store their food for the week by upgrading to a larger fridge.
Get an Ice Maker: Between frozen drinks and brimming coolers, vacationers use a lot of ice. To make your home an ideal party getaway, invest in an under-counter ice maker.
Update Your AC System: The last thing you want to hear from your guests is that the AC unit is broken. Be sure to invest in regular HVAC maintenance to keep your guests cool and happy all through their stay. If your AC system is older, consider updating it entirely.
Have a List of Helpers: Speaking of maintenance, Jeremy recommends preparing a list of contractors to keep your rental running smoothly. "This includes house cleaners, a plumber, electrician, and a handyman for odd jobs. Anything else can be found relatively quickly for quotes and estimates on Yelp."
Create a Working Grill Station: Nothing says summer vacation like hot dogs on a grill. Make sure your grill is sparkling clean and functional and provide grilling equipment for your guests to use. Add patio furniture and some outdoor lighting to make your home the perfect July Fourth getaway spot.
Provide Activities for Kids: A few kid-friendly amenities will make your home a place for the whole family. "We offer some smaller amenities to keep kids entertained. Hula hoops, basketball, football, large rubber balls, cornhole, badminton, bubble machines, etc. These tuck away nicely in a plastic tote in the garage when we're back in the big house," says Jeremy.
Open the Fireplace to Guests: A functional fire pit or fireplace is a magnet for fall and winter vacation renters. Provide plenty of firewood and instructions for how to use it. Don't have a fireplace? You can build one outdoors or invest in an electric hearth for your living room.
As you get the hang of your new vacation home rental, you might want to expand your operations. If you're planning on managing multiple vacation homes, you'll need to find a way to keep track of day-to-day things. This includes booking calendars, cleanings and maintenance and repair schedules.
The experts at Guesty, a cloud-based property management software for vacation rentals, say the key is to consolidate and centralize your operations:
"If you're going to manage five or more properties, you're going to want to list them on multiple sites including Airbnb, Booking.com and Trip Advisor. Guesty can help consolidate all of those channels into one dashboard with one calendar, one auto-pricing and one messaging system, including auto-messages for guests and cleaning staff after check-outs, which can save hours of work."

Matthew Barnes | Head of Content | Guesty
To monitor each of your properties' security easily, RemoteLock also offers centralized WiFi locking systems for multi-property owners:
"RemoteLock is the preferred choice of many Airbnb hosts and property managers because of its scale-ability. Hosts can have multiple doors and properties on the same system. Plus, cleaners and other staff can have their own codes, so owners and property managers can have scheduled access times that can be monitored."

John Cargile | Director of Marketing | RemoteLock
---
Final Tips: How to Become a Great Airbnb Host
Lisa, Doug and Jeremy all know a thing or two about preparing a house for Airbnb, but most importantly, they know how to be great hosts.
"All our reviews have been five stars, which I think reflects the effort we put into making the place clean, bright, comfortable and appealing," says Doug.
Lisa says it's important to understand that each guest is different: "Some guests will want to sit and chat about boyfriend troubles for hours, others will only have booked you because it was cheaper than a hotel and don't actually want to see or speak to you."
"Being friendly and responsive, but not obtrusive, goes a long way towards enhancing the experience and making sure everyone has a great time during their stay," says Jeremy.
Ultimately, becoming a great Airbnb host comes down to one key factor: a great guest experience.
"There are loads of nice Airbnbs online," says Matthew Barnes of Guesty. "What's going to set two places apart is not the space, but the guests' experience with the owner. Was the owner nice? Were they responsive? Did they solve problems quickly? Improving the guest experience is how you build relationships and get returning guests."
---
Looking for more DIY projects to turn your home into a five-star destination? Check out our Exceedingly Comprehensive Guide to DIY Home Improvement to get started.