In December 2017, nine men went to work on a neglected house on East 100th Street in Cleveland. Over 29 days, they filled a dumpster donated by Budget Dumpster, with old shingles, dilapidated siding and other debris from inside and outside the blighted property.
These men were the first cohort of Building Futures, a new program from local nonprofit, Passages, Inc. For the past 20 years, Passages has helped men coming out of prison get back into the workforce and strengthen ties with their families. In the past, Passages' job training primarily focused on soft skills, such as interview preparation. The Building Futures program represents a new focus on hard skills that will help prepare trainees for stable jobs in fields like plumbing, electrical and carpentry.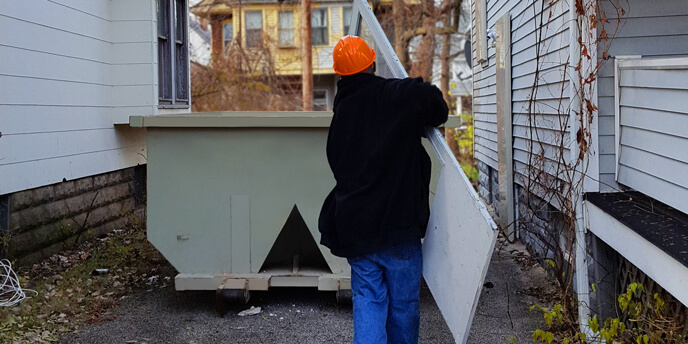 Building Futures combines off-site instruction with two days of on-site training each week, where the cohort practices the skills they've been learning under the supervision of Pastor Wilson Jones. A licensed contractor as well as a pastor, Jones had offered similar job skills training to his parish before approaching Passages to partner up and expand his reach.
Family stability has always been central to the group's mission. And being able to earn a steady income is a major factor in helping these men provide that stability. But as the program came together, the team realized that Building Futures could do more than get their clients back into the workforce.
As trainees practice their skills on blighted homes throughout Cleveland, those buildings can be turned into safe, affordable housing. In other words, Building Futures won't only help the men in the program — as the program grows it can make neighborhoods cleaner, safer and more pleasant for everyone. At the same time, low-income Clevelanders will have better access to housing.
As work continues on the first house, Passages is still ironing out the logistics of their housing program. Their hope is that in the future, trainees may be able to work on what will eventually become their own family's home.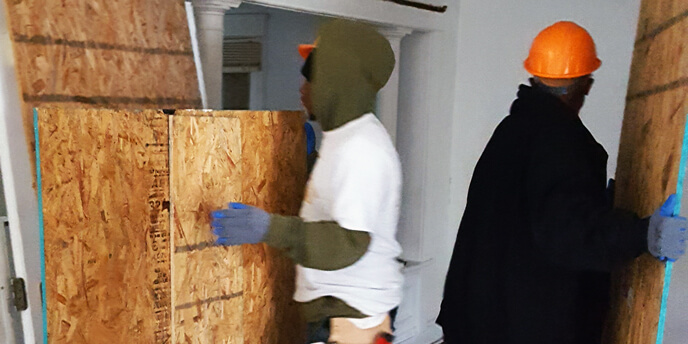 When the Building Futures cohort started work on the house on East 100th Street, it needed a new roof and siding, a complete overhaul of the porch and balcony, water damage repair in the ceiling and a total rewiring of the basement. By the time the dumpster was hauled away at the end of the December, the house had been re-roofed and gutted of all other damaged materials. We can't wait to see the finished job.
Budget Dumpster is your community-focused source for a dumpster rental in Cleveland. If you work for another organization cleaning up or rebuilding our community, fill out our dumpster donation form to request a free dumpster for an upcoming project.