Every room in your home has great potential. The potential for display, the potential for functionality and the potential for storage.
The kitchen is no different.
Unfortunately, not all kitchens have these features and that potential goes untapped. Adding a kitchen island, however, solves those problems. A kitchen island makes for a great addition to any home, all while enhancing your kitchen's display, functionality and storage.
From mobile kitchen islands to seating area islands, there are many kitchen island designs you can choose from based on your own personal preferences and how much space you have. If you're looking for a great way to organize kitchen materials, as well as a place to prep meals and provide additional seating, consider a DIY kitchen island.
How to Build a Kitchen Island
DIY Kitchen Island Step #1: Have a Plan
Before you start building a kitchen island, it's important to have some kitchen island plans. Plans that include what materials you're going to use and how you're going to use them. Are you going to go with stock cabinets or are you planning on upcycling an old dresser? If you're using stock cabinets, you'll want to cut them down to size based on how much space you have in your kitchen. At the very least, a kitchen island should be 4 feet long and a little more than 2 feet deep. In order to have room for people to move and work around it, though, your kitchen should be a minimum of 8 feet deep and more than 12 feet long.
DIY Kitchen Island Step #2: Add Beadboard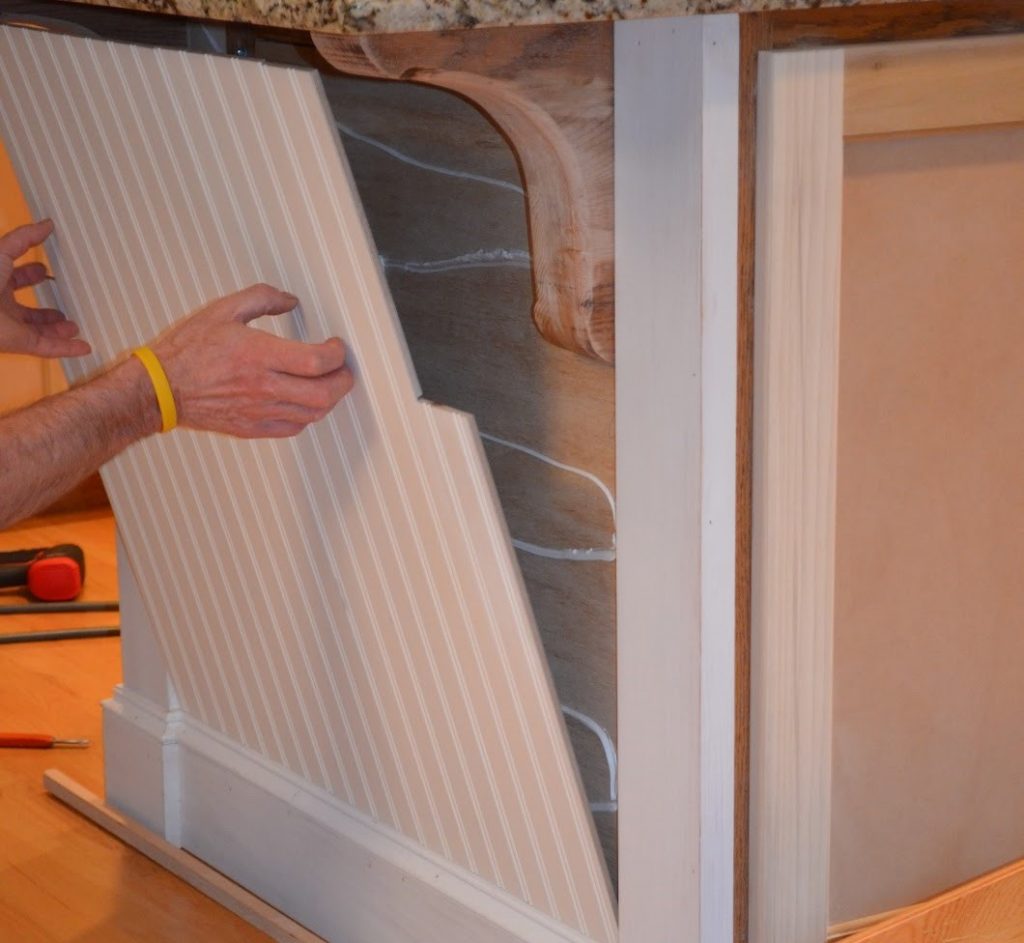 The next step in your DIY kitchen island is to add beadboard. Beadboard consists of narrow wooden planks vertically aligned in a panel. These are commonly used in kitchen island designs in order to add a unique texture to the unfinished side of cabinets. When installing beadboard, nail the panels to the front and edge sides of the cabinets. It's best to use shims on the cabinets to fill extra space as needed. This will ensure the beadboard lines up evenly on both sides.
DIY Kitchen Island Step #3: Add a Toe Kick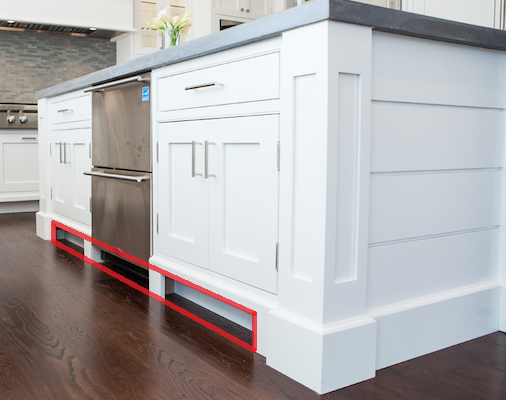 You know that small space between the bottom of your cabinets and the floor? That's called a toe kick. It allows you to stand next to your base cabinets without stubbing your toes. Toe kick boards protect the base cabinets and cover any gaps between the floor and the bottom of the cabinet. Prior to nailing the kick boards to the base cabinets, paint or stain them to match the color of your cabinets.
DIY Kitchen Island Step #4: Add Feet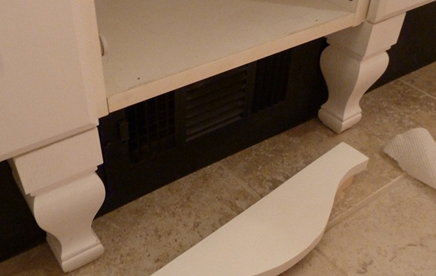 Speaking of toes, you'll want to add feet to your kitchen island so that it can, well, stand. You can do this by gluing the foot to the filler block, clamping it into place and then nailing it directly to the kitchen island.
DIY Kitchen Island Step #5: Prime Cabinets and Drill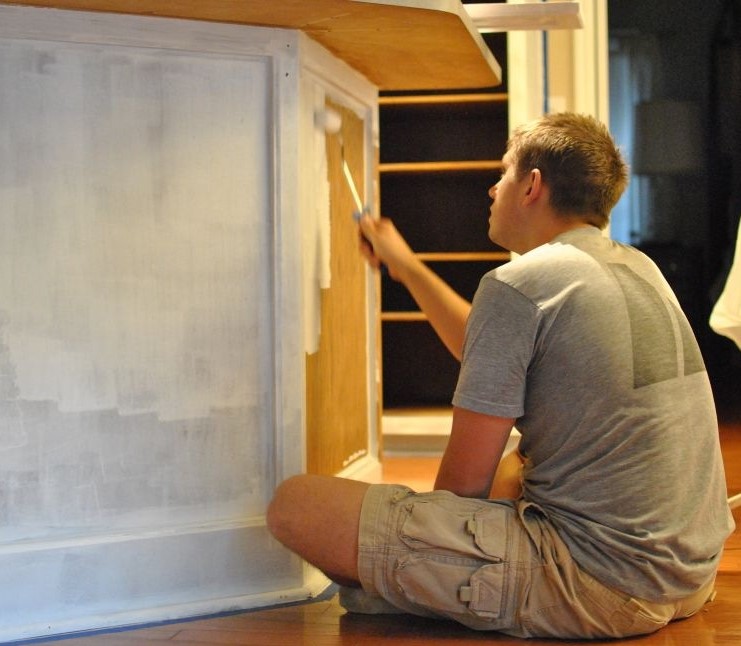 Your DIY kitchen island will begin to come to life in this next step. Once you've added the feet to your kitchen island, you'll want to prime the cabinets and toe kick. After you're done priming, drill the cabinets in preparation for drawer pulls and knobs.
DIY Kitchen Island Step #6: Add Corbels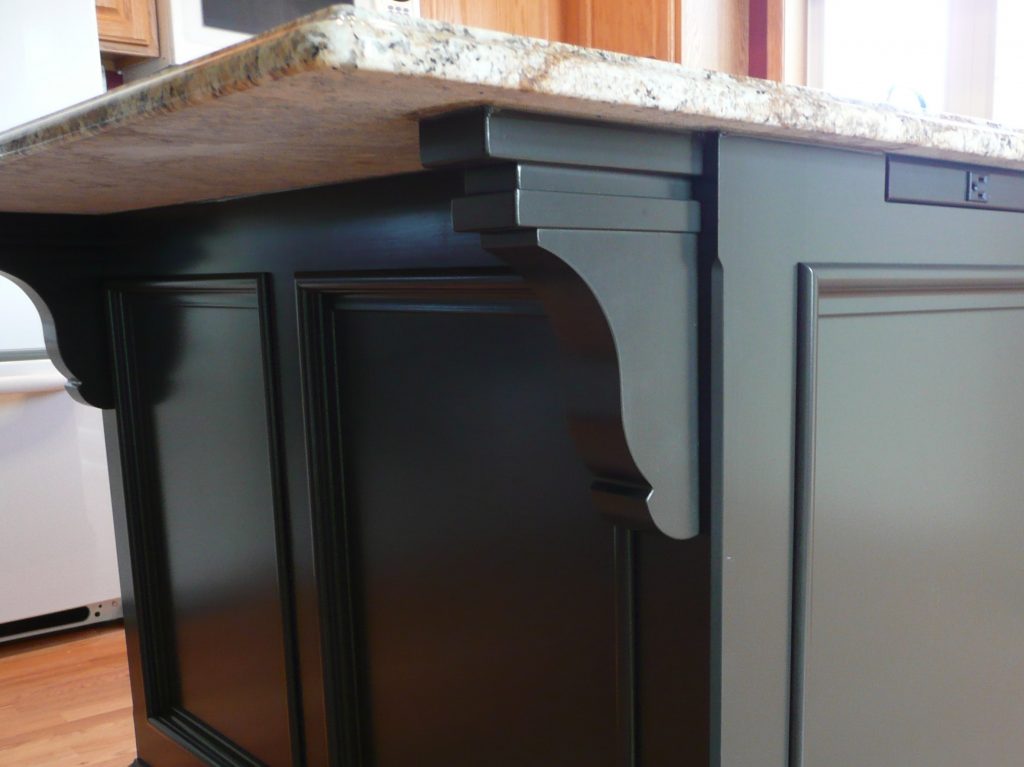 In order to support your countertop for your kitchen island, make sure to add corbels. A corbel is a piece of metal, stone or wood that extends from a wall to support a structure above it. In terms of a kitchen island, corbels are needed to support the weight of the countertop.
DIY Kitchen Island Step #7: Add Countertop
You've made it. Your kitchen island is almost finished! But before you go prepping meals, the only thing left to do is to place the countertop. Make sure to measure all the way around so that there is equal counter space overhanging all sides of the island.
Now that you know how to build a kitchen island, check out our Exceedingly Comprehensive Guide to DIY Home Improvement for more remodeling and renovation tips! Have any more kitchen island designs? Leave us a comment below with your suggestions, comments or questions!