Take a stroll down any street in your town. Whether it's a neighborhood in the city, a cul-de-sac or somewhere in rural America, you'll find doors of all shapes, sizes, and colors. If you have an eye for details, you might also notice just how much a front door defines the facade of buildings and homes.
Deb Cohen is one of the people who took notice, and found herself drawn to the diverse details that doors have to offer. With that, she founded The Front Door Project in the summer of 2014 with the simple goal of motivating herself to get outside and pay more attention to her surroundings. Along the way she has photographed hundreds of front doors and gained thousands of followers.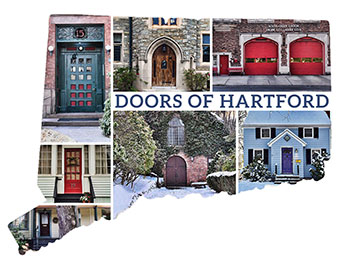 And while she's taken the project to the likes of New Orleans, Charleston and beyond, Deb has made her home in West Hartford. It's where she's taken most of her photographs and gained inspiration for future endeavors. From blue doors, to historic doors, to doors with grand entrances, their diversity is as great as the people that occupy the spaces behind them. Her work has proven that doors represent a lot more than just a way to get into a house.
We asked Deb to give our readers some advice based on her own extensive knowledge of doors and their impact on curb appeal. Below you'll find what she learned through her work on The Front Door Project and why she thinks front doors are one of the most appealing and important parts of the home.
Through the lens of The Front Door Project
In your opinion, what does a front door say about a home?
Deb: The front door is the focal point of a home. It shows a bit of the homeowner's personality and style, and is the first thing someone notices when coming to visit. With the right touches, it makes a home feel warm and welcoming from the start and adds just the right amount of sparkle. There is something so charming about a beautiful front door and entryway that speaks to people.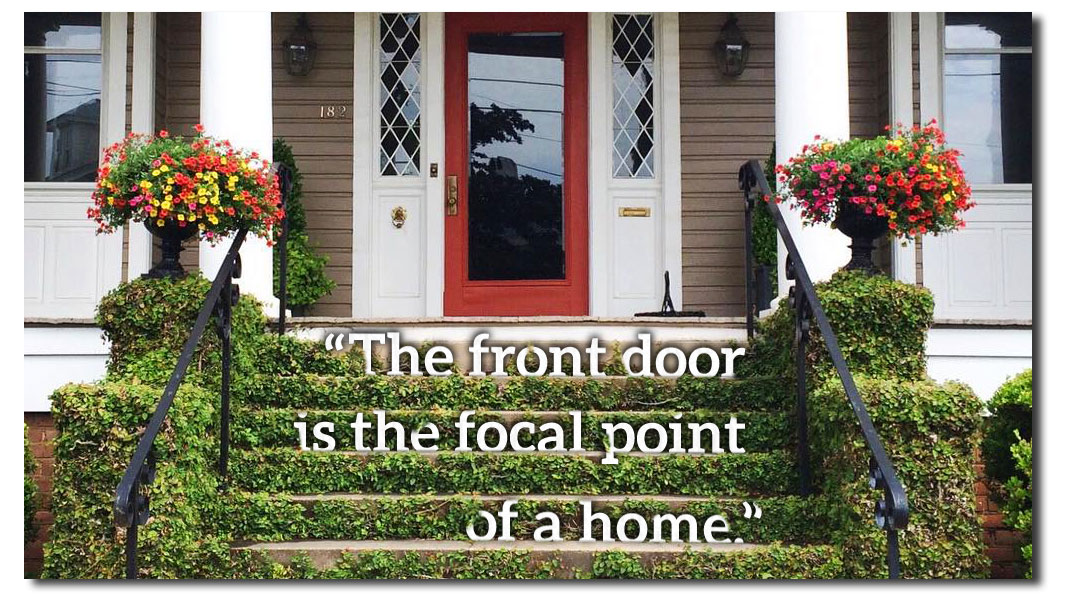 Transforming Your Front Door
What advice do you have for someone looking to make changes to their front door?
Deb: If your front needs a little sprucing up, or you are just ready for a change, my best advice is to think color! Nothing makes a front door stand out more than a rich, beautiful color, especially something a little unexpected. Even the most traditional homes look fabulous with a bold splash of orange, yellow, purple or green and it can take a home that looks ordinary and turn it into something extraordinary. All for the cost of a quart of paint and a little elbow grease. Of course, some homes do look fabulous with the traditional black or classic red door.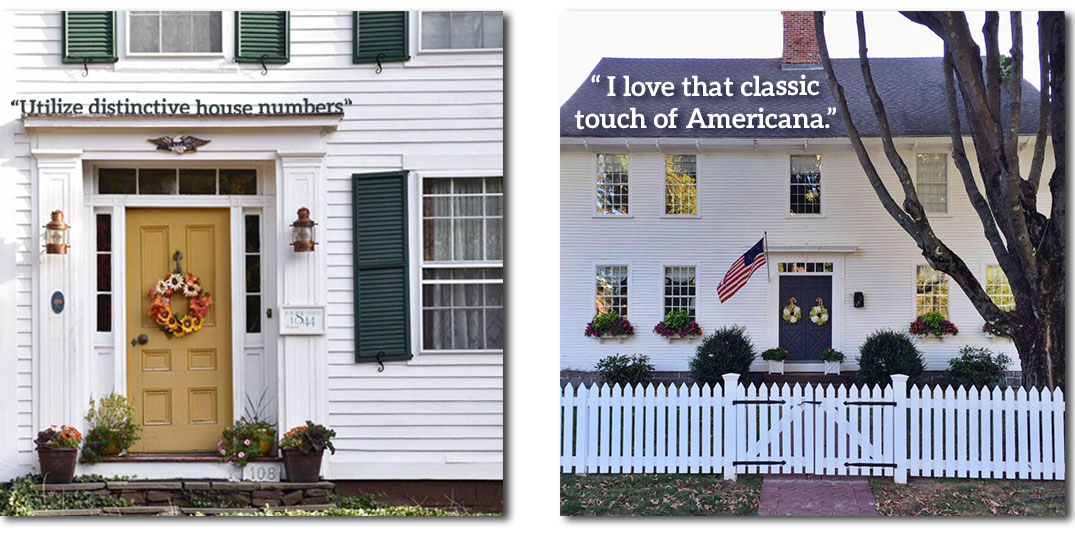 In terms of other decorating elements, add a nice wreath or door knocker. Next to the door, utilize distinctive house numbers, a unique mailbox and of course some wonderful light fixtures that complement the architectural style of your home. If you have the space, form an asymmetrical group of planters or utilize symmetry with a planter on either side of the door. With extra space or a front porch, you can even add a small bench or chairs. If your area of the country requires a storm door, consider getting one to match your door color. This helps the storm door disappear into the background.
Finally, consider flying an American flag next to your front door. I love that classic touch of Americana and it shows pride in our great country which used to be something that was celebrated more openly and often.
Adding Curb Appeal
When it comes to curb appeal as a whole, what do you notice about homes that stand out?
Deb: A home has great curb appeal when it is clearly well maintained and when the owner shows attention to detail. All of the various elements, from the entryway, to the house and trim color to the landscaping tie together nicely. Choices show a bit of the homeowner's personality.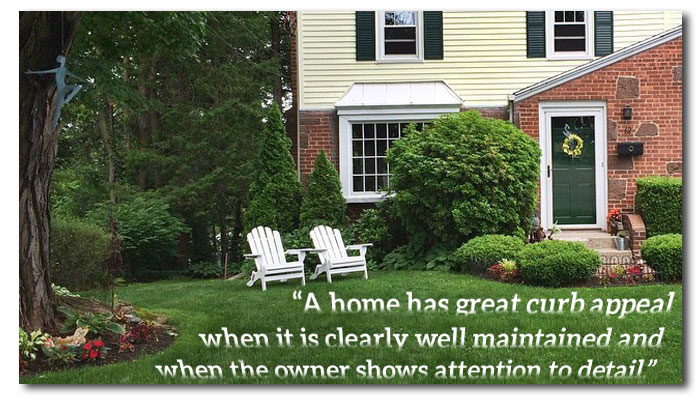 Homes that don't have great curb appeal tend to fall into a few general categories:
Home isn't well maintained – peeling paint, uncut grass, dirty windows
Home completely lacks personality – think a cookie cutter house with no architectural interest, a plain front door, bland colors, no landscaping or potted plants.
Home where the exterior is overdone – too much of a good thing. Too many planters, statuary and other accents which serve to distract from each other and take away from the total effect. Other things to keep in mind are spacing and scale. Be sure light fixtures, planters and other accessories fit the scale of your home and are optimally spaced.
The Future of the Front Door Project
Tell us about The Front Door Project and provide any recent news/future plans.
The Front Door Project began a couple of years ago, when I started walking to get some exercise and I decided to look for pleasing doors along the way. I started snapping photos with my iPhone and sharing on Instagram and quickly found a community of fellow door lovers out there! From that simple beginning I became very interested in historic architecture in particular, as well as historic preservation, and decided to start blogging about many of the beautiful places I see so I could share more details.
I plan to continue growing my blog and would like to branch into heritage travel, visiting locations with a concentration of historic architecture and sites. I consider myself an advocate for preserving our history and have been recognized as such by the National Trust for Historic Preservation for the work I have done on social media. I would also like to start featuring New England historic real estate on my blog to spread the word about these beautiful homes. It takes a special person to own and maintain a historic home and they are challenging to sell at times, so every little bit helps!
Front Doors & More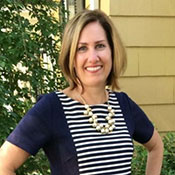 Deb is a lifelong Connecticut resident with great love for New England's architecture and history. As a passionate advocate for historic preservation, her wish is that others come to appreciate our architectural history through her photography and writing. Of course, she also would love everyone to have a beautiful front door! When she's not blogging she is busy with her finance career and loving family, including her husband of over twenty years, two teenage children and two lovable golden retriever rescues.
—
Thinking of making some changes to your facade? Then you might need one of our
dumpster rentals in Hartford
 Call 1-866-284-6164 to start cleaning!