Dumpster Services for Junk Removal
Convenient Solutions for Junk Hauling and Pickup
Large-scale junk removal projects are simpler with a roll off dumpster from Budget Dumpster. Our team delivers the dumpster rental to your home, you fill it up and we haul your junk away. With a variety of sizes at your disposal, you'll have no problem finding a bin that fits your home cleanout or any other junk removal project.
Why Get Rid of Junk With a Dumpster?
While there are many ways to get rid of clutter, renting a dumpster for junk removal has many advantages:
Affordability: You can get rid of more junk for less when you rent a dumpster for garage, attic or whole home cleanouts.
Simplicity: Instead of being stuck with a two-hour pickup window for your junk, you can rent a dumpster for the entire length of your project and clean up your property at your own pace.
Expert Advice: Our team of debris removal experts will help you find the right junk removal solution for your cleanup, whether you're getting rid of broken furniture or a collection of knickknacks and hand-me-down clothes.
Easy Disposal: With a dumpster rental in your driveway, you won't have a pile of debris waiting to be hauled away. You can toss it in the bin while you clean and get it out of the way faster.
Upfront Pricing: When you work with us, you'll know your total cost upfront. Our flat rates include delivery, pickup, applicable taxes and your rental period.
DIY Removal: You're the one in charge when you rent a dumpster. With a junk removal service, it's up to their employees to decide what gets thrown away.
A dumpster rental makes home junk removal convenient, quick and hassle-free.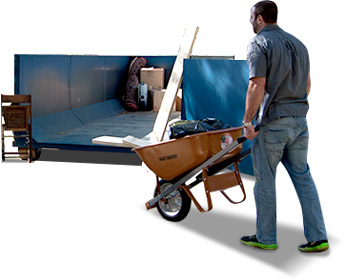 How Much Does Junk Removal Cost?
The average cost of a junk hauling service is $297, assuming you have 9 cubic yards' worth of clutter. In comparison, the average cost of a dumpster rental is $433, a price point that typically includes 20 cubic yards of debris. Junk hauling services make sense when you have a very small amount of debris to get rid of, but there are no multi-day options for larger or more complex cleanups. Our dumpster rental services offer flexible rental periods and various sizes to make those bigger projects more affordable and manageable.
Junk Removal Service Prices vs. Dumpster Rental Prices
| Volume of Debris | Required Truck Load and Avg. Cost | Equivalent Dumpster Size and Avg. Cost* |
| --- | --- | --- |
| Up to 4.5 cubic yards | 1/4 Load, $200 | 10 cubic yard bin, $369 |
| Up to 9 cubic yards | 1/2 Load, $300 | 10 cubic yard bin, $369 |
| Up to 13 cubic yards | 3/4 Load, $400 | 15 cubic yard bin, $392 |
| Up to 18 cubic yards | Full Load, $500 | 20 cubic yard bin, $415 |
| More than 18 cubic yards | Multiple loads, >$700 | 20-40 cubic yard bin, $415 to $521 |
*Prices and weight limits vary by location
With our junk removal services, you can match the size of the dumpster to the size of your project and budget. Don't have that much junk? When you rent a dumpster, you can easily get rid of anything else you have laying around, including remodeling debris and general household waste. But if you have more than 13 cubic yards of waste, dumpster rentals become the more affordable junk removal option.
Call Us for a Great Rate on Junk Disposal Today
or search your city/zip below
Make Junk Disposal Easy With a Roll Off Dumpster
When you work with us, you'll get the right dumpster right where you need it. We can deliver a roll off dumpster to any residential or commercial site. Whether you're cleaning out a house, garage, attic or an entire office building, our rentals make hauling junk a simple task you can complete on your own schedule. When you're done with your decluttering project, give us a call and we'll be back to haul the junk and the container away. It's that simple. Reach out today for easy and cheap junk removal services near you.
How Our Junk Removal Services Work