Do you dream of a luxury walk-in closet filled wall-to-wall with designer clothing? Does that dream include a swanky vanity, a fully-stocked champagne bar and maybe even a crystal chandelier? While we dream big, many of us face the reality of organizing small walk-in closets, making it important to squeeze the most from every inch of space.
Whether you're building a custom walk-in or moving into a home with a larger closet, organization is key. Indulge your inner diva with these walk-in closet organization tips and ideas.
---
How to Organize Your Walk-In Closet
---
First, Clean Out Your Closet
Start by purging your wardrobe. Declutter your closet now to save yourself from cramming in unnecessary items.
Method 1: Completely Empty Your Closet
Remove every last item from your closet. As you pull pieces out, ask yourself three simple questions:
Will I wear it?
Does it fit?
Is it damaged?
Toss or donate pants you haven't worn in months, out-of-style dresses and any shirts missing buttons. Then, rehang the pieces that fit your taste. But first, give that empty closet a thorough vacuuming.
Method 2: The Backwards Hanger
This strategy works best over several weeks. As you wash and wear clothing, hang it back up with the hanger facing backwards. After a month or two, you'll see your most worn items. Trash, donate or recycle the items you haven't worn at all.
Method 3: KonMari Your Closet
Marie Kondo recommends keeping items that "spark joy" in you and letting go of "someday" possessions in her bestselling book, "The Life-Changing Magic of Tidying Up."
When living with a small closet, it's important to keep only items that you truly love and wear regularly. Otherwise, it's easy for your closet to feel chaotic and cluttered.
---
Use These Tips to Organize Your Walk-In Closet
After you've narrowed your wardrobe to the essentials, it's time to systematize. Use these organization ideas to make the most of your small walk-in closet.
Small Walk-In Closet Organization Hacks
Use old shoeboxes to build compartments inside drawers.
Tie scarves, belts around a hanger.
Roll shirts to maximize drawer space.
Use ice cube trays to organize rings and earrings.
Use hooks to create extra storage space for hanging items.
Save wine boxes to store shoes.
Store out of season clothes in plastic containers or comforter bags.
Cut pool noodles and insert in boots to keep their shape.

---
1. Install Multiple Clothing Rods
Dedicate at least one wall of your closet entirely to clothing rods. When you take advantage of your closet's height, you'll maximize storage space. Arrange pieces of clothing logically with shirts on top and pants on the bottom rack.
"No Wire Hangers, Ever"
Joan Crawford said it best. It's time to toss dry cleaning wire hangers. While wire hangers are space-saving, they are too flimsy for heavy clothing, tend to tangle and can damage garments.
Plastic hangers are slightly better, but clothes tend to slip off them. Sturdy wooden hangers are another option but they are pretty pricey. Consider buying velvet hangers instead. Thin velvet hangers grip well, save space and provide a uniform look.
Clothing Items to Hang
Dress Shirts
Blazers
Dresses
Skirts
Dress Pants
Sweaters and Cardigans
---
2. Take Advantage of Drawer Space and Shelving
Categorize your clothing and designate a proper home for each type. For instance, place all of your T-shirts in one drawer, all of your athletic clothing in another, your pajamas in the next and so on. Choose a system that best fits your lifestyle and wardrobe. And if possible, use shelving that runs from floor to ceiling.
Clothing Items to Fold
T-Shirts
Hoodies and Sweatshirts
Sweatpants and Shorts
Athletic Clothing
Pajamas
Socks and Undergarments
---
3. Don't Forget About Your Accessories
Whether you opt for built-in shelving, decorative baskets or clear storage containers, make sure your accessories are "accessible." Find a home for hats, belts, jewelry, scarves, ties and more to keep your collection under control.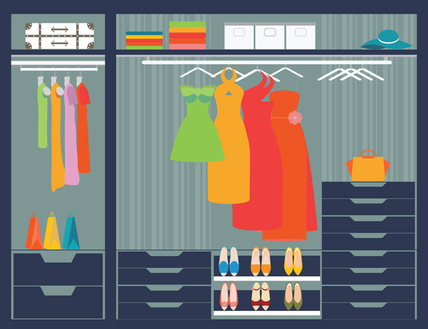 Showcase Your Shoes
While a hanging shoe rack for tennis shoes and sandals can save space, it doesn't accommodate high heels and tall boots. Consider placing a shoe rack or tension rods on your closet floor. Or if space allows, display your favorite shoes on open shelving to make a statement.
Display and Organize Jewelry
Elect an open shelf to place a decorative jewelry holder for bracelets and necklaces. For larger jewelry collections, use drawer inserts to keep earrings, rings, beads and lockets grouped and detangled.
---
Discover More Small Home Organization Ideas
If you're looking for additional ways to organize your home, take a look at our other space-saving how-tos.
How do you maximize space in your home? Let us know in the comments below.