If you live near the coast, you shouldn't take hurricane season lightly. While it comes around every six months like clockwork, it's important to storm-proof your house well in advance. From reinforcing doors to installing shutters, we'll help you prepare each part of your home for a hurricane.
Common Hurricane Damage Costs
A hurricane's strong winds and heavy rainfall will target your roof, windows and siding, causing significant home damage. On average, homeowners spend $9,073 on these repairs. Luckily, there are many DIY ways to protect your house against wind and other severe weather. If you follow our five simple steps, you'll storm-proof your home and better protect it from the impending inclement weather.
"Your home, your personal belongings and your business are meaningful and valuable assets. Just one inch of water can cause up to $25,000 worth of damage. If a disaster strikes, having insurance for your home or business property is the best way to ensure you will have the necessary financial resources to help you repair, rebuild or replace whatever is damaged. More than half of all homeowners in the United States do not carry adequate homeowners' insurance to replace their home and its contents should a catastrophic loss occur."

FEMA Spokesperson | FEMA
A 5-Step Guide to Getting Ready for a Hurricane
1. Prepare Your Roof
When to do it: Before hurricane season, with a final inspection a week before the storm.
Level of difficulty: 4/5
When hurricane season approaches, roof protection should be your top priority. Your roof is more prone to wind and water damage than any part of the home. A strong gust can rip out shingles and (literally) tear your rooftop to pieces. Ensure your home stays covered and stormproof with these four tips.
How to Storm-Proof Your Roof
Secure loose shingles. Before hurricane warnings appear on your radar, inspect your roof for loose shingles. Use dry roofing cement to secure these shingles, applying four one-inch dabs to the bottom of each one. Then you can re-attach them to your roof, paying close attention to those near the gables of your home.
Reinforce gables. Gables tend to "unzip" in heavy wind, exposing your home's interior to the elements. We recommend installing braces at either end of your roof, and ensuring trusses are nailed down properly.
Reinforce soffits. To prepare your soffits, apply polyurethane sealant where your roof meets your siding. You can buy this sealant at Home Depot or your local hardware store.
Install hurricane straps. It's important to secure your roof's rafters, or underlayment, using hurricane straps. These metal rods attach rafters to the tops of your walls, making your roof sturdier. There are many ways to install hurricane straps yourself, but we recommend calling a contractor to ensure your house is stormproof and ready for hurricane season.
Reinforcing your roof is a vital way to protect your house against wind and rain. However, hurricane roof protection should be an all-year project, especially if you live near the coast.
2. Install Impact Doors
When to do it: A week before the storm.
Level of difficulty: 4/5
To be fully hurricane-proof, your exterior doors must be made of wood or hollow steel. If they aren't, you can add a third hinge for an extra layer of protection. Either way, we recommend installing heavy-duty impact doors to ensure your house can fully withstand a hurricane. If you've already installed hurricane doors, see if they're sturdy and secure before buying new ones.
How to Install Hurricane Impact Doors
Remove your old door. Take your exterior door off its hinges and scrape away the old molding using a pry bar or sharp utility knife.
Measure your door's length and width. Make sure your impact doors will fit in your home's entrance. Once you've removed the old coating, take your doorway's length and width using a tape measure.
Determine jamb depth. For an impact door to be fully effective, it must open and close properly. Measure your doorway's thickness and make sure it will accommodate your new hurricane doors.
Measure your door's outswing. In most hurricane-prone states, impact doors must have an outswing. If a door opens outward, it better protects your home from high velocity winds.
Install your impact doors. Once your hurricane doors are properly measured, you can add hinges and a handle. If you're not sure how to attach them securely, call a professional contractor.
Like your roof, exterior doors are especially vulnerable in high winds. Ensuring your doors are sturdy and storm proof is key to preparing your home for a hurricane.
3. Prepare Your Yard
When to do it: The day before the storm.
Level of difficulty: 3/5
While it's important to get your home ready for a hurricane, you should also prepare your yard. Outdoor fixtures like gravel, trees and rocks can cause serious damage to your home and patio. Follow these five simple steps to successfully storm-proof your yard before a tropical storm.
"During hurricane season and before a tropical storm heads your way, either strap down your outdoor furniture or move it to a covered storage area. This will prevent outdoor furniture from flying around and not only destroying your home, but potentially your neighbors'. This is a great time to be a good neighbor."

Elizabeth Dodson | HomeZada
How to Prepare Your Yard for a Hurricane
Remove decorative elements. Before hurricane winds pick up, move patio furniture and garden decorations into your garage. You don't want to lose these items in the storm or have them blow against your house. If you're low on storage space, consider renting a dumpster and clearing out your shed.
Cut down threatening trees. If a tree was planted scarily close to your house, remove it before hurricane season approaches. The last thing you need is an uprooted or broken tree falling onto your roof.
Get rid of gravel. Gravel can be harmful during mild thunderstorms, so get rid of it before a hurricane hits. Strong winds will blow loose rocks and dirt against your roof and siding, hurting your home's exterior. We recommend replacing gravel with mulch or groundcover plants.
Anchor outbuildings. If you have an outdoor structure (like a deck or shed) that lacks permanent foundation, install mobile straps to keep it in place. These are sold at large hardware stores, and usually range between $10 and $30. If you thought patio furniture was damaging, loose sheds are twice as harmful.
When you're getting ready for a hurricane, consider both your home and your yard. Outdoor debris will damage your home more than strong winds and heavy rain alone.
4. Brace Your Garage Door
When to do it: Right before the storm.
Level of difficulty: 4/5
When heavy winds hit, your garage door ought to be secure. If it fails during a storm, your roof could blow right off your garage, exposing your cars and bikes to the elements. Luckily, installing braces is a quick and easy way to prepare your home for hurricane season.
How to Brace Your Garage Door for a Hurricane
Turn off the power. If your garage door is automatic, shut the power off.
Make a base. Install a piece of plywood at the bottom of your garage door. This will act as a base for your hurricane braces. Screw it into your concrete floor, about 1 ¼ inches deep.
Extend the top ledge of your garage. Take two additional two by fours and make an "L" shape at the upper corners of your garage – this will extend the top ledge. Nail them in place with a hammer, and make sure they align with your hinges.
Attach the plywood. Take another piece of plywood and attach it to the upper lip of your garage door to make a "T" shape.
Connect your braces. Cut your plywood boards to the length of your garage door and screw them together, connecting the top two pieces to the bottom.
Attach brackets. Secure steel brackets to the vertical plywood boards, attaching them at every hinge.
During tropical storms, your garage can act as a pressure-cooker, putting other parts of the home at risk. By bracing your garage door, you'll have a safer, fully stormproof house.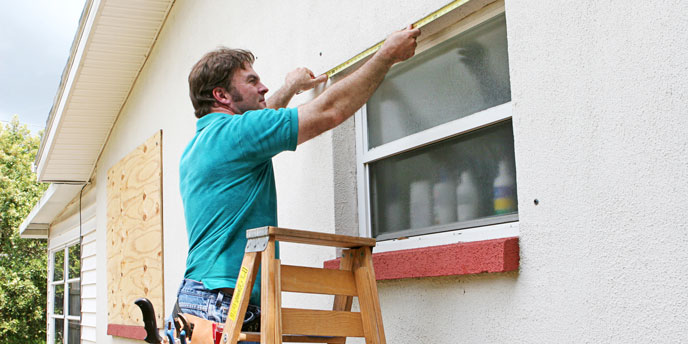 5. Storm-Proof Your Windows
When to do it: Right before the storm.
Level of difficulty: 4/5
While all hurricane damage is dangerous, your windows can be especially harmful. Strong wind gusts will break your window panes, causing glass shards to fly and damaging your home's interior. To avoid these repairs, board up your windows to better protect your house against wind.
"Windows are the most vulnerable part of your home during a hurricane. If they break, they can cause damage to the home or injure your family and pets. With broken glass, you have a huge risk of bodily injury. Plus, without window panes to protect your house, flooding is much more likely."

Elizabeth Dodson | HomeZada
How to Prepare Your Windows for a Hurricane
Take measurements. Measure your window frames.
Get your materials. Buy hurricane shutters or sheets of plywood for each of your windows.
Cut the plywood. If using plywood, cut it to size. (Each shutter should overlap your window frame by four inches.)
Locate your window studs. Find your window studs from the inside of your home.
Determine glass thickness. Measure the thickness of your window glass from the edge to the stud. Take these measurements to your home's exterior.
Install the shutters. Have a friend or family member hold the shutters in place, and drill a wooden screw into each stud.
Storm-proofing windows is usually first on a homeowner's hurricane house prep checklist. By doing this, you'll protect your home against wind, heavy rainfall and trees that pose a falling risk. For more detailed instructions, check out our in-depth guide for installing stormproof windows.
Complete Your Hurricane House Prep Checklist
Once you've prepared your home for a hurricane, you can move onto less pressing projects. Tropical storms can last anywhere from one day to an entire month, so it's important to plan ahead. We have a complete hurricane readiness checklist, but here are a few quick tasks to help you get started:
Fill your first aid kit.
Buy a three-day supply of water and nonperishable food.
Make sure your backup generator runs properly.
Have extra batteries for your devices.
Ensure you have a working flashlight.
Stay Inside Your Stormproof House
Once your home is sealed and stormproof, stay put! You can worry about cleaning up and making repairs when the hurricane passes. Try to relax and focus on keeping yourself and your loved ones safe. If you're looking for effective ways to keep yourself occupied, read our guides on what you should and shouldn't do during a tropical storm.
First Steps After a Tropical Storm
While you've prepared your home for a hurricane, some damage simply can't be avoided. Use this helpful guide to get your bearings after a tropical storm.