The Halloween season is a time for all things scary: goblins, ghosts, ghouls…and garbage?
That's right – on average, a single trick-or-treater generates 1 pound of trash. With over 41 million children taking part in trick-or-treat fun annually, this beloved, spooky holiday has a waste problem that's hard to ignore.
From non-recyclable candy wrappers to stringy pumpkin guts, here are the seven deadliest disposal sins to avoid for a more sustainable Halloween celebration this year.
Reader, beware – you're in for a scare.
---
How to Avoid the 7 Deadly Disposal Sins
for an Eco-Friendly Halloween
---
1. Don't Buy Plastic Trick-or-Treat Bags
While plastic bags might seem like an easy go-to for trick-or-treating, they can leave a terrifying amount of waste behind in the long run. Americans throw away an estimated 100 billion plastic bags each year, and single-use treat bags only add to the problem. One of the simplest solutions for an eco-friendly Halloween is to use reusable bags and containers to collect candy. Here are a few sustainable alternatives for your little ones to haul their loot around the neighborhood:
Eco-Friendly Halloween Trick-or-Treat Bags
Brown paper bags
Pillowcases
Tote bags
Backpacks
Drawstring bags
Old handbags
---
2. Forget Packaged Halloween Costumes
In 2017, approximately $3.4 billion was spent on Halloween costumes in the United States. With the average costume price ranging between $77 to $96, that's over 35 million costumes purchased. The scariest part? Most of these disguises are encased in non-biodegradable plastic. Plastic packaging accounts for 30 percent of the U.S.'s solid waste every year according to the Environmental Protection Agency, and the Halloween costume industry certainly doesn't help.
You can save money and the planet by repurposing old clothes into new costumes. Check local thrift stores (or the back of your grandparents' closet) for old or vintage items you can use for a more sustainable Halloween get-up.
---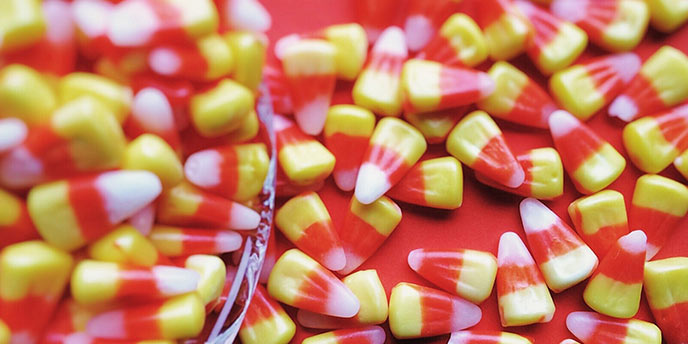 3. Cut Down on Trick-or-Treat Waste
Remember the EPA's scary stat about plastic packaging waste? That 30 percent includes Halloween candy and snack wrappers. You can cut your trick-or-treat waste by handing out candies wrapped in easily recyclable or reusable packaging.
Sustainable Halloween Treat Alternatives
Bulk Candy: Buying treats in bulk at your local candy store cuts down individual wrapper waste. You can hand them out in cloth goodie bags or cardboard treat boxes.
Crayons: Paperless crayons are a great eco-friendly Halloween treat, provided they're packaged in recyclable cardboard.
Hershey Kisses: Any candy that's wrapped in recyclable aluminum is a safe bet for a sustainable Halloween treat.
Canned Soda: Soda is a sweet treat for kids and the aluminum cans are infinitely recyclable.
Mint Tins: Aluminum candy tins can either be recycled or reused by trick-or-treaters.
Are candy wrappers recyclable?
"Everything is technically recyclable, but most products and packaging, including candy and snack wrappers, are not accepted by public recycling programs. This is because in the current recycling system, most facilities cannot handle them. Thus, the wrappers are sent to landfill, where they can take years to break down."

Lauren Taylor | Global Vice President, Creative & Communications, TerraCycle
Though most recycling plants don't accept wrappers, TerraCycle's Candy and Snack Wrapper Zero Waste Box is one way to responsibly handle trick-or-treat waste. Simply order a small, medium or large box, fill it with treat wrappers and ship it back. "TerraCycle separates and processes the packaging to transform it into new recycled products, such as playgrounds, garden beds and park benches," says Taylor.
---
4. Ditch Disposable Decorations
With all the fun, spooky décor lining the shelves this time of year, this deadly sin might be the most tempting to commit. But much like costumes, Halloween decorations are typically made of cheap, non-recyclable plastics that wind up in the bottom of your trash can by November 1st. For a more sustainable Halloween, be sure to stick to durable, eco-friendly decorations that can be stored and reused for years to come.
---
5. Use Evergreen Halloween Party Supplies
Getting ready to throw a ghastly fun Halloween bash? Festive plates and cups might seem like a no-brainer, but their waxy, colored surfaces make them difficult to recycle. Here are a few ways to keep your party's waste from haunting the nearest landfill for years to come:
Tips for Throwing an Eco-Friendly Halloween Party
Use biodegradable or reusable plates and cups.
Provide finger foods that can be eaten without plates.
If disposable cups are a must, encourage guests to reuse and write names on them.
Plate your foods using glass or recyclable containers.
Recycle aluminum foil and pans.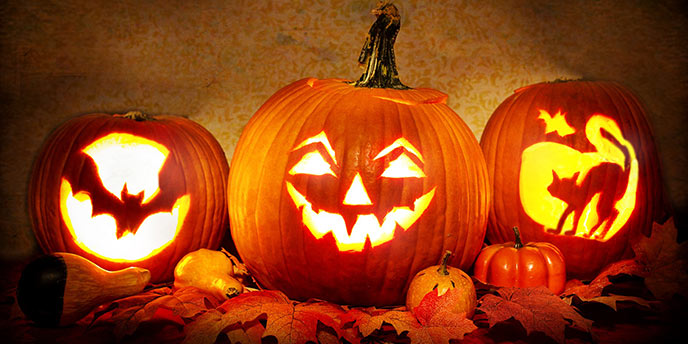 ---
6. Dispose of Your Pumpkin Responsibly
Ah, The Great Pumpkin Problem – around 1.3 billion pounds of pumpkins go to waste after Halloween each year. These gourds add a tremendous amount of methane, a greenhouse gas, to landfills as they decompose, which can then escape into the atmosphere. Due to this, many curbside services won't accept them with yard waste pickups, which makes getting rid of pumpkins tricky. Here are a few ways to dispose of pumpkins responsibly this October.
How to Dispose of Pumpkins Sustainably After Halloween
Eat them: Yes, you can eat your jack-o'-lanterns after Halloween, provided the weather stays cool enough to preserve them. While most carving pumpkins aren't as tasty as their smaller counterparts, their flesh can be pureed and used in pies, soups, sauces and so much more. Make sure to rinse off the pumpkin before pureeing.
Compost them: If you don't have a compost bin, find a sunny spot in your yard to place your pumpkins. Slice them up Freddy Kreuger-style and cover with leaves to speed up the composting process.
Feed them to animals: Cats, dogs, guinea pigs and hamsters can snack on pumpkin seeds and flesh in small amounts, but always check with your vet before serving anything new to your furry friends. No pets at home? Winter is coming, and your local wildlife would love it as a treat. Leave them in the corner of your yard to let local deer, squirrels and chipmunks take care of what's left of them.
---
7. Repurpose or Donate Old Costume
Most Halloween garb is used just once before being thrown away or banished to storage indefinitely, especially children's costumes. In fact, over 12 million pounds of textile waste are generated each year in the U.S., and Halloween costumes are a major contributor – nearly 85 percent of costumes wind up in landfills eventually. If you're wondering what to do with your old Halloween costumes, you can put them to good use by donating them to organizations who help those in need.
Where to Donate Halloween Costumes
'WEEN DREAM
This New Orleans-based nonprofit provides free Halloween costumes to children and families in need across America. "Anyone in the United States can apply to receive Halloween costumes," says Allie Womac, COO of 'WEEN DREAM. "Our first Halloween was in 2014 and we costumed roughly 500 kids, most of them in the greater New Orleans area. Since then, we have costumed almost 10,000 kids across America in 35 states!"
Costume donations can be sent to 3001 River Rd. Jefferson, LA 70121.
The Halloween Helpers
Founded in 2008 by then 11-year-old Emma Shapiro, The Halloween Helpers provides gently used costumes to nonprofit agencies that serve children around the world. "There are thousands of children each year who cannot afford to receive a new costume," says Ilyse Shapiro, Emma's mother. "They rely on The Halloween Helpers to provide them with a clean and complete costume each year."
The Halloween Helpers accept Halloween costume donations year-round. To donate your child's costume, you can mail it via UPS to PO Box 19, Wynnewood, PA 19096.
Theatre Development Fund (TDF)
The TDF is a nonprofit organization that aims to make the art of theatre accessible to all. Its Costume Collection program provides costumes to schools, colleges and charitable organizations who don't have the production budget to purchase them. Plus, the TDF can take costumes of all sizes and age groups, from child to adult.
American Textile Recycling Service
While recycling Halloween costumes is difficult due to the low quality of the fabrics, the ATRS does take costumes and shoes in their Neighborhood Donation Bins. "Gather up your gently used items, drop them off where you live, work and play and feel good knowing they will be used again by someone else in need, creating and brighter greener future for us all," says Debra Stevenson Peganyee of ATRS.
To donate your old Halloween costume to ATRS, call the 24-hour hotline to find a 24/7/365 drop-off location near you.
"Make the most of your donations by banding together shoes in pairs with a simple string, baggie tie or kitchen elastic. Costumes with sharp attachments or multiple components should be placed in individual bags to avoid snagging or damaging other donations. Put jewelry and other small items into sandwich bags or small boxes to avoid breakage and preserve their value."

Debra Stevenson Peganyee | Chief Marketing Officer, American Textile Recycling Service
---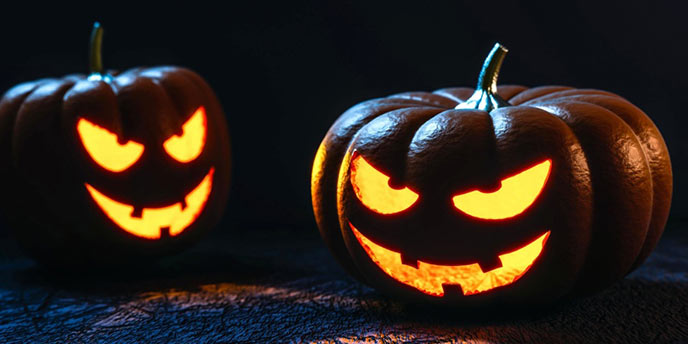 Responsible Halloween Recycling Puts the 'Caring' in Scaring
While you may enjoy terrorizing your friends and neighbors this time of year, there's no need to terrorize the environment in the process. Having a more sustainable Halloween is easier than it seems. Now that you know how to reduce your eco-footprint, you can spend the holiday less terrified knowing you had a positive impact on your budget and the planet.
---
Looking for more tips on living sustainably around the holidays? Check out these posts: